If you want to switch up boring T-shirts for something more interesting to your wardrobe, why not give lace-up tops a try to see if they will become a part of your new wardrobe staple? The fashion accent can add a feminine and modern touch to your look, subtly elevating your sense of style. Certain lace-up shirts are ideal for emphasizing the assets you wish to highlight, such as your perky, rounded breast or a hint of exposed skin. Additionally, they are adjustable to fit you perfectly, guaranteeing that you both look and feel wonderful.
For those who want to add this stylish feature to their wardrobe without breaking the bank, Flycurvy's curated a collection of affordable lace-up tops. These women's tops are sure to enhance your natural beauty and effortlessly make you the center of attention. So, scroll ahead and discover the lace-up tops that you'll fall in love with, for an elevated and fashionable look.

BUY IT NOW ! $19.99 (Save $10.00)
Plus size lace-up tank top in a hot pink shade? Yes, please! The hollow-out design not only enhances breathability but also adds a fashionable and striking touch to your appearance from day to night. Its A-line silhouette helps to accentuate your natural curves and create a flattering and feminine shape.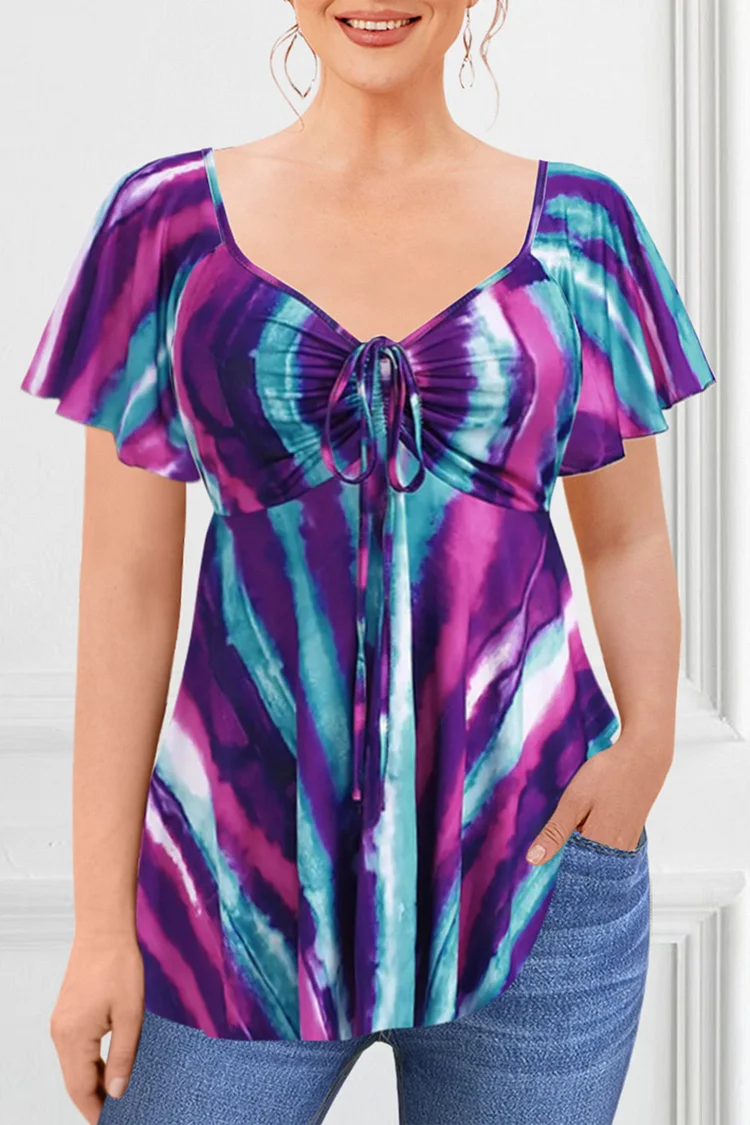 BUY IT NOW ! $19.99 (Save $4.00)
This plus size lace-up blouse has completely stolen our hearts! This blouse features a sweetheart neckline that draws attention to your collarbones and visually elongates your neck. The waistline is cinched for a flattering fit, and the hem falls gracefully to provide the right amount of coverage for concealing your tummy and hips.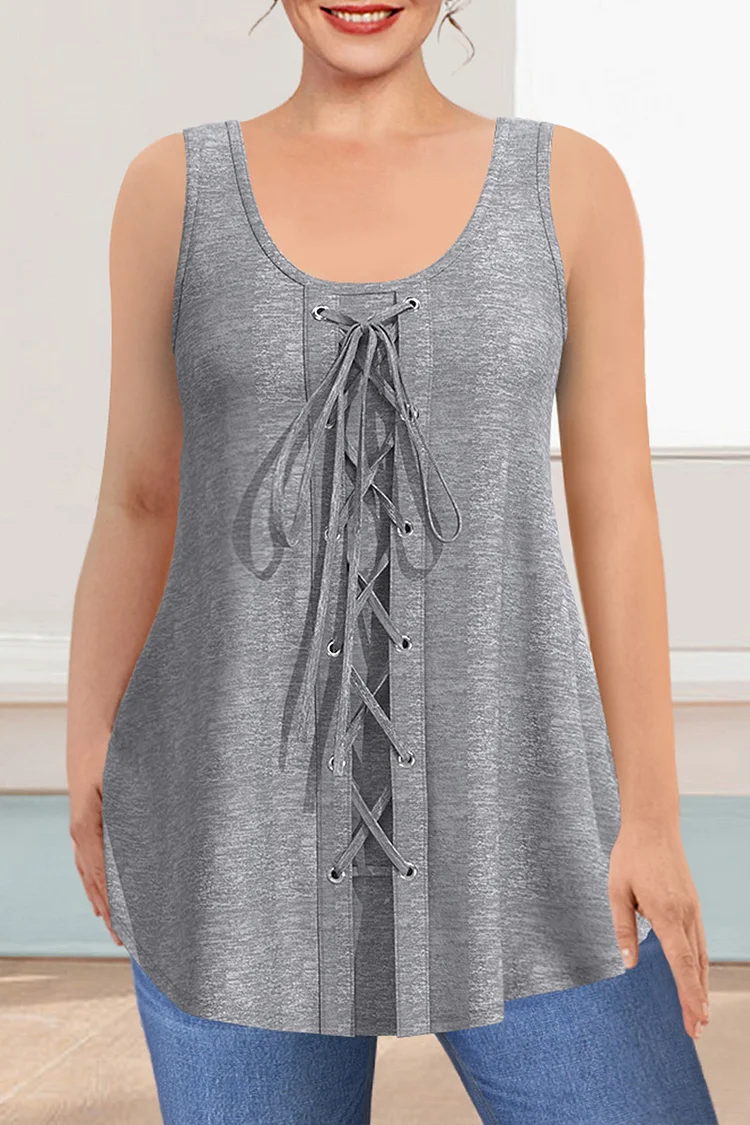 BUY IT NOW ! $17.99 (Save $20.00)
If you're looking for a must-have item that's perfect for all-year-round wear, the plus size lace-up grey tank top ticks all the right boxes! Not only is it incredibly comfortable and versatile enough to be worn as loungewear or sleepwear when paired with sleep pants, but it can also be easily dressed up with the right jacket, skirt, and accessories for more formal events.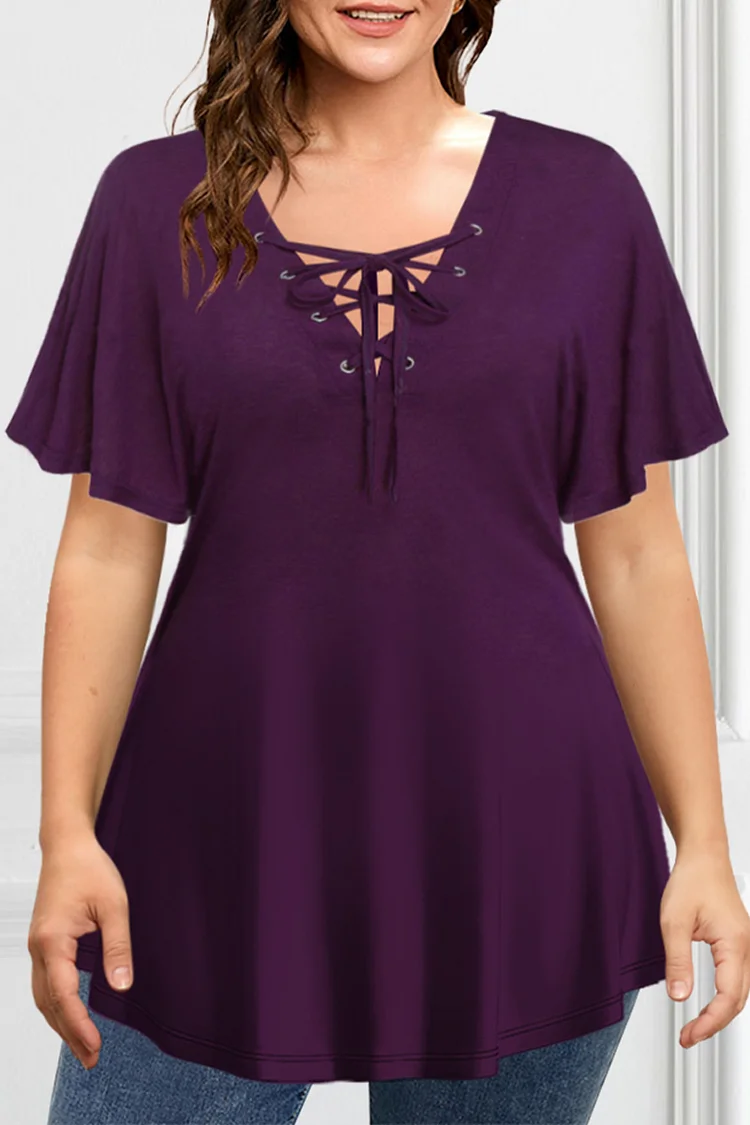 BUY IT NOW ! $19.99 (Save $10.00)
The plus size dark purple lace-up blouse goes the extra mile with high-quality material, cutting-edge style, and a flattering A-line silhouette. We especially adore the ruffle sleeves, which add a playful and elegant detailing to the casual blouse, creating a visually interesting effect that helps to make heads turn.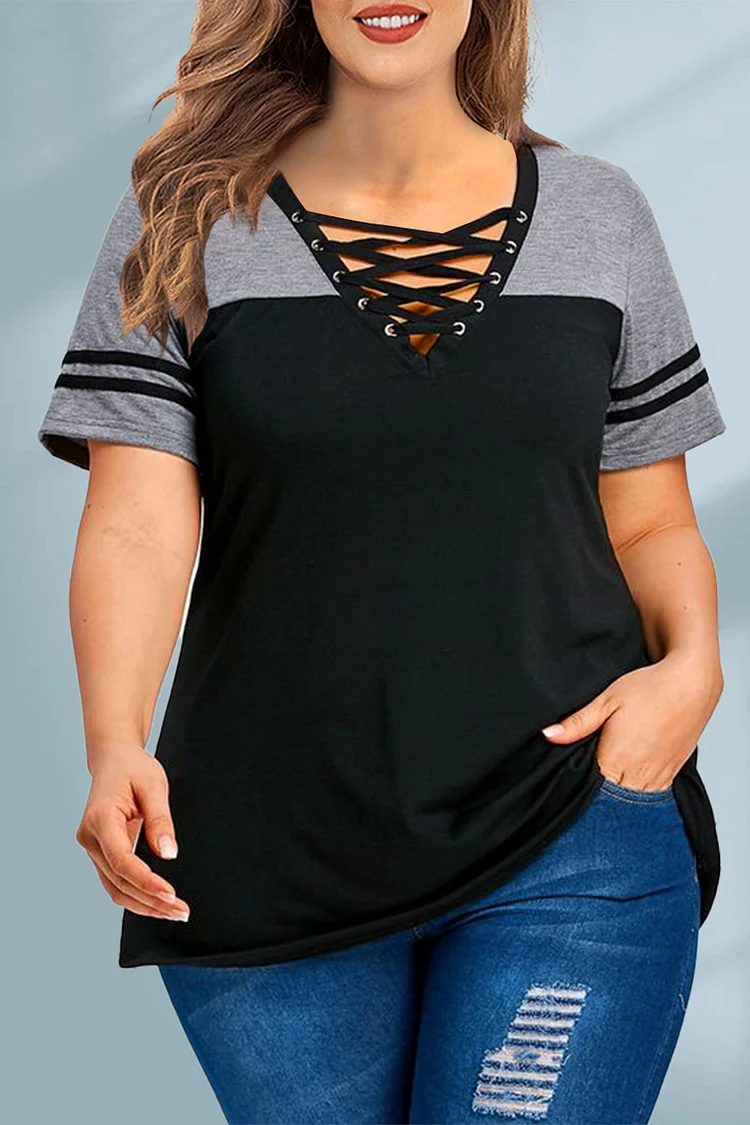 BUY IT NOW ! $22.99 (Save $5.00)
With its lightweight fabric and stylish design, the plus size casual blouse is a versatile option for any occasion, whether you're heading to brunch, vacation, the beach, the office, or running errands. The black hue has a visually slimming effect on your figure, helping to minimize any unwanted bulges or bumps, while the trendy contrast color feature adds a unique touch to the blouse.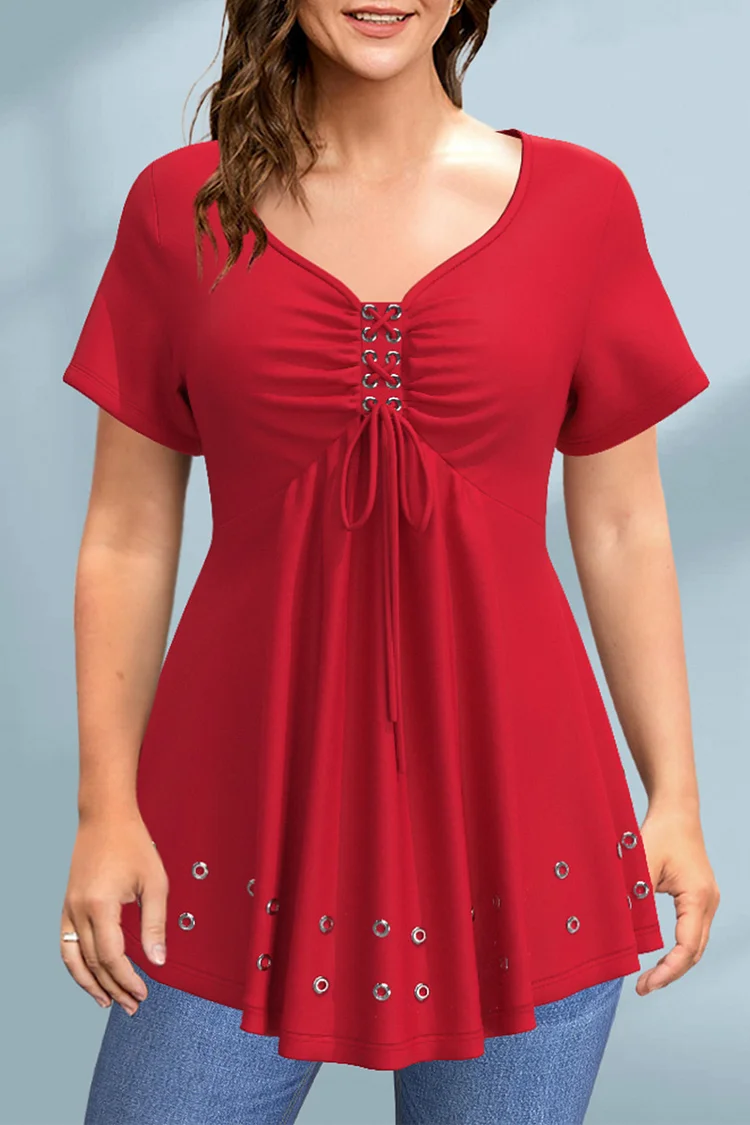 BUY IT NOW ! $9.99 (Save $28.00)
If you're looking to make a bold statement, the plus size dressy blouse can be your best bet! It's a work of art with numerous design elements to love, from the feminine sweetheart neckline and playful eyelets to the intricate ruffles and versatile styles that can be dressed up or down.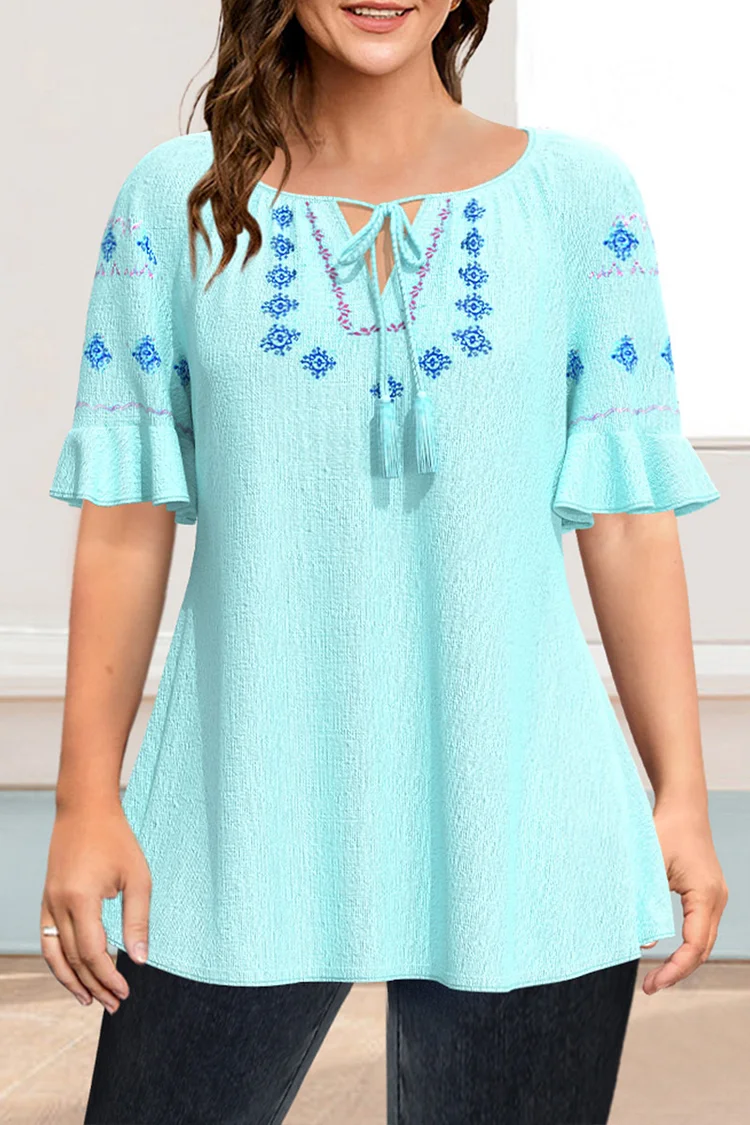 BUY IT NOW ! $9.99 (Save $27.00)
Prepare to make an entrance into this plus size fashion top made from the comfortable and moisture-wicking linen fabric. Everything about it is just perfect. With its graceful flared sleeves, this top exudes a vintage boho vibe that's both stylish and intriguing.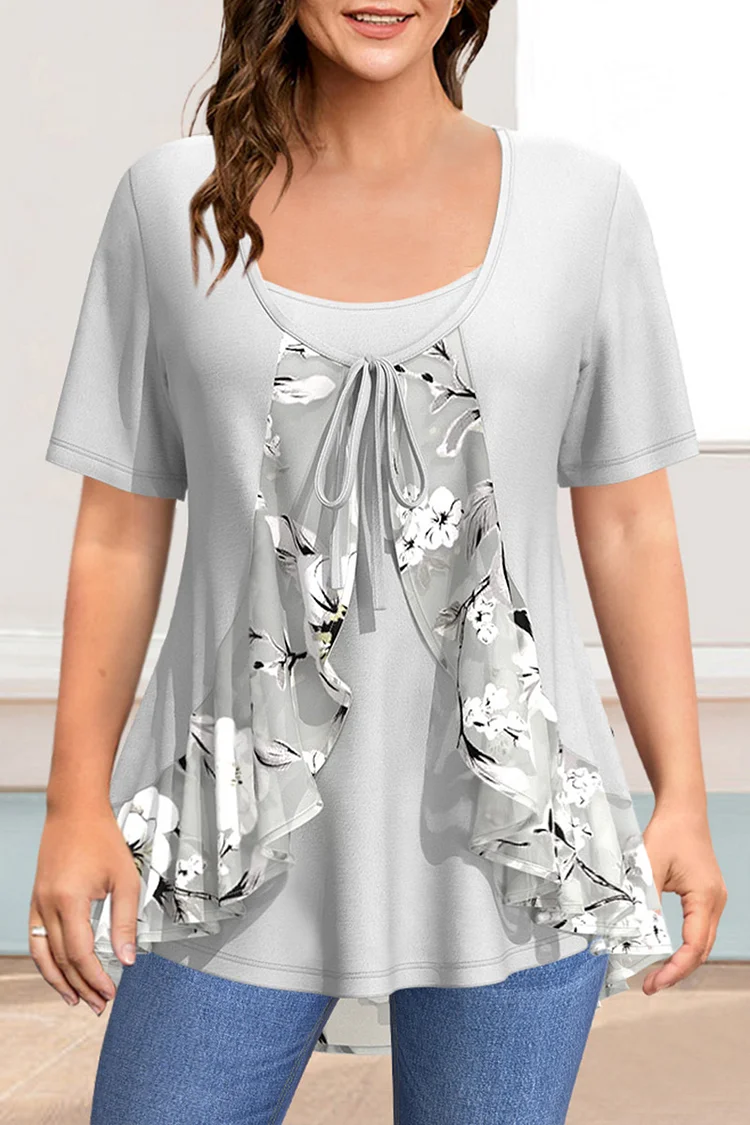 BUY IT NOW ! $20.00 (Save $19.00)
The plus size floral blouse has everything we want in a summer top and more! It features ruffles, a scoop neck, a floral print, and a 2-in-1 design that adds dimension and visual texture to the top. The relaxed silhouette is perfect for staying cool and comfortable on hot summer days, while the 2-in-1 feature gives the trendy top a polished and elevated appearance.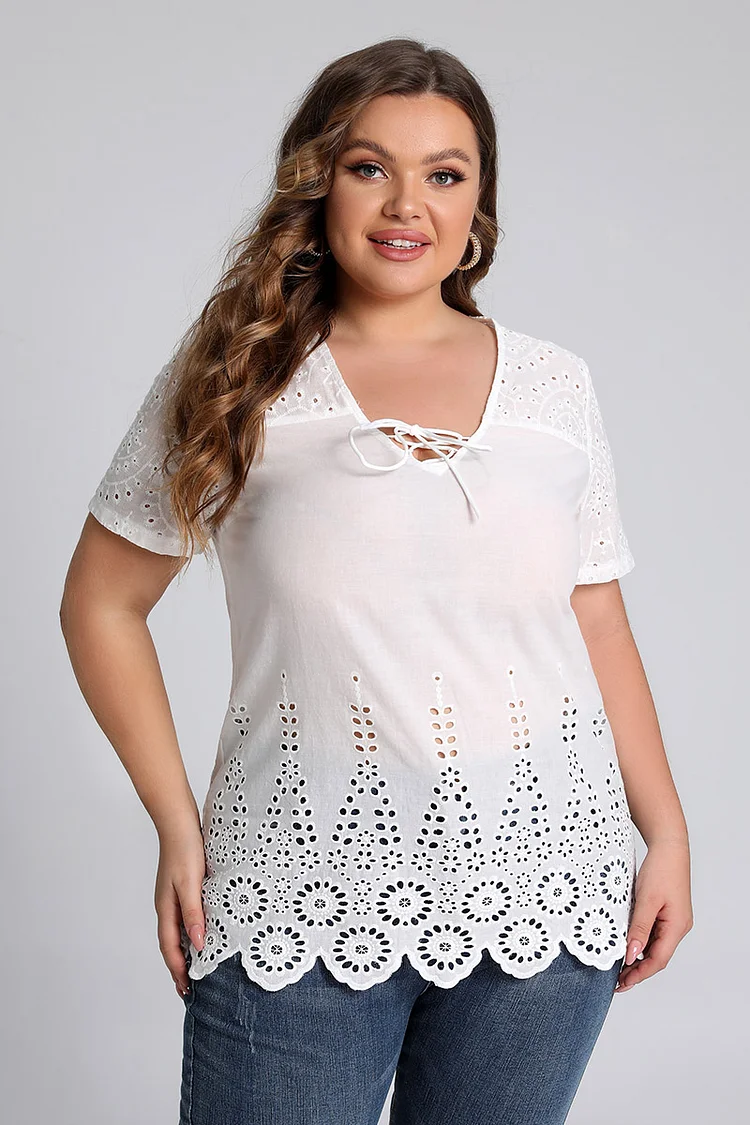 BUY IT NOW ! $9.99 (Save $15.00)
Beyond doubt, the plus size white lace-up blouse has an instant wow factor that makes you get lots of attention regardless of the occasion. With its stunning design featuring a sexy V-neckline, relaxed fit, versatile color, and one-of-a-kind hollow-out print, this blouse is nothing short of amazing.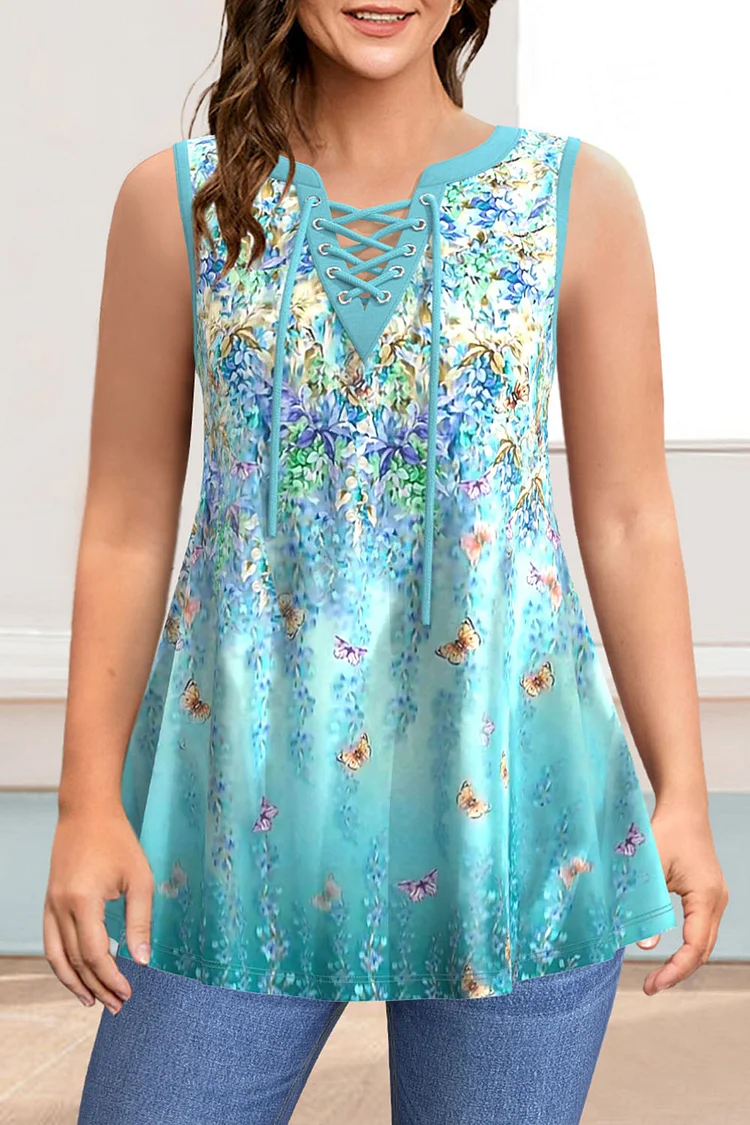 BUY IT NOW ! $19.99 (Save $4.00)
Don't let this plus size lace-up dress slip through your fingers! The floral print adds a romantic and whimsical touch to your look, transporting you to a verdant forest where birds sing and flowers bloom. The trendy tank top style is perfect for adding some fun to your wardrobe and lifting your mood.
Final Words
Don't underestimate the power of a lace-up design to transform your entire look. It adds visual interest and a special touch to your fashion style in an instant. Don't miss out on these recommended lace-up tops. We guarantee they'll be the standout pieces in your wardrobe, offering numerous opportunities to create cohesive and fashionable outfits.