16 Ways to Colorblock Your Plus Size Wardrobe for 2022 Fall & Winter
Sep 14, 2022 by Flycurvy | Luna Gisele | Updated 14th Sept, 2022
Making Y

o

ur Life M

o

re C

o

l

o

rful and J

o

yable
- It's never too late to add color to your wardrobe, and bring more color to light up your cold Winter.

Luckily, this season our designers reimagined standby plus size separates with soft colorblock motifs.
We have adopted gentle colors such as Pink, Blue, Grey, classic White and Black, styles are made from
Hoodie, T-shirts to Blouses, these are all available.
As you can see, these pieces are instant plus size outfits, so start shopping the 16 best colorblocked
plus size pieces in Flycurvy now.
*All the sizes are covered from L to 5XL, and plus size ladies will have no worries about finding the
right size for their own.
🎀

Pink🌈

: Happiness,

Joy

, Gentle
#1 Flycurvy Plus Size Casual Pink Patchwork Cross Front V Neck Blouses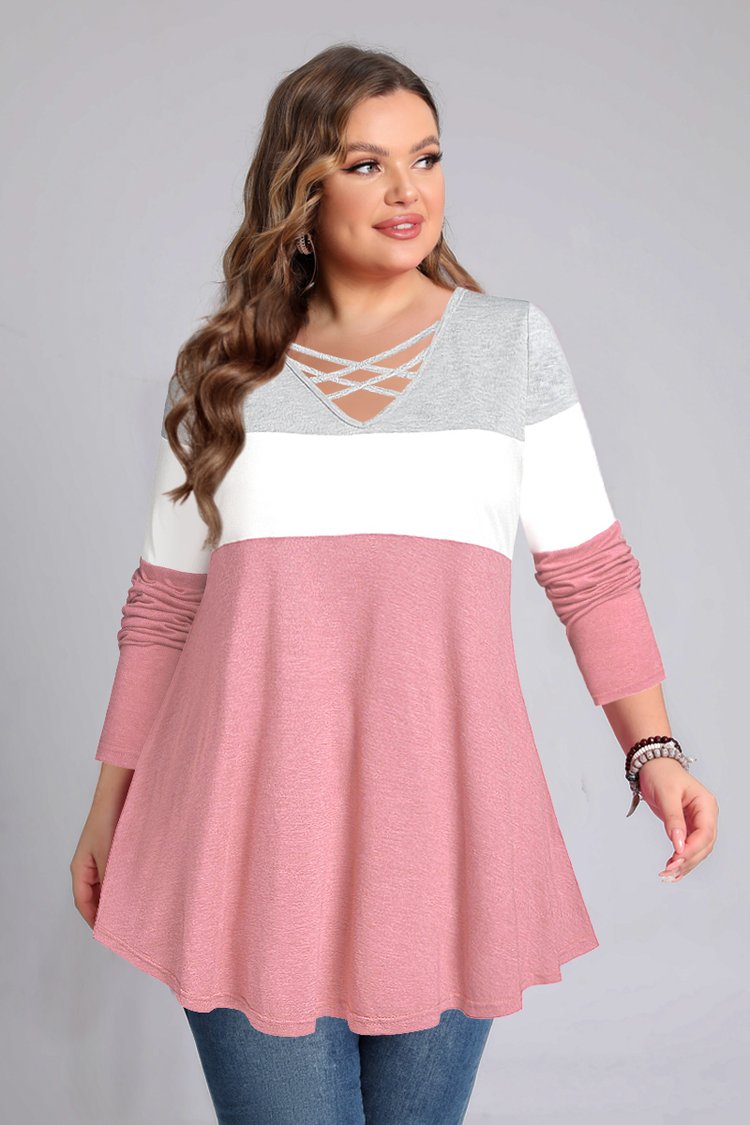 Colors: Pink | Navy Blue
+ Product Details:
This plus size pink V neck blouse with creative cross front design is the must-have for every plus size lady
to update their Winter wardrobe, time to replace more long sleeve blouse for the cold weather, meanwhile
we can choose the tops that are designed with little surprise, which can bring more happiness for our
everyday wearing.
>>>>>>>>>>>>>>>>>>>>
#2 Flycurvy Plus Size Casual Light Pink Plaid Print Colorblock Lace Up Hoodie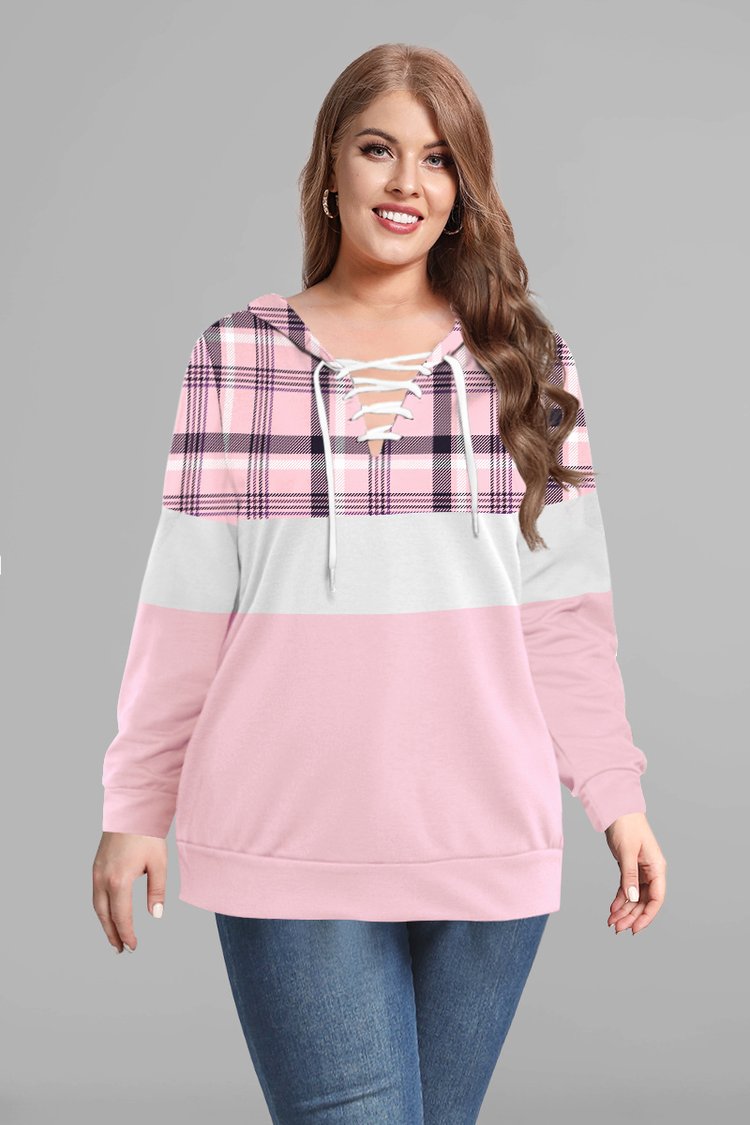 Colors: Light Pink
+ Product Details:
Want to wear something warm and cozy while still looking cute and gentle in the cool Fall and cold Winter?
This plus size light pink colorblock hoodie will surely suit you the most, and you will looking more sporty
and energetic in this casual hoodie due to its special lace up design. Moreover, the appropriate layered
collocation between colors and plaid print can shape your curves better.
>>>>>>>>>>>>>>>>>>>>
#3 Flycurvy Plus Size Casual Light Pink Stripes Stitching Round Neck Long Sleeve T-Shirt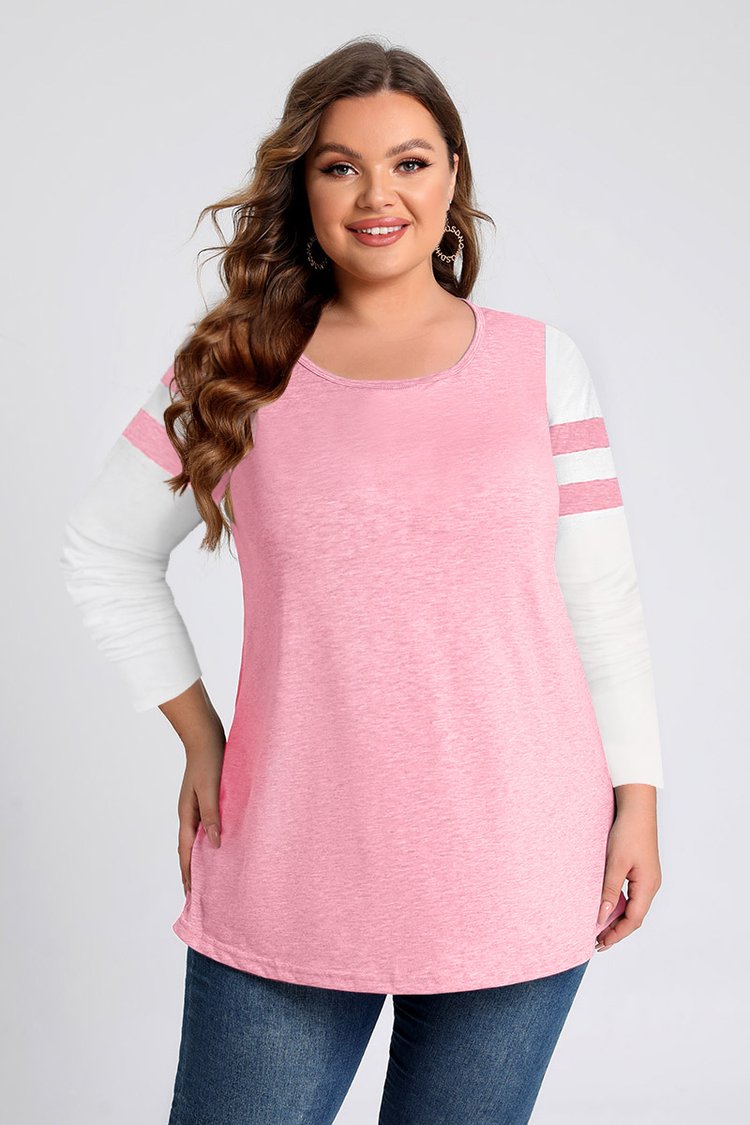 Colors: Light Pink | Lavender
+ Product Details:
Needless to say, this plus size light pink & white colorblock long sleeve T-shirt will make you look more
gentle in the sunny but cold Winter, your friends will be surprised by the pink stripes stitching design
in your arms. Combine it with plus size white jeans or other plus size skirts in warm colors, this simple
and stylish look will suit you in a perfect and more comfortable way.
>>>>>>>>>>>>>>>>>>>>
#4 Flycurvy Plus Casual Pink Size Patchwork Plaid Faux Two Piece Short Sleeve Square Neck Casual Blouses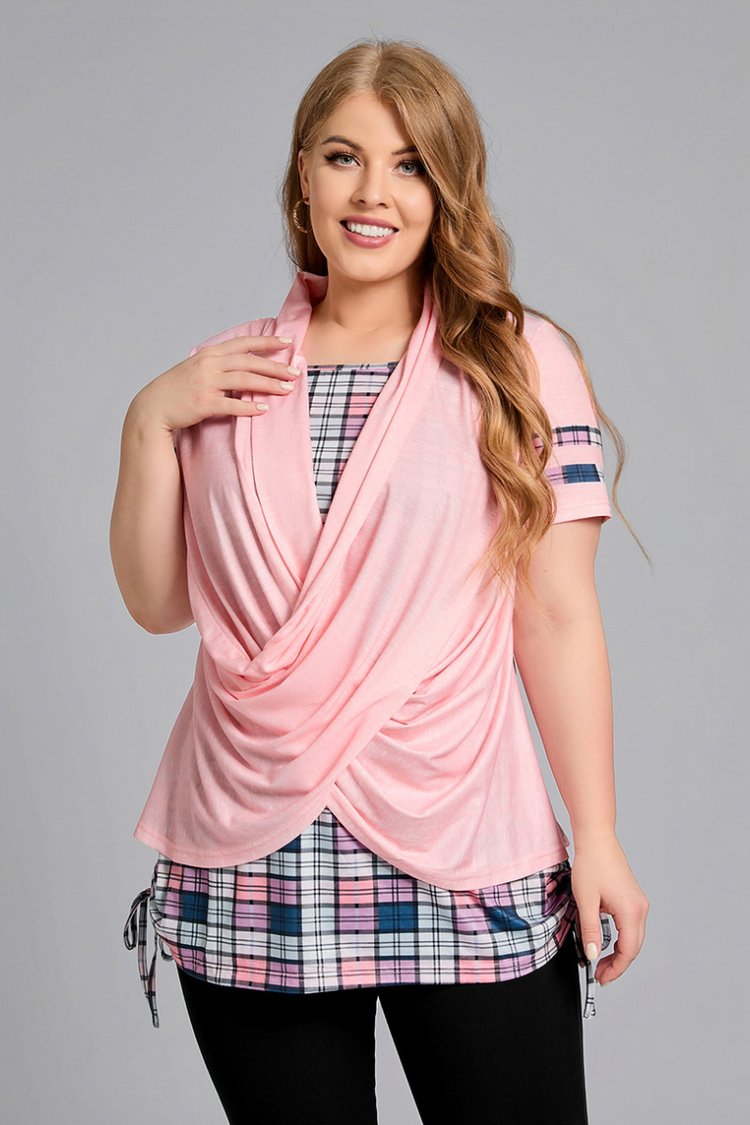 Colors: Pink
+ Product Details:
Fake two piece is almost the best way to hide your curves on your waist, this plus size fake two pieces
short sleeves T-shirt is combined of pink cross front part and colorful patchwork plaid bottom part,
plus with the knot string design on both sides of the bottom, this specialized fake two pieces colorblock plus size
T-shirt will undoubtedly make you look more gentle and elegant as well.
>>>>>>>>>>>>>>>>>>>>
💎

Blue🌊

: Cool, Casual,

Peaceful
#5 Flycurvy Plus Size Casual Blue Print Decorative Button 3/4 Sleeve Blouses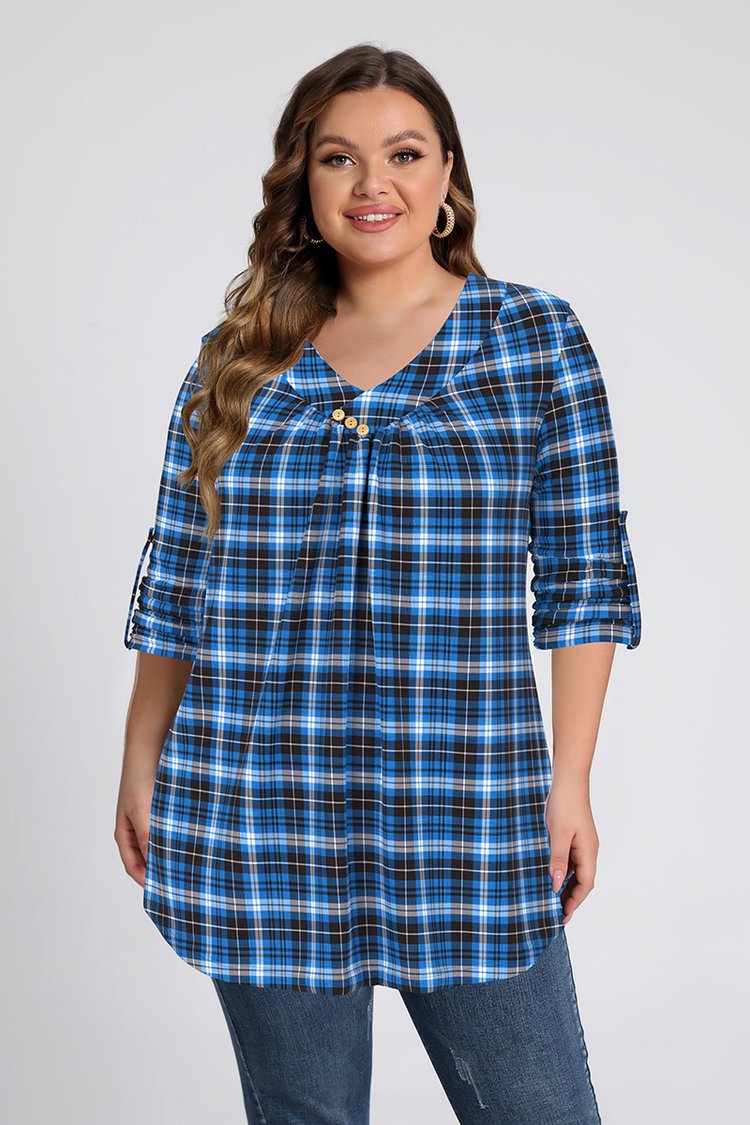 Colors: Blue | Green | Pink
+ Product Details:
Pick up this plus size blue patchwork plaid blouse with 3/4 Sleeves practical design, which is designed with
buttons on both sides, and is nice for work and curves hidding as well. V neck assemble with 3 decorative
buttons is making you look uncommon compare to other blus essentials.
>>>>>>>>>>>>>>>>>>>>
#6 Flycurvy Plus Size Casual Light Blue Colorblock Round Neck Short Sleeve T-Shirt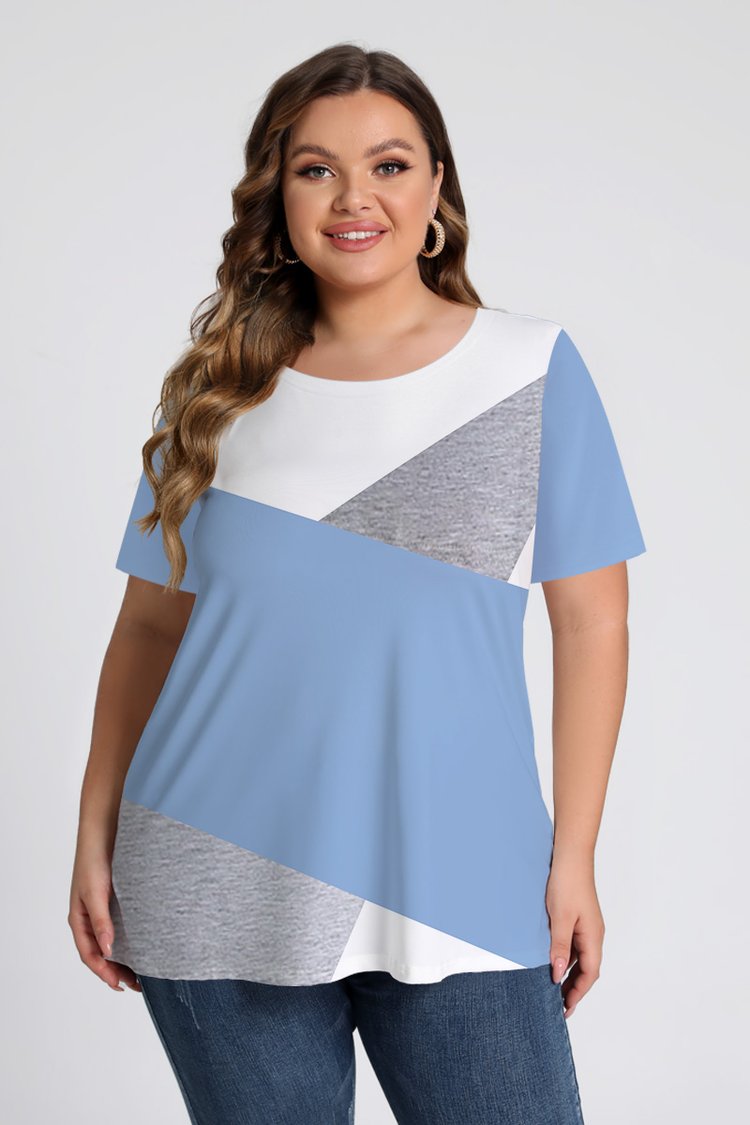 Colors: Light Blue
+ Product Details:
Choose this soft and comfortable plus size blue colorblock T-shirt to refresh your wardrobe, with its decent
quality, you can wear it casually at home or supermarket shopping, different colorblocks of different shapes
combine together to light up your everyday essential outfits and shape you curves as well.
>>>>>>>>>>>>>>>>>>>>
#7 Flycurvy Plus Size Casual Navy Blue V Neck Single Breasted Colorblock Short Sleeve Casual Blouses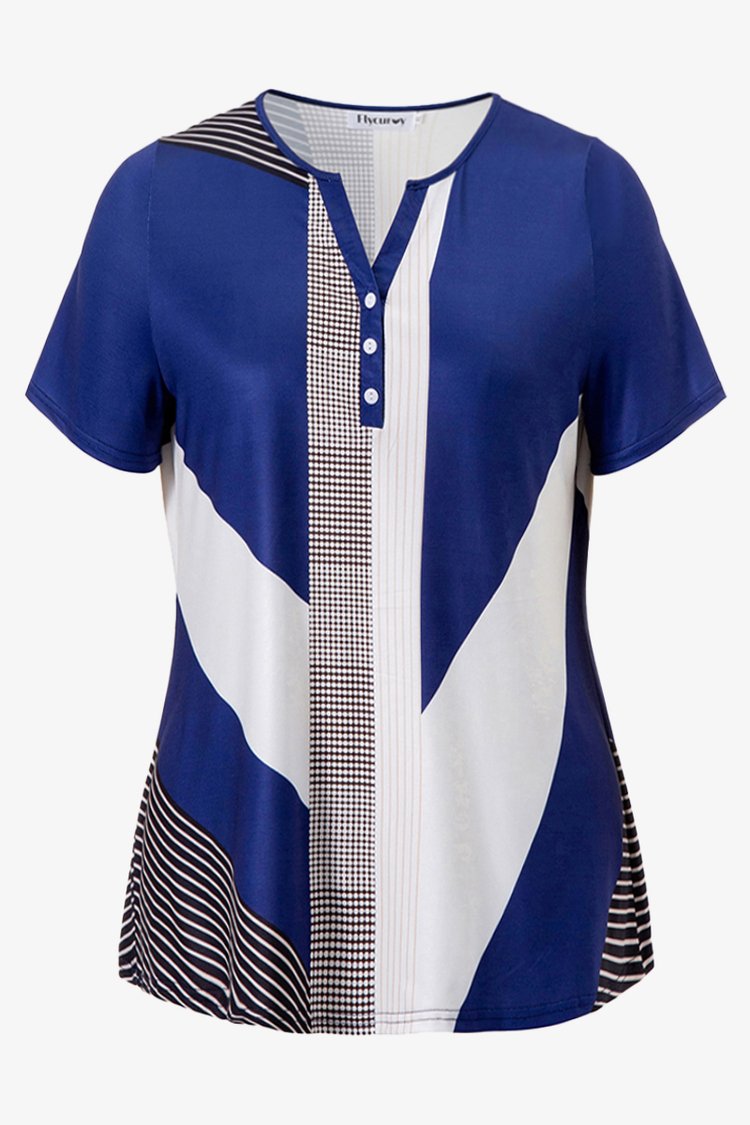 Colors: Navy Blue
+ Product Details:
This plus size navy blue blouse should be the must-buy in every plus size mom's wardrobe, with its
special design of black and white slashes and single breasted, this navy blue colorblock short sleeve blouse
will definitely suit you well than other normal essential clothings, just wear it casually and then
enjoy your family time happily.
>>>>>>>>>>>>>>>>>>>>
#8 Flycurvy Plus Size Casual Navy Blue Heaps Collar Stripe Stitching Asymmetrical Hem Blouses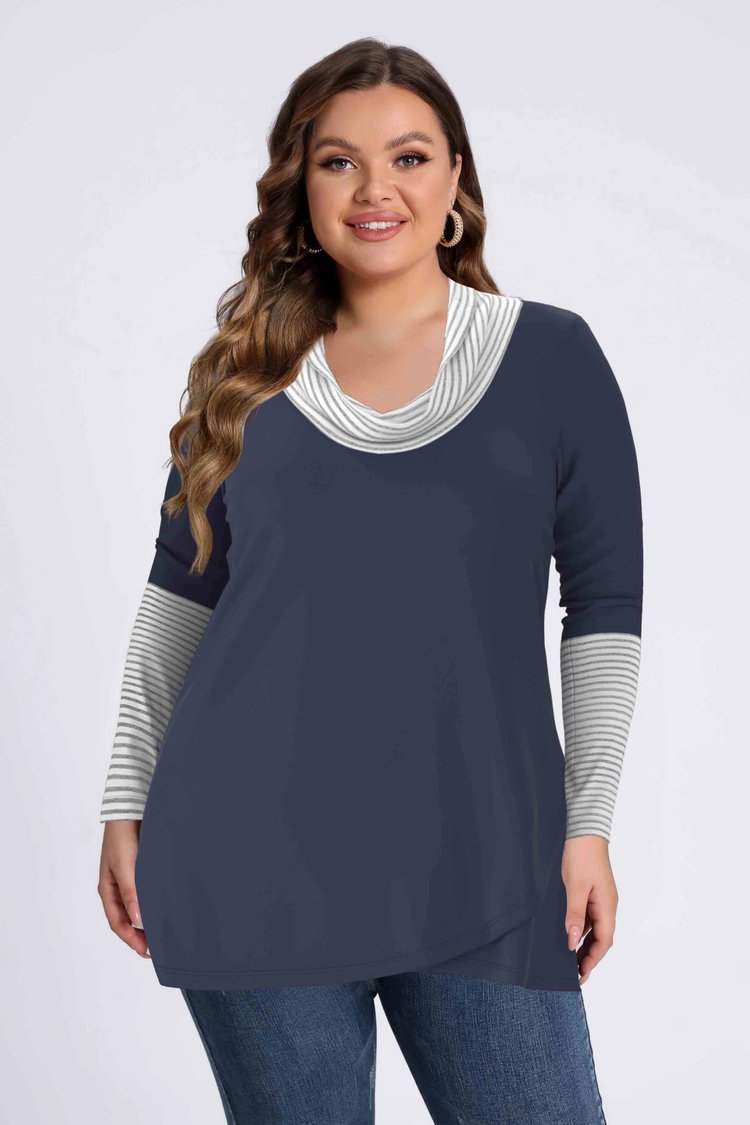 Colors: Navy Blue
+ Product Details:
If you want to get more sense of sporty, then wear this navy blue asymmetrical hem plus size blouses on
and go out for a walk with your friends and families in the late Fall. Weather's getting cold, and long sleeves
will become the theme of Winter essential wearings. Pick up this navy blue heaps collar stripe blouses and
update your wardrobe for more long sleeves thing.
>>>>>>>>>>>>>>>>>>>>
🧊Color of Winter⛄: Black |

Grey

|

White
#9 Flycurvy Plus Size Grey Split Neck Zipper Stripe Stitching Short Sleeve Blouses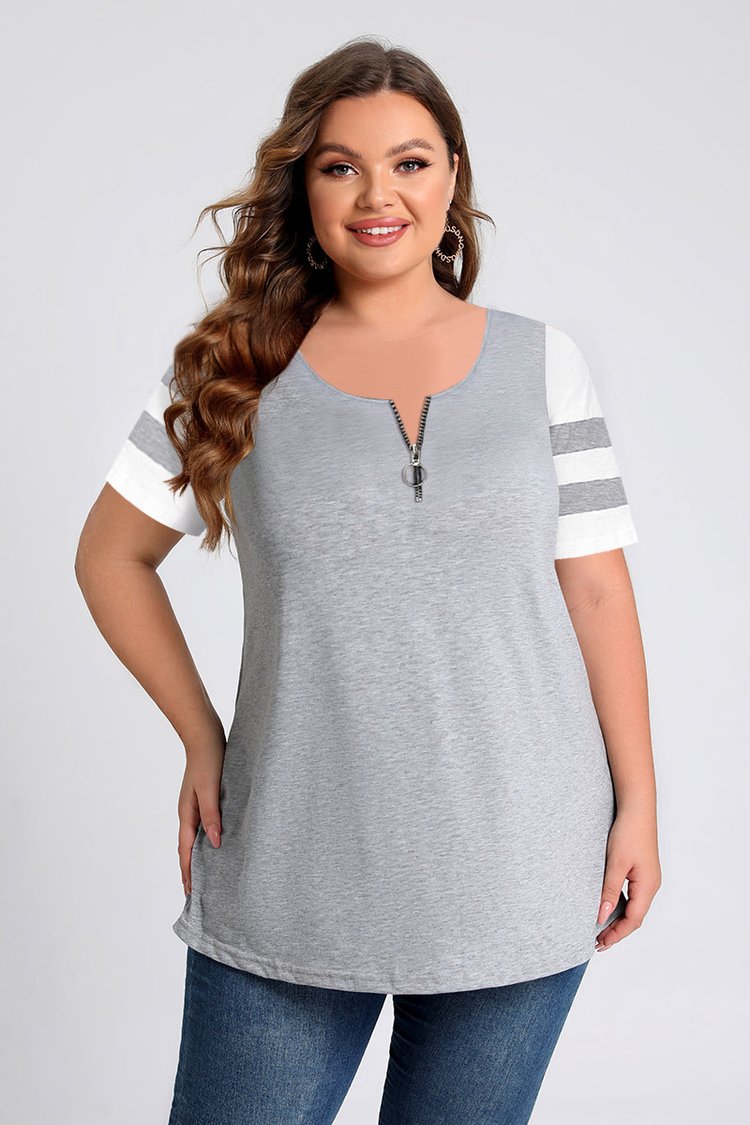 Colors: Grey | Mint Green
+ Product Details:
Take this casual and stylish plus size grey colorblock blouse with you, split the zipper lower for more exposure,
or pull it higher for warmness or to hide your neck nicely, stripe stitching can nicely hide the big arms as well,
just get dressed with this can't go wrong plus size blouse and pair it with casual jeans, then you can go for
your business instantly.
>>>>>>>>>>>>>>>>>>>>
#10 Flycurvy Plus Size Casual Black Colorblock Stitching Round Neck Long Sleeve T-Shirt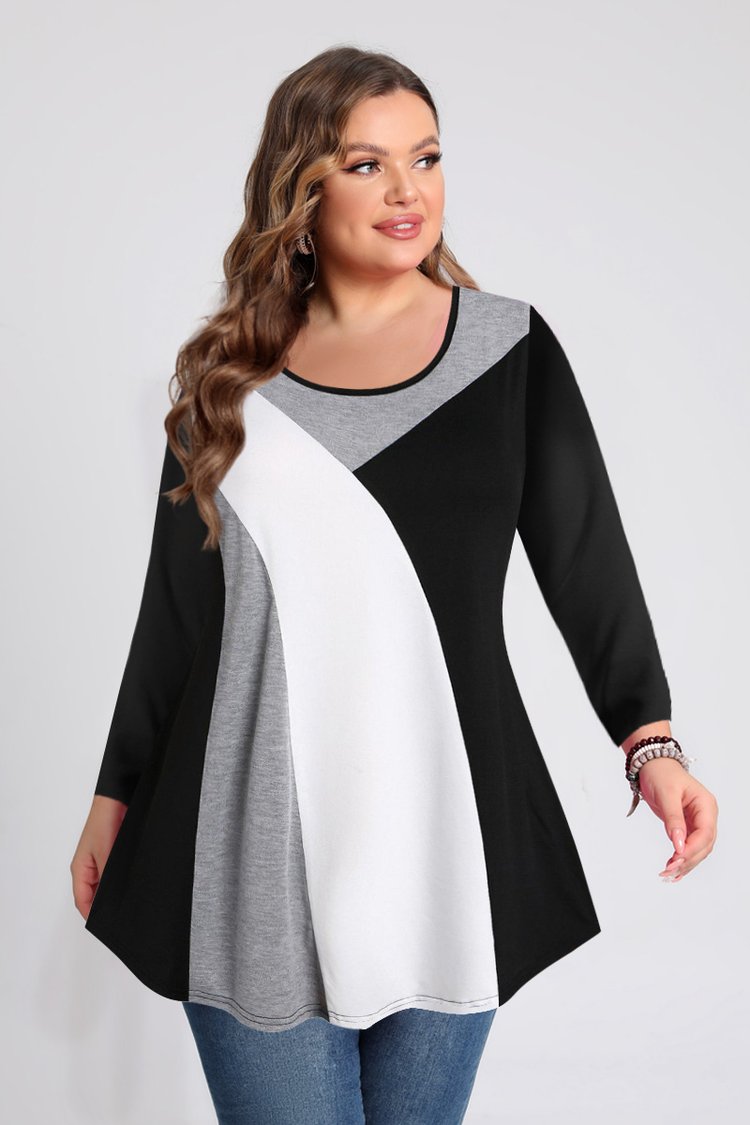 Colors: Black
+ Product Details:
The combination of common color grey, black and white can give you an uncommen stylish long sleeve
T-shirt for plus size ladies, and the person who want to be low cast, black colorblock can nicely avoid
too much eye-catching, meanwhile you will be able to wear it comfy and cozy.
>>>>>>>>>>>>>>>>>>>>
#11 Flycurvy Plus Size Casual Grey Patchwork Square Neck Decorative Buttons Blouses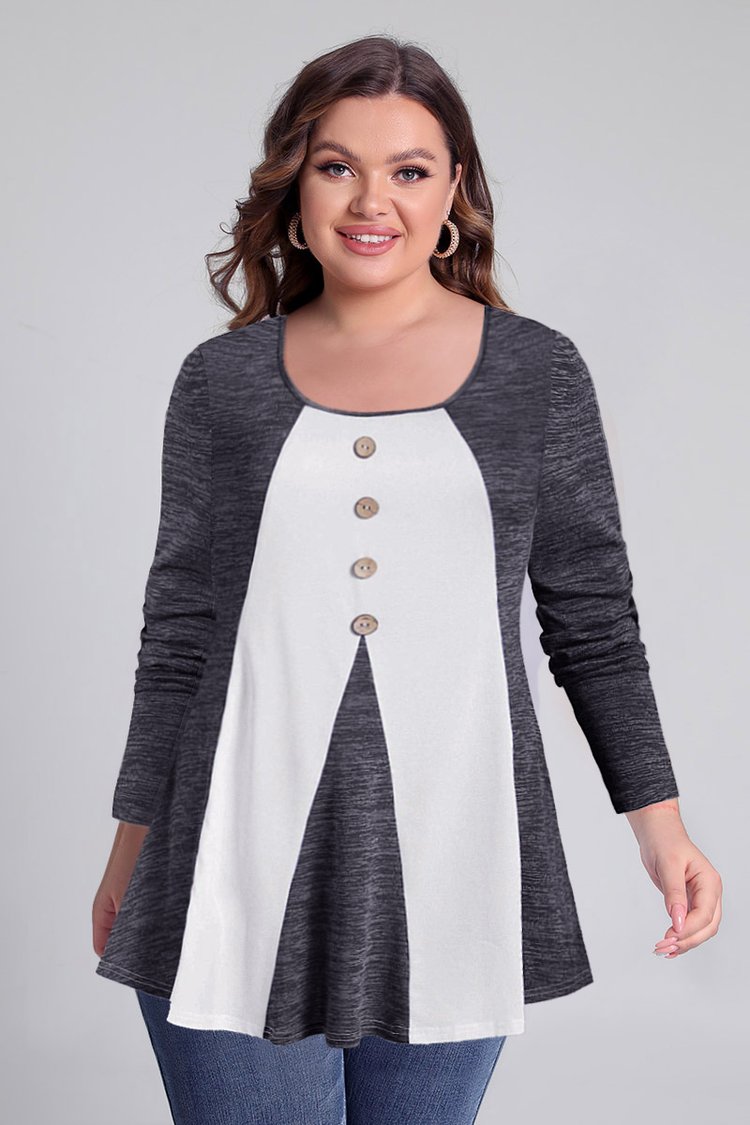 Colors: Grey
+ Product Details:
Long sleeve blouse can be gentle and warm as well, replace your old stuff of with this plus size grey
patchwork blouses. It's designed in decorative buttons and square neck, which can nicely shape your
curves of your neck and shoulder. Pair it with plus size jeans, a simple, soft and gentle late Fall plus
size outfits is done.
>>>>>>>>>>>>>>>>>>>>
#12 Plus Size Casual White Plaid Stitching Round Neck Tunic Blouses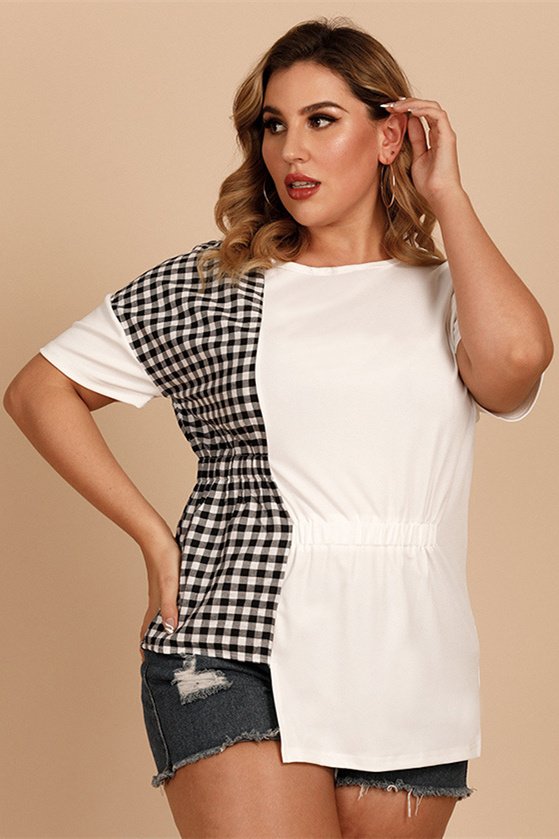 Colors: White
+ Product Details:
Wear this chic plus size white plaid stitching tunic blouse on to hit the trend of late Fall plus size fashion,
pair it with short jeans or trousers as you want and gain this eye-catching plus size outfit, suitable for
outdoor picnic or supermarket shopping, street walk or a cup of drink with friends in Saturday night.
>>>>>>>>>>>>>>>>>>>>
🏃‍♀️

Hoodie: Sporty, Warm,

Cozy
#13 Flycurvy Plus Size Casual White Colorblock Pocket Threaded Sleeve Hoodie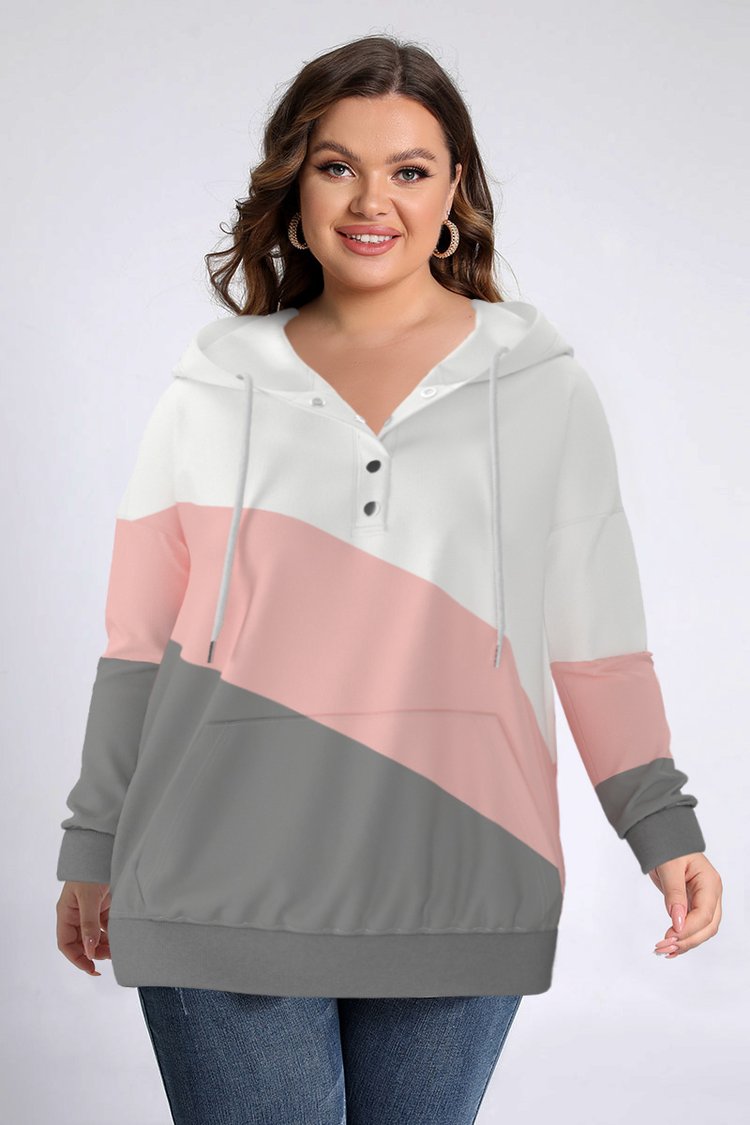 Colors: White
+ Product Details:
How about this plus size white colorblock hoodie? With the design of practical pocket, it would be quite
useful for keys, phones and cards when you're going out. Decorated buttons on the neck combines with
threaded sleeves can hide your curves under gentle light pink and white color.
>>>>>>>>>>>>>>>>>>>>
#14 Flycurvy Plus Size Casual Burgundy Colorblock Zipper Asymmetrical Hem Waffle Hoodie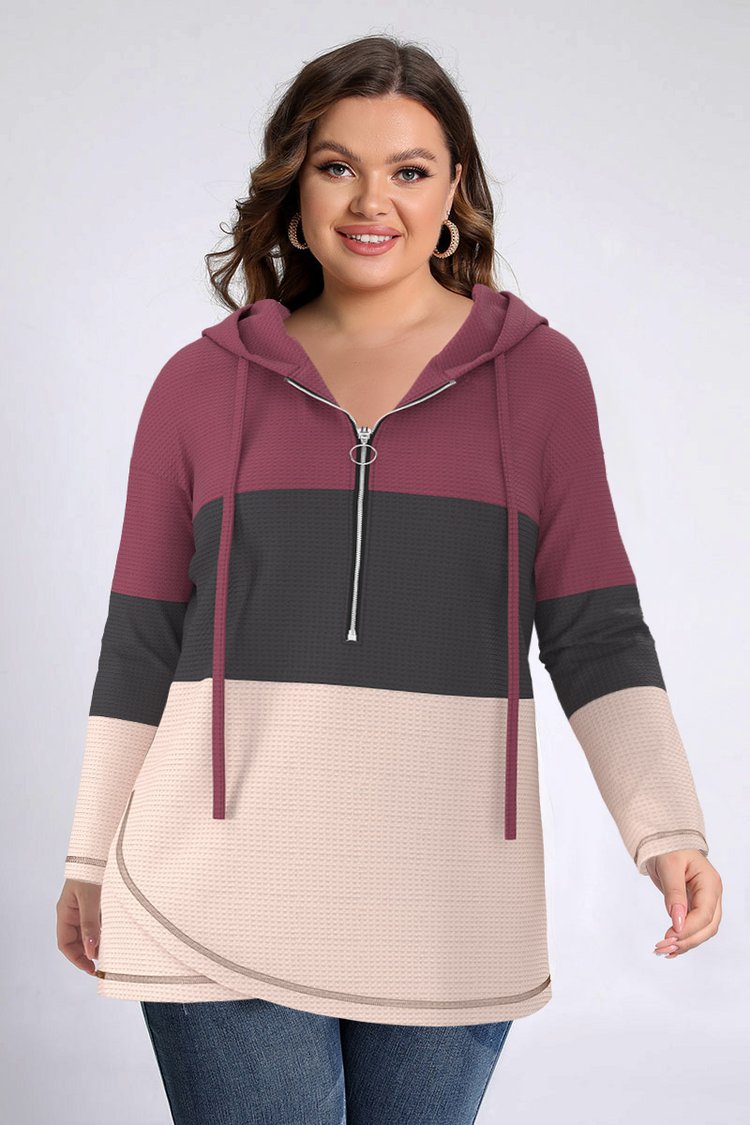 Colors: Burgundy | RED
+ Product Details:
Kill two birds in one stone, which is exactly the same as zipper can make a hoodie to multiple dress styles.
Pull it down when you have to wear a thermal cloth in the cold weather, or you can just wear one piece of
this plus size burgundy hoodie and pull the zipper up in the cool Fall, asymmetrical hem shapes your curves
in a perfect way, plus you can wear it comfy and casually due to its waffle material.
>>>>>>>>>>>>>>>>>>>>
#15 Flycurvy Plus Size Casual Grey Camouflage Stitching Hoodie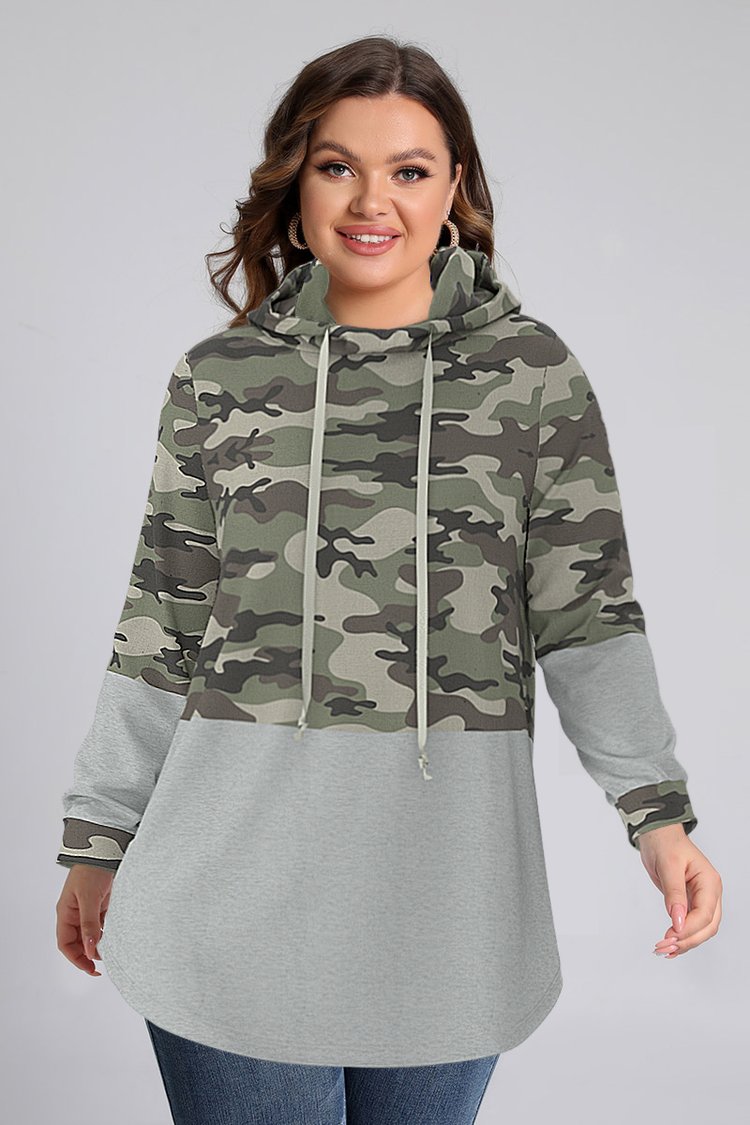 Colors: Grey
+ Product Details:
A plus size grey camouflage hoodie should be better than other hoodies when you are going out for a walk
or a hike. Cold weather is coming, when we are doing outdoor activities, hoodie is a nice option, and camourflage
stitching print can make you look more sporty and energetic, put on this lively plus size hoodie and spend
an active and interesting Winter.
>>>>>>>>>>>>>>>>>>>>
#16 Flycurvy Plus Size Casual Grey Camouflage Stitching Hoodie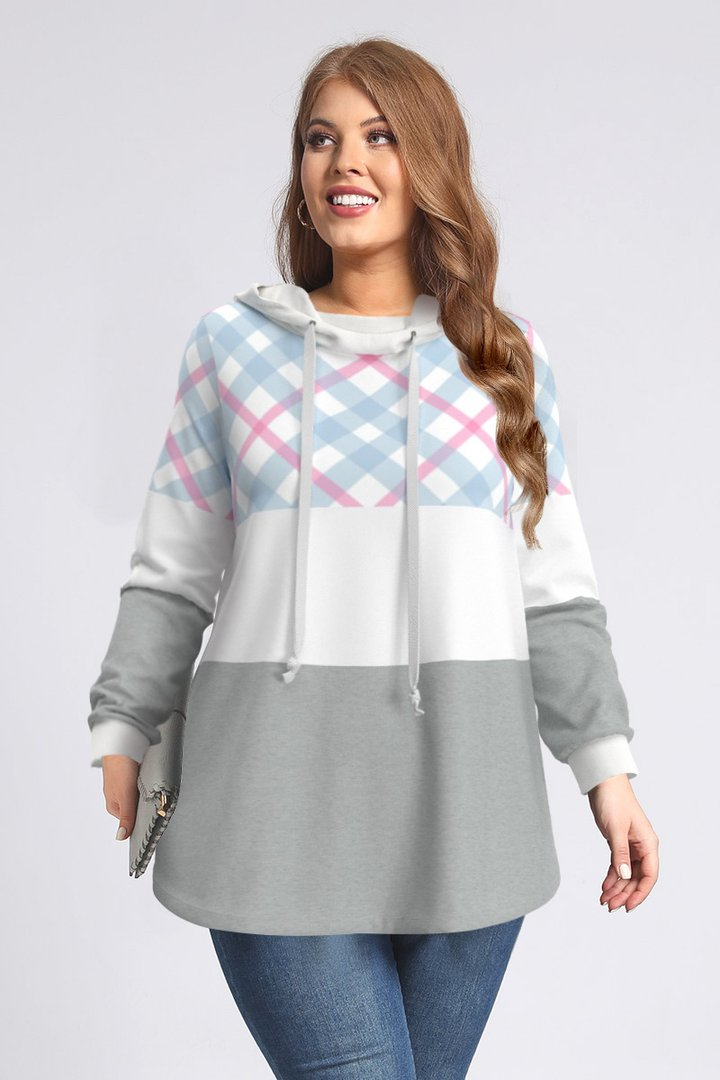 Colors: Grey
+ Product Details:
This Grey-White-Camouflage stitching plus size hoodie is absolutely a must-have can't-go-wrong Winter
essential for your wardrobe update, just put it on and go, pair it with simple jeans, a casual Winter plus size
outfit is complete, it can be your outwear in the late Fall or the inside in the cold Winter as well.
>>>>>>>>>>>>>>>>>>>>