Tank tops are synonymous with summer for a good reason: They always come with breathable fabrics and a relaxed fit, making summer essential options to stay cool. Besides, featured with simple and versatile designs, tank tops have infinite opportunities for styling. By and large, tank tops take the headache out of matching clothes in your wardrobe for a cohesive look.
Hunting for high-quality and budget-friendly tank tops might be overwhelming. Luckily, you are in the right place. Flycurvy is delighted to introduce you to our multiple top-rated and affordable tank tops for women available in various styles and colors. We will update these selections every day so you can expect to find the newest and trendy styles.
What's a summer wardrobe without a plus size tank top with a built-in bra? You should go for it if you are looking to spare the inconvenience of wearing a separate bra. The supportive bra provides you with full coverage and ultimate support. Best of all, it gives the appearance of a lifted, firm, and well-rounded bust shape.
The following shelf bra tank top is our top pick. We appreciate that because it is sure to keep you comfortable and cool on sultry days thanks to the soft and lightweight fabrics.
The cute floral print is a finishing touch that lends a romantic feel to the top. The tank top can be worn on its own as officewear, beachwear, party wear, and more. Or you can wear a blazer or jacket over it when the temperature drops.
(Grey, Black, Pink)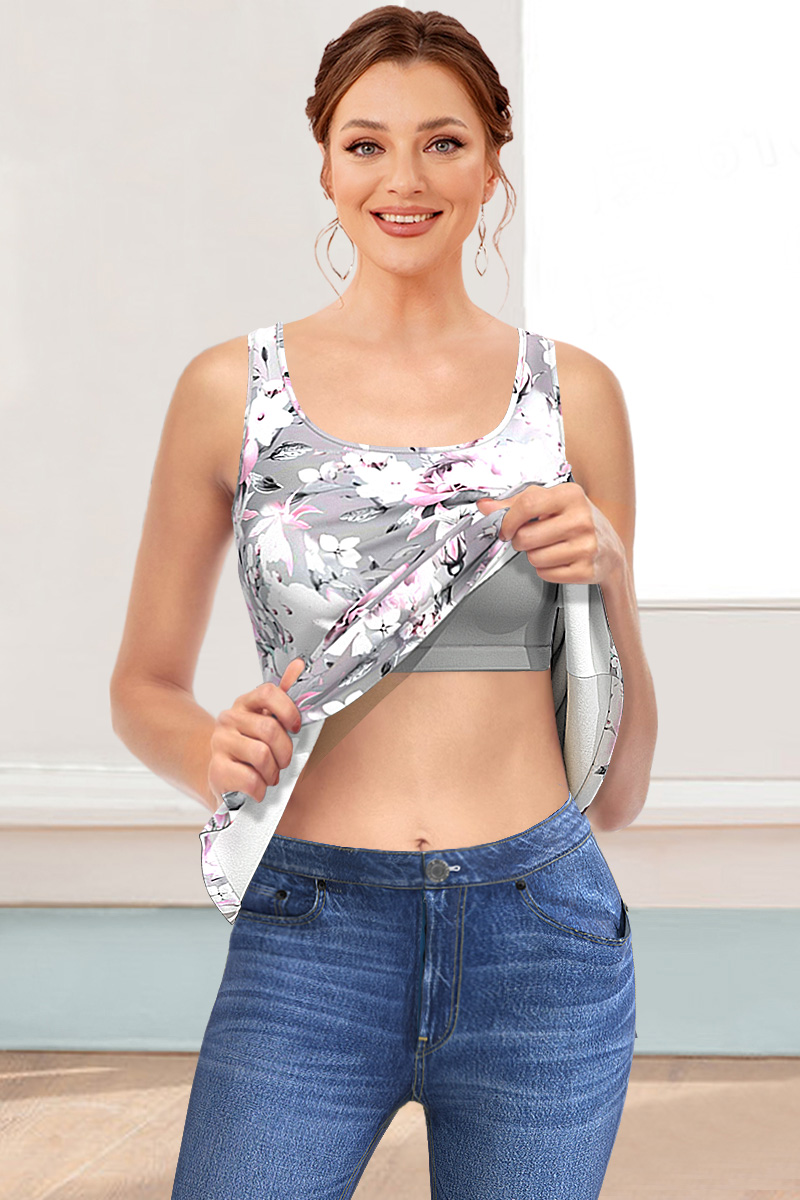 BUY IT NOW ! $19.99 (Save $10.00)
We cannot rave enough about the plus size casual tank top for women with a build-in bra. It is a big summer trend. The shelf bra tank top fits you well and keeps everything in place without being too constrictive. This item will absolutely be your fav this warm season.
Are you a lace enthusiast? If yes, you can enjoy your summer days to the fullest with our lace tank tops. It's no wonder that you will never get enough of them. The airy and breezy fabrics feel wonderfully soft against your skin and can keep you refreshed throughout the day without compromising on style.
The lace adds a feminine, elegant, and luxurious touch to the top. That is to say, the lace detail takes things up a notch in a breeze. The most exciting thing is our lace tank tops' versatility allows you to mix them in myriad ways. They are a good match for any pants in your summer wardrobe.
(Navy Blue, Purple)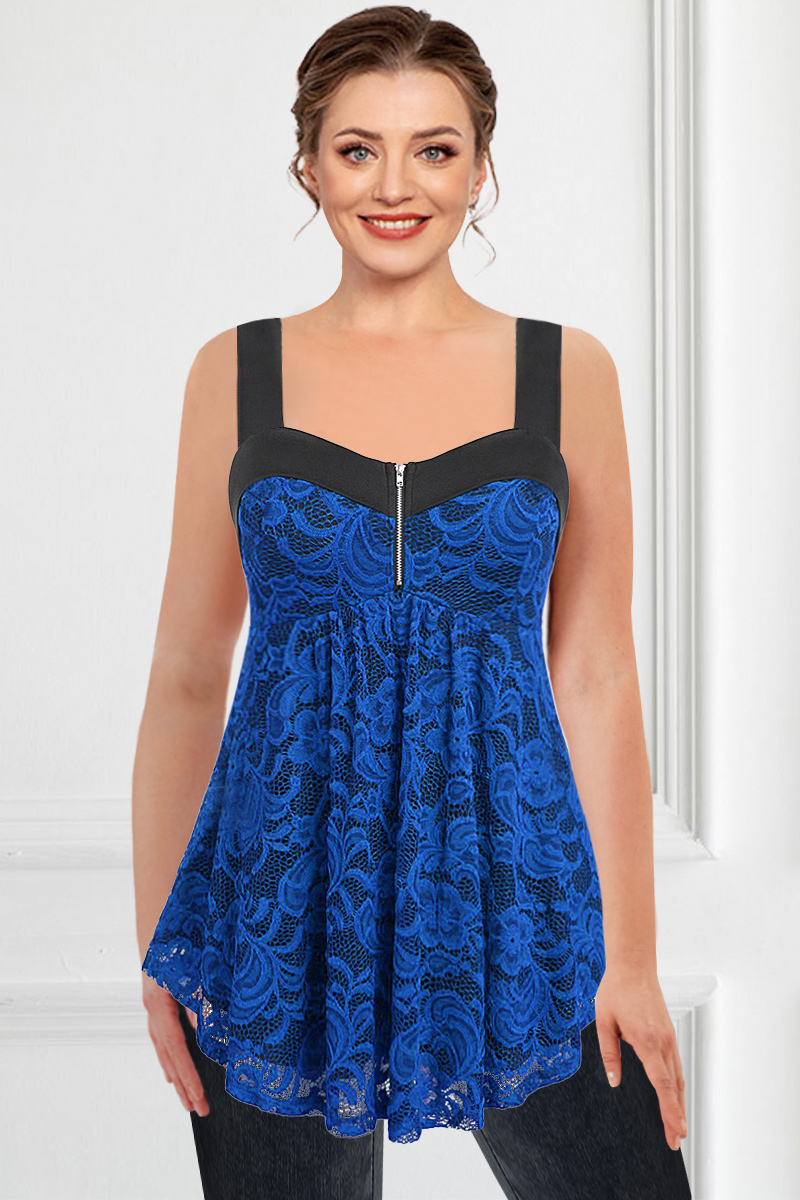 BUY IT NOW ! $16.99 (Save $8.00)
The navy blue lace cami sleeveless tank top is an edgy take on the trend. Add the seasonal must to your cart for an instant style boost. It will give you an effortlessly dressy look no matter if you pair it with denim jeans, skirts, leggings, or capri pants.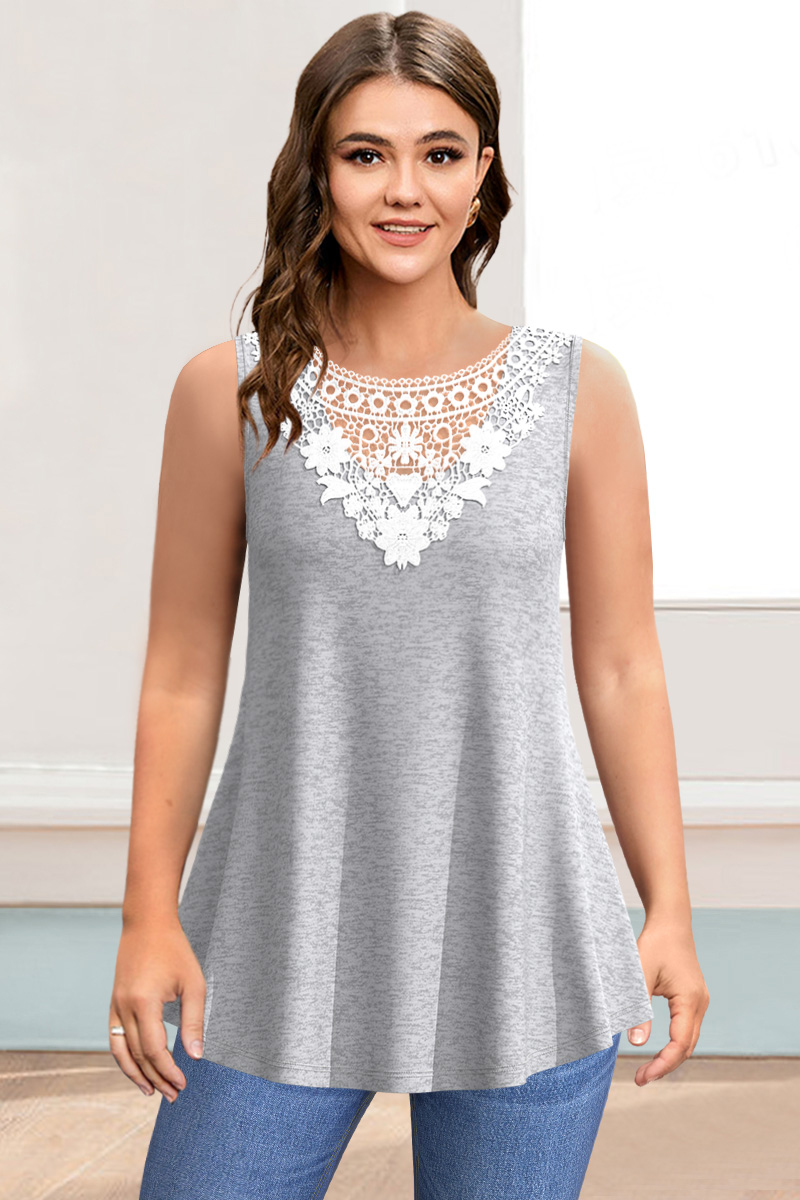 BUY IT NOW ! $13.99 (Save $9.00)
The plus size grey lace tank top is a summer staple that can last years to come. It does not cost an arm or leg. The top comes in grey and hot pink colors, so you can choose to go with a statement look or a low-key look to your preference. We particularly love the delicate lace embroidery and the flattering pleated feature!
For a standout tank top option that blends a casual and dressed-up look, we always recommend tribal floral print tank tops. This type of tank top holds nostalgic value. They offer playful visual interest and a retro, boho vibe, moreover, they speak a lot about your personality. It is a no-brainer to make a statement with them.
Our tribal floral print tank tops have a flattering fit. They will extend your silhouette and create the appearance of a slimmer torso. We can safely say that they will help to achieve an hourglass shape.
(Green, Grey)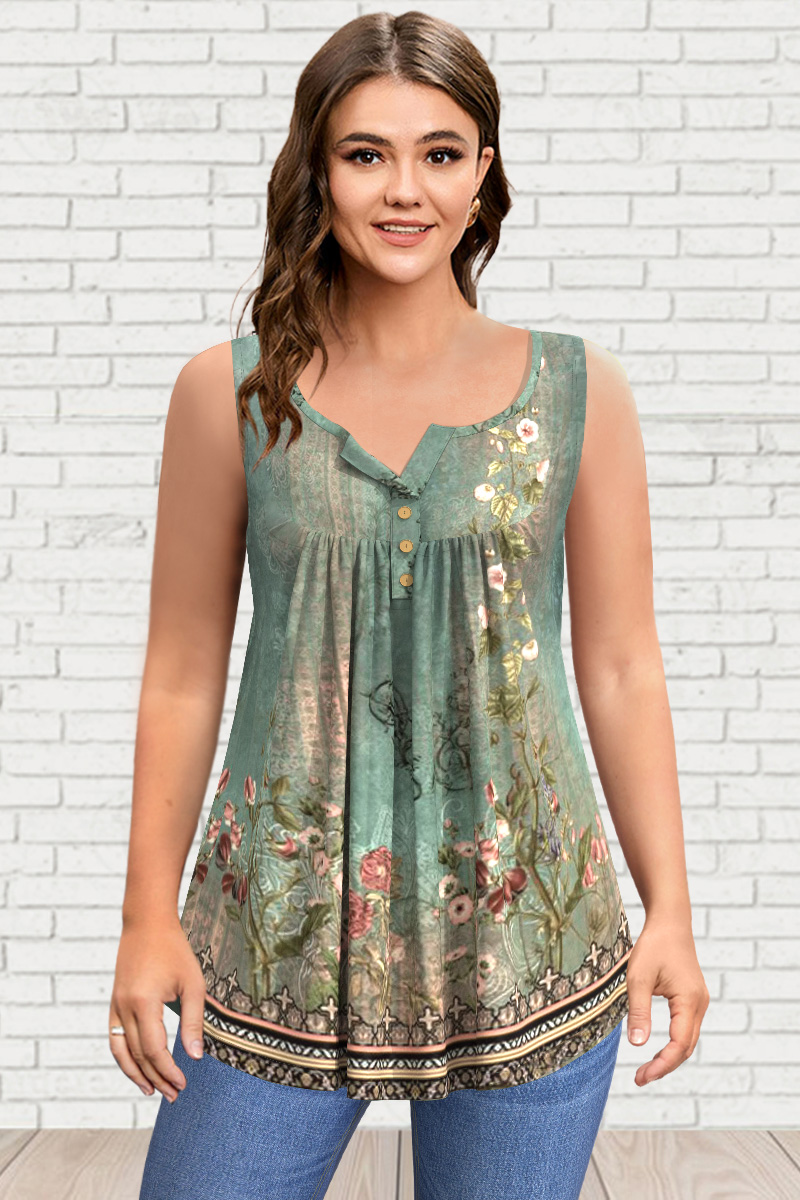 BUY IT NOW ! $13.99 (Save $9.00)
For an ultimate summer feel, the cute tank top is a good place to start. You'll be fond of it as it allows for maximum comfort and easy movement. This choice will carry you to every occasion, from long flights to casual outings to nights out.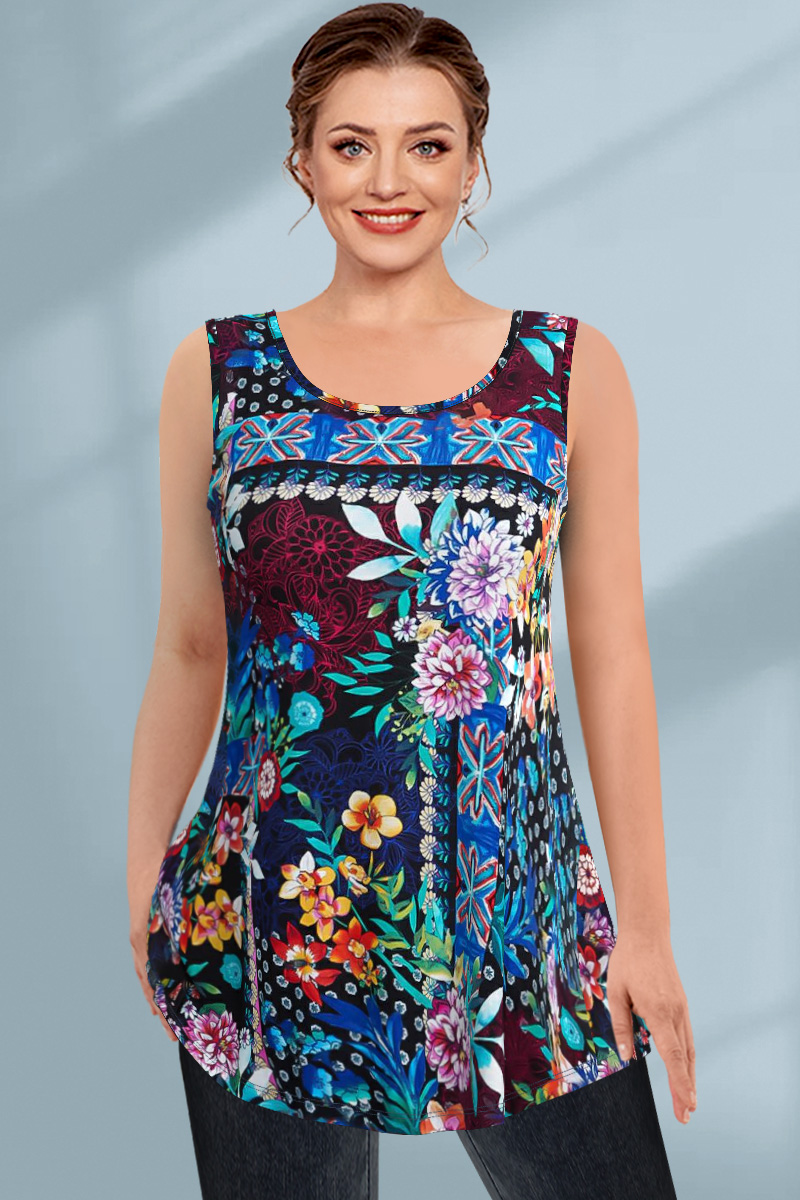 BUY IT NOW ! $10.99 (Save $12.00)
The plus size multicolor tank top is an ideal choice for rising temperatures. The relaxed silhouette is forgiving on any figure. It will give definition to your waistline while downplaying your problem area.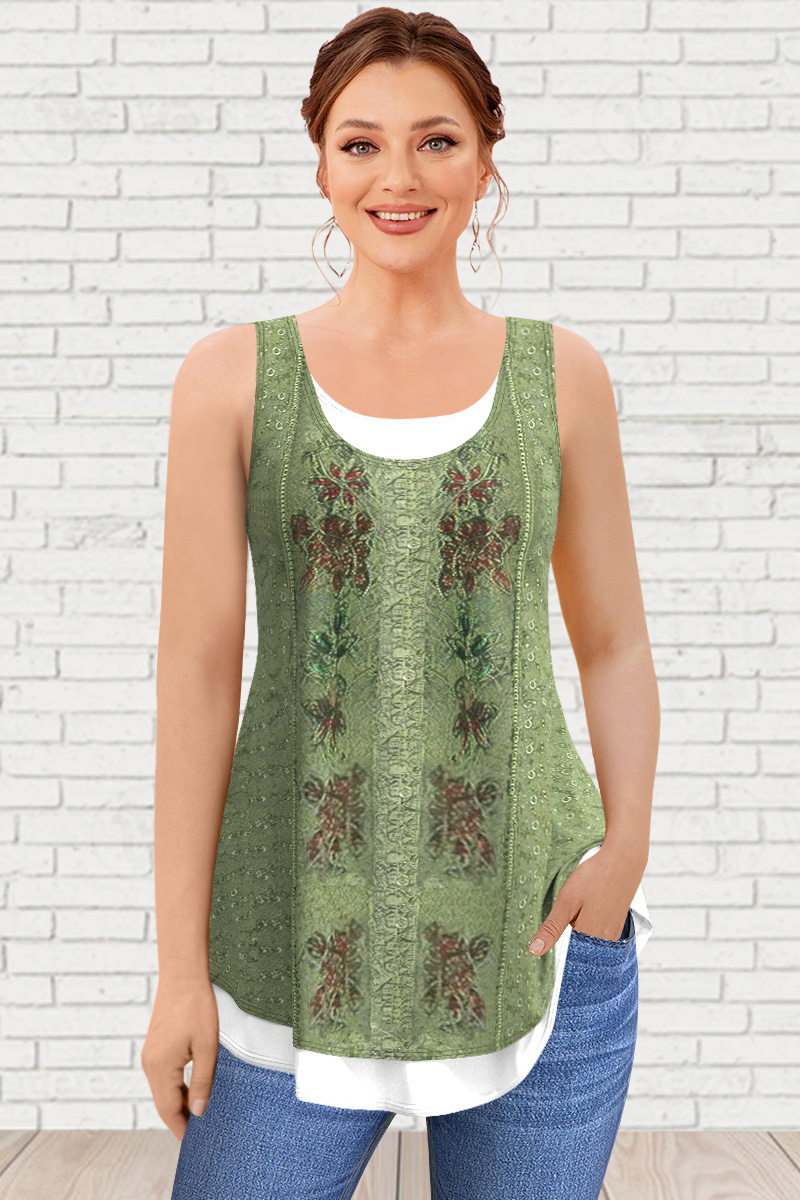 BUY IT NOW ! $15.99 (Save $8.00)
The high-quality casual stitching sleeveless green tank top provides contrasting color which will help to draw much attention and score tons of compliments. The versatile plus size tank top can be worn during the daytime and double as sleepwear.
Final Words
Which one do you prefer - the plus size shelf cup tank tops, the lace ones, or the tribal floral print ones? All three options provide a lot of perks, including optimal comfort, a perfect fit, stylish and versatile designs, and breathable and long-lasting fabrics. So no matter which one you opt for, we guarantee you'll be thrilled with your purchase. These tank tops will be the unsung heroes in your sun-ready wardrobe.