Can you believe that just by adding some extra details to your outfit, you can instantly elevate its fashion level and get all eyes on you? It's true! And using some sparkly embellishments is the perfect way to make it happen. Quiet frankly, it's here to stay for a well-sounded reason. The sparkle can create a beautiful and eye-catching glimmering effect, especially in the dazzling light, meanwhile, it also puts a playful and festive spin on your look, making you look your best and shine from the crowd.
If you're in the mood for sparkly pieces, we've got good news for you! You don't have to shop around like a headless fly because Flycurvy has put together a selection of sparkly pieces, including tops, jumpsuits, pantsuits, and even clutch bags. In addition to the sparkly accent, they also come with other benefits, such as super soft fabric, flattering silhouette, and best of all, they can suit any event, from weddings to nights out to offices.
(Slate Blue / Pink / Gold)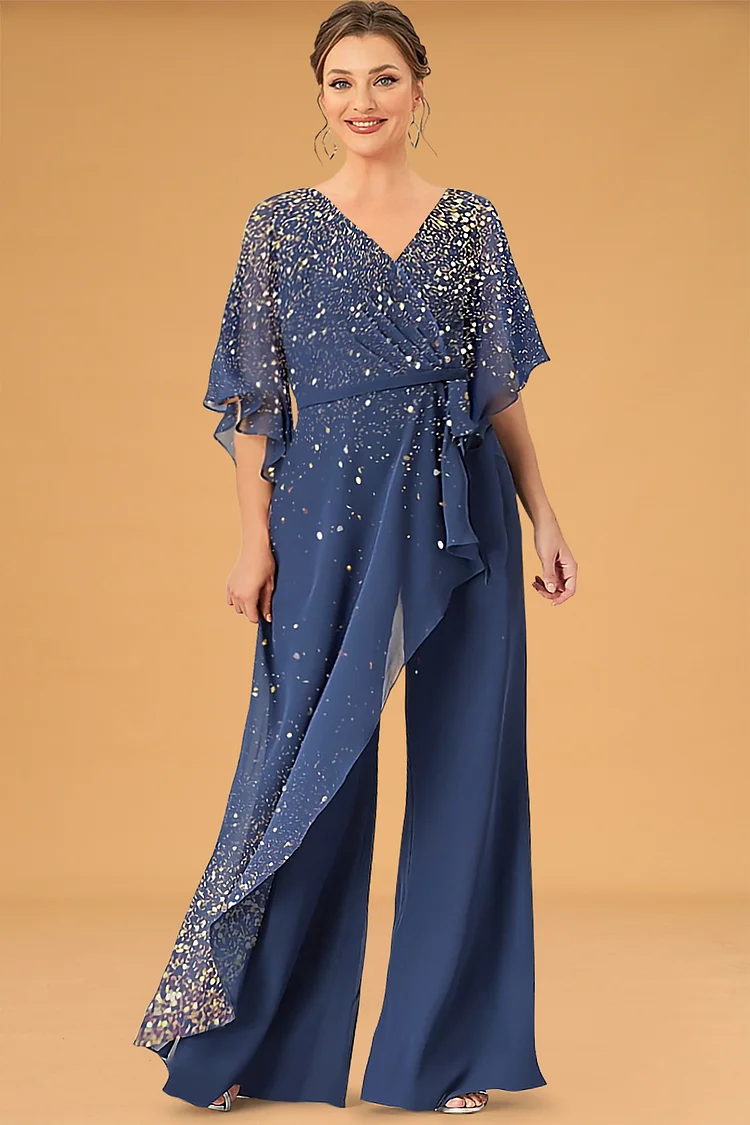 BUY IT NOW ! $f43.99 (Save $10.00)
If you thought nothing can perfectly combine elegance and sleekness, think again! Featuring a surplice neckline, waist-improving lace-up, asymmetrical hem, and wide legs, the plus size sparkly jumpsuit can give a classy and stylish vibe, effortlessly taking you from weddings to offices.
(Pink / Navy Blue)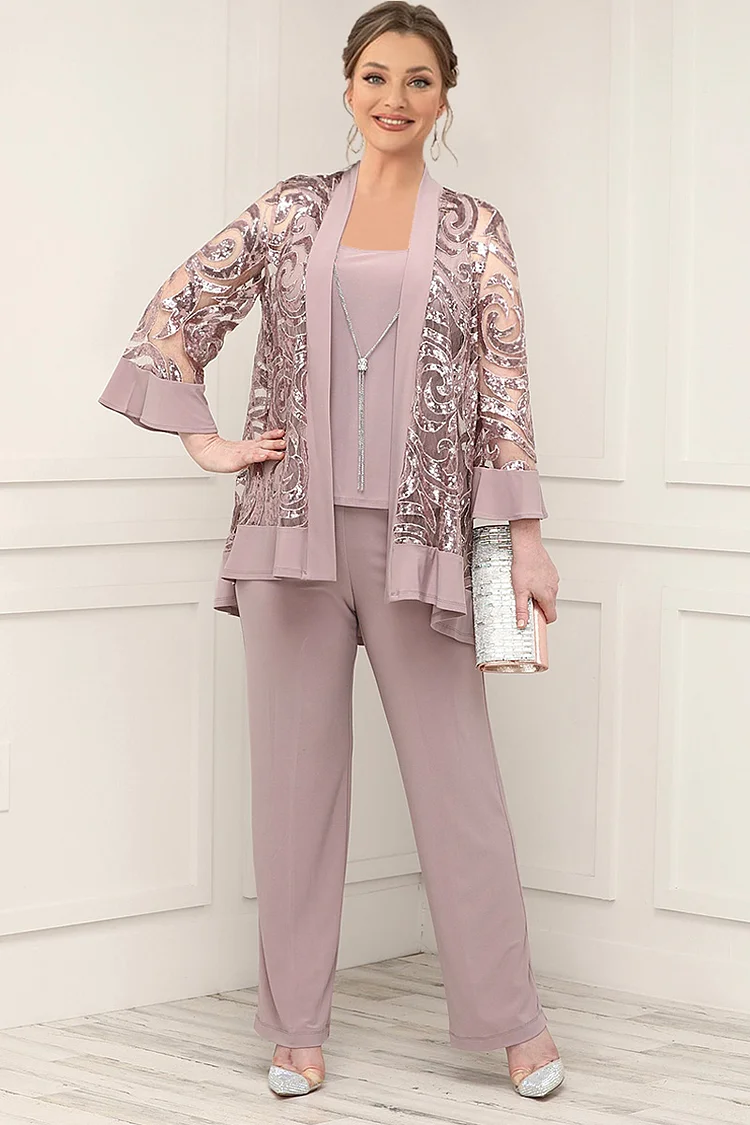 BUY IT NOW ! $46.99 (Save $12.00)
The plus size sparkly shimmer pant suit is everything we're looking for and even more! Crafted from mesh, this dress feels silky smooth and comfortable, making it the perfect choice for staying cool in hot climates. Plus, the glittery suit looks more luxurious and sophisticated than its price tag suggests.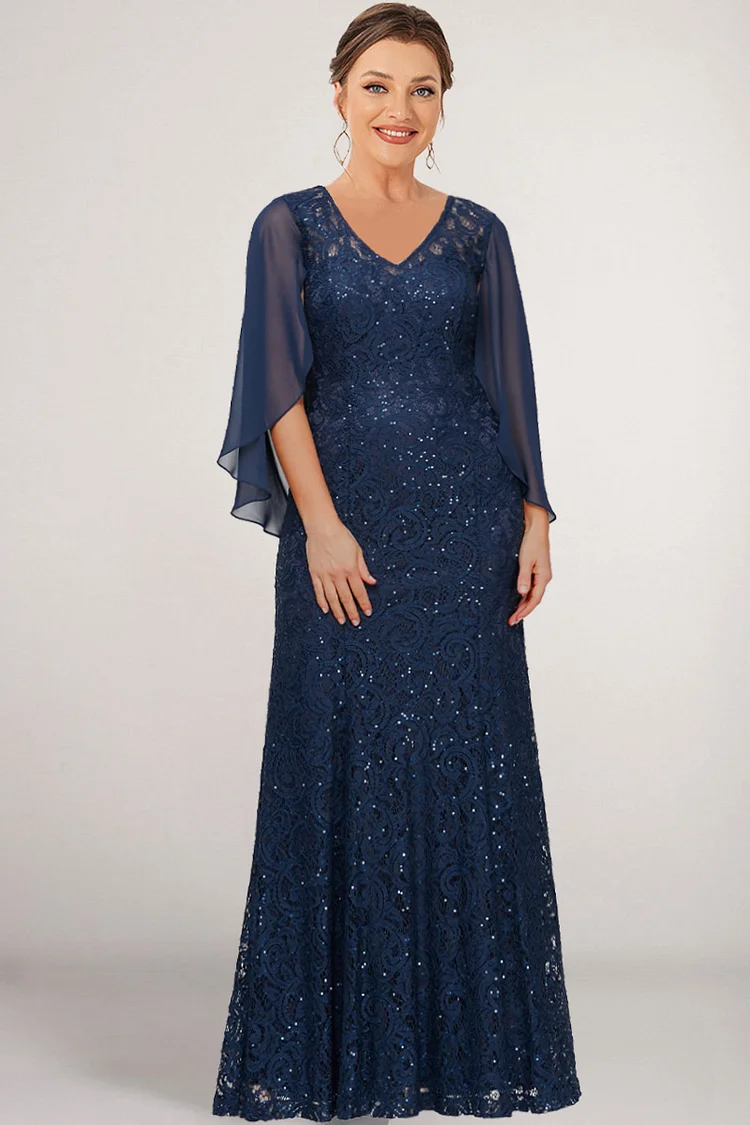 BUY IT NOW ! $49.99 (Save $17.00)
We are head over heels for this plus size sparkly dress because it has so many adorable features! It comes with a flattering V-neckline that showcases your collarbones, and delicate lace embellishments that add a touch of elegance and luxury. The chiffon fabric ensures maximum comfort and breathability while the double-layered feature adds texture and dimension to the glitter dress, making it even more beautiful and durable.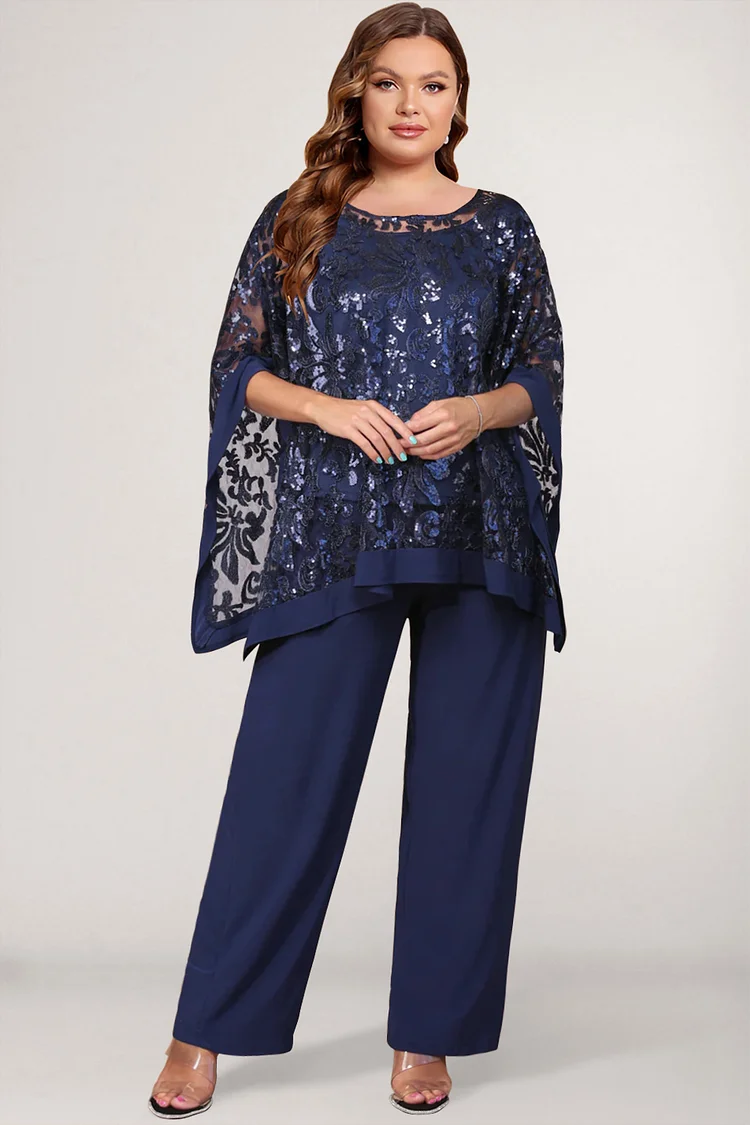 BUY IT NOW ! $52.99 (Save $11.00)
If you're looking for an outfit that can easily transition from formal to casual events, then the plus size sparkly pant suit could be a great option! Complete with a relaxed and flattering silhouette, the best part of the metallic pantsuit is the shawl, which not only hides the bulges in the tummy but also offers a modern and polished twist.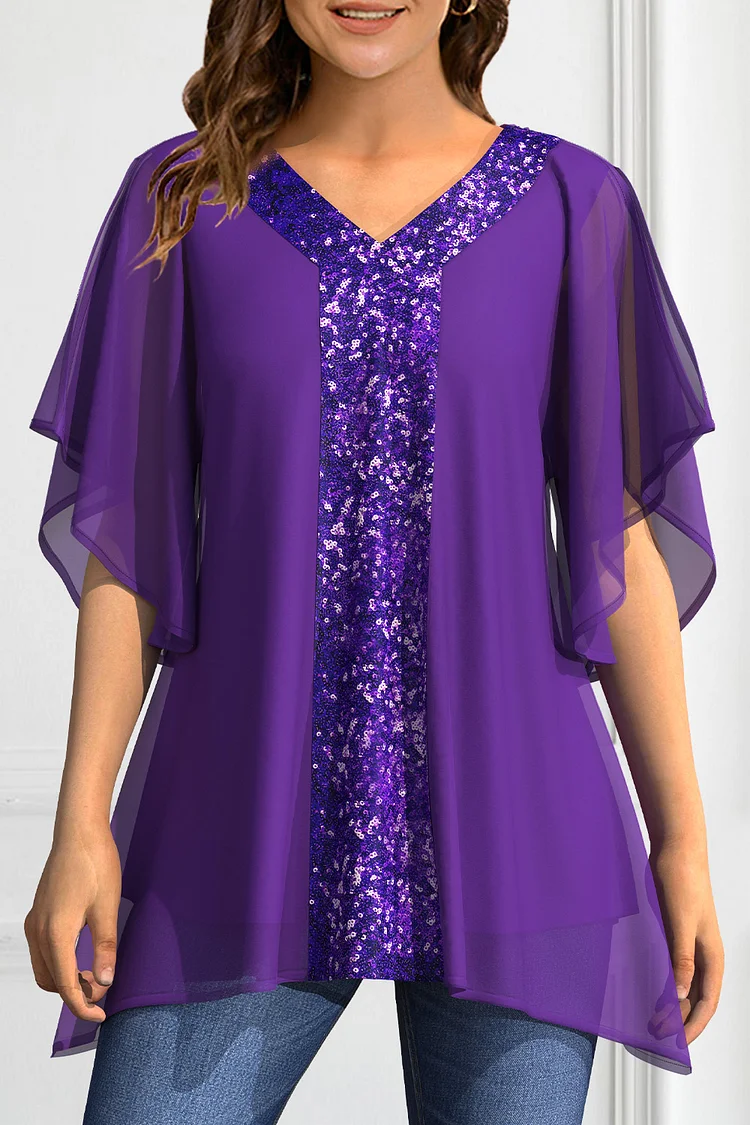 BUY IT NOW ! $25.99 (Save $5.00)
The plus size sparkly blouse is a no-brainer for your wardrobe! It's elevated with flutter sleeves, a V-neckline, and a layered hem. The layered hem creates a stunning layering effect that makes it stand out from the crowd. We love the casual yet stylish vibe of this dressy blouse, especially when paired with skinny jeans.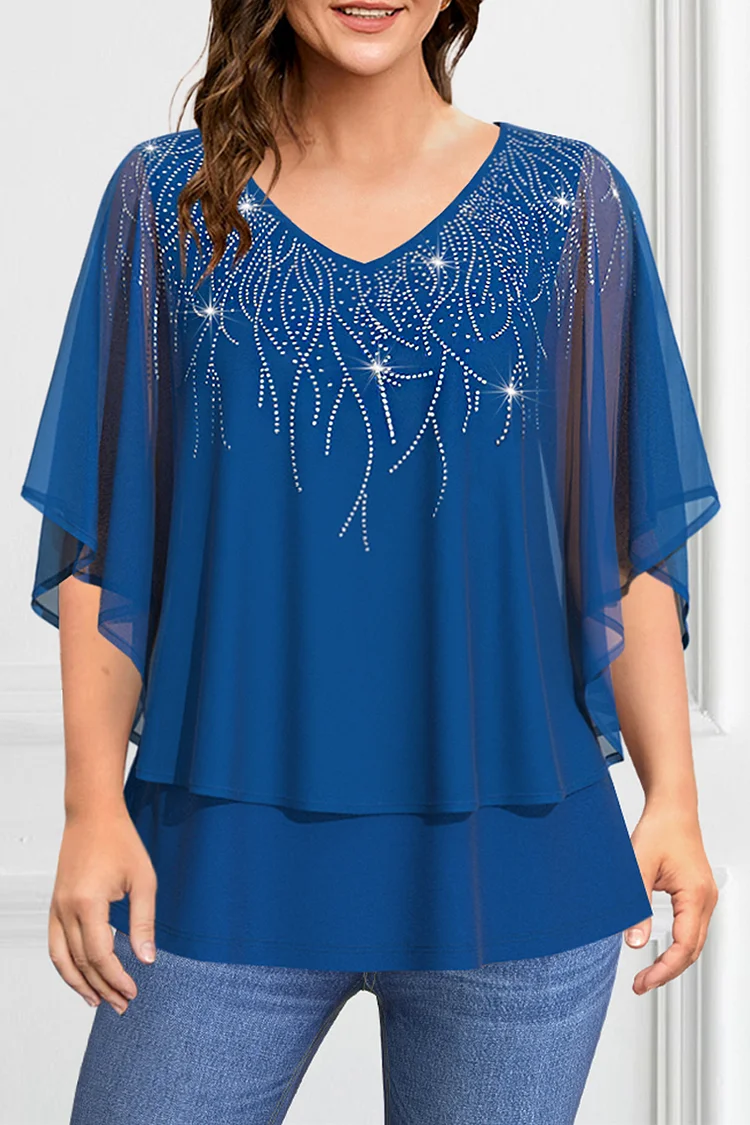 BUY IT NOW ! $29.99 (Save $10.00)
It's safe to say that you can get a lot of mileage out of this plus size sequin blouse! The flutter sleeves add a touch of movement and romance to it, and also hide your upper arm fat, while the sequin stitching infuses the glittery blouse with an attention-grabbing twist, enhancing its overall aesthetic appeal.
(Navy Blue / Black / Gold / Pink / Silver)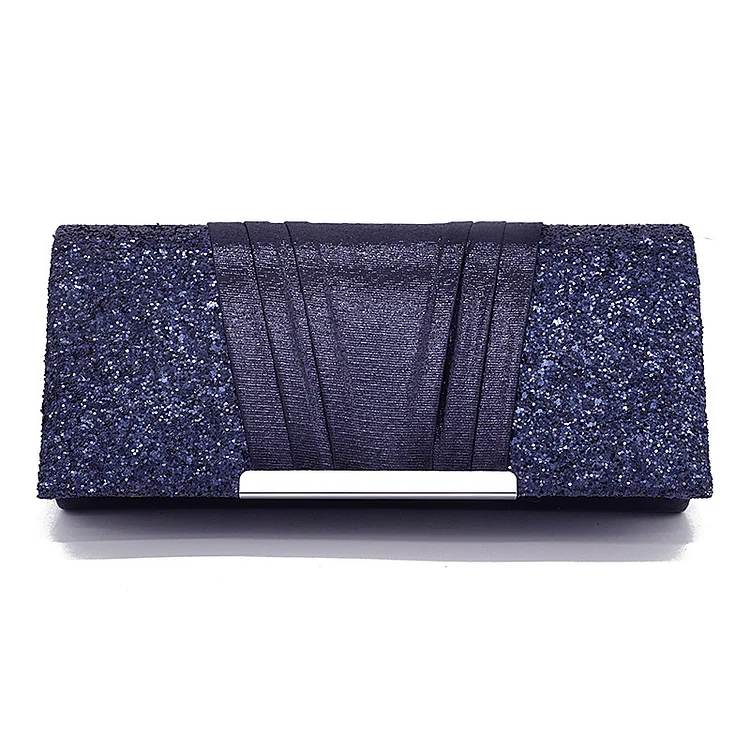 BUY IT NOW ! $19.99 (Save $10.00)
Trust us, a sparkly clutch bag can instantly elevate your outfit by adding a modern, high-end touch to it like nothing else. This one is accented with a convenient magnetic snap closure and has plenty of room inside to carry essentials like your smartphone, lipstick, cash, and keys.
(Silver / Red / Light Grey / Blue / Navy Blue / Black / Pink / Gold / Champagne)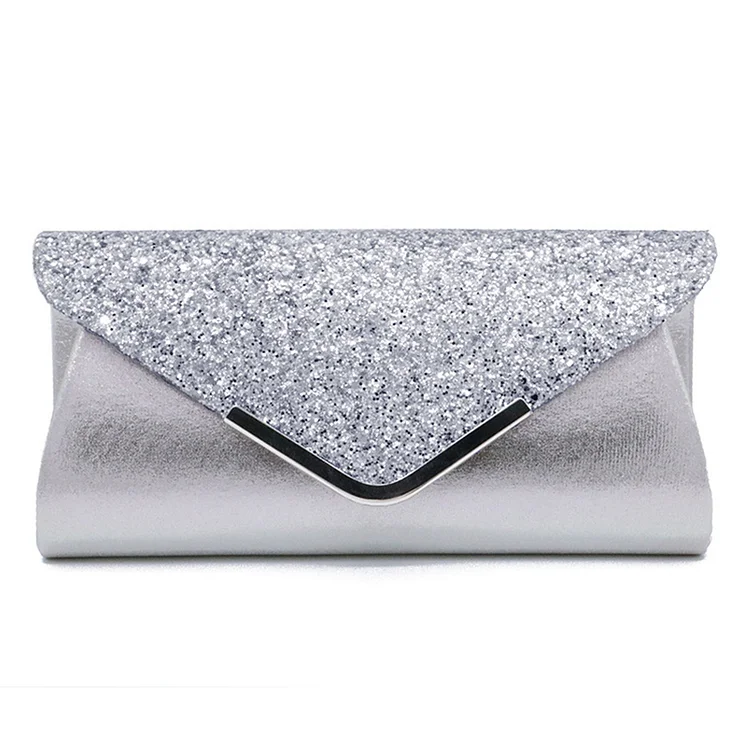 BUY IT NOW ! $19.99 (Save $10.00)
The silver sparkly clutch bag, with its spacious interior, envelope silhouette, and magnetic button closure, is the perfect finishing touch to any outfit! We're confident that it's worth the investment as it's an ideal accessory for any occasion, from weddings and proms to concerts, bridal showers, parties, and more.
FAQs
What to pair with sparkly blouses?
When it comes to pairing sparkly blouses, there are many options to choose from. They go perfectly with neutral skirts, leggings, and jeans, and can be accessorized with understated earrings and necklaces.
Can I wear sparkly outfits to any occasion?
Sparkly outfits can be versatile enough to dress down for everyday wear or dress up for special occasions like weddings, cocktails, banquets, or formal dinners. However, it's important to note that some occasions might have specific dress codes, so it's essential to check the dress code of the event beforehand.
What kind of shoes should I choose to accessorize with my sparkly outfit?
For shoes to pair with your sparkly outfit, it's best to choose nude or beige shoes that won't clash with the sparkle. If you're attending a formal event, opt for a pair of heels, and for casual occasions, go with flats.