When choosing an outfit for a wedding, it's essential to consider the type of fabric. Wearing heavy fabrics can make you feel stuffy, sweaty, and uncomfortable, especially if the wedding is held outdoors. This can be a nightmare and spoil a good day. Therefore, choosing the right fabrics is crucial.
Undoubtedly, chiffon is one of the most lightweight, breathable, and comfortable fabrics that are soft against your skin and can keep you cool even on scorching hot days. Chiffon always boasts a gorgeous drape and feminine silhouette and can add texture and volume to your wedding outfit.
Besides, chiffon is forgiving on many body types, as it can hug your curves without being too tight. A chiffon dress always exudes a classy, romantic, and elegant vibe, making it the perfect option for weddings. We've compiled a list of the 8 best chiffon dresses for weddings, so don't hesitate to explore them for your best wedding guest look.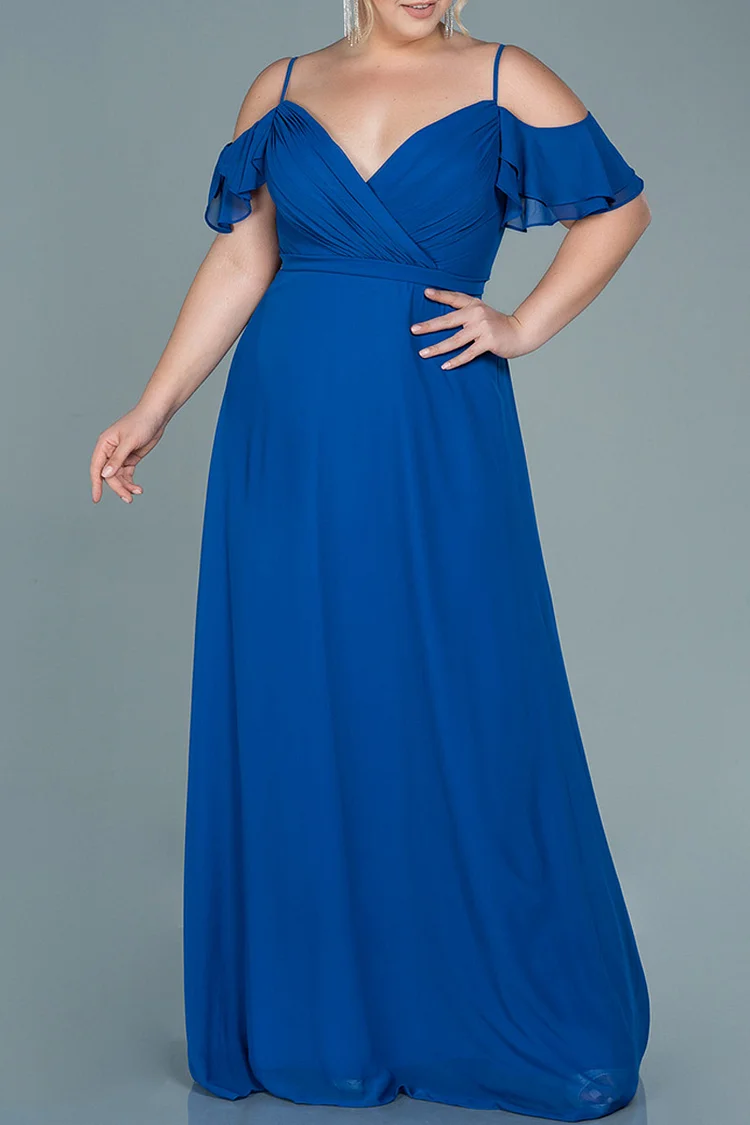 BUY IT NOW ! $36.99 (Save $10.00)
The plus size chiffon long dress is the best place to start for a stunning and stylish wedding guest look. It shows off your skin and draws attention to your cleavage while making your waist appear smaller by cinching at the waist. The ruffle sleeves can add a touch of elegance to the outfit and make it more visually appealing.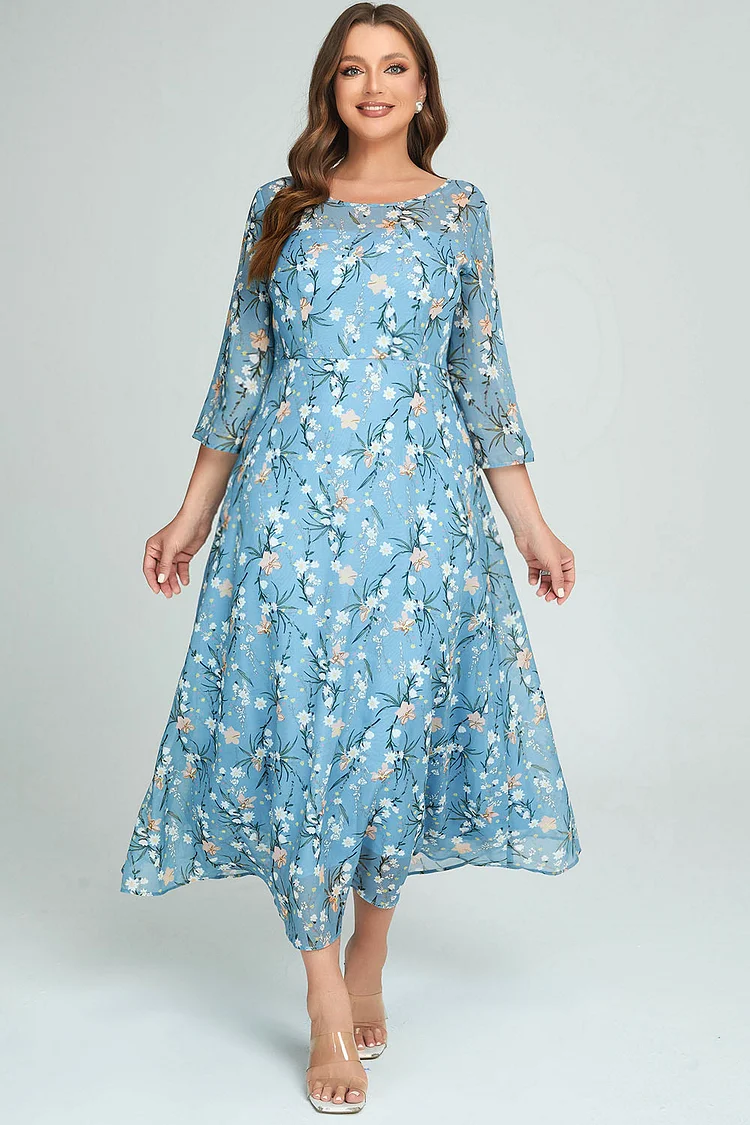 BUY IT NOW ! $39.99 (Save $8.00)
The plus size floral chiffon dress with sleeves is sure to secure your spot on the best wedding guest dress list. It comes with a floral print, 3/4 sleeves, and tea length. The casual dress offers a comfortable fit while exuding a romantic and sophisticated aura that perfectly complements the wedding theme. Top it off with matching heels and accessories for a more formal outfit.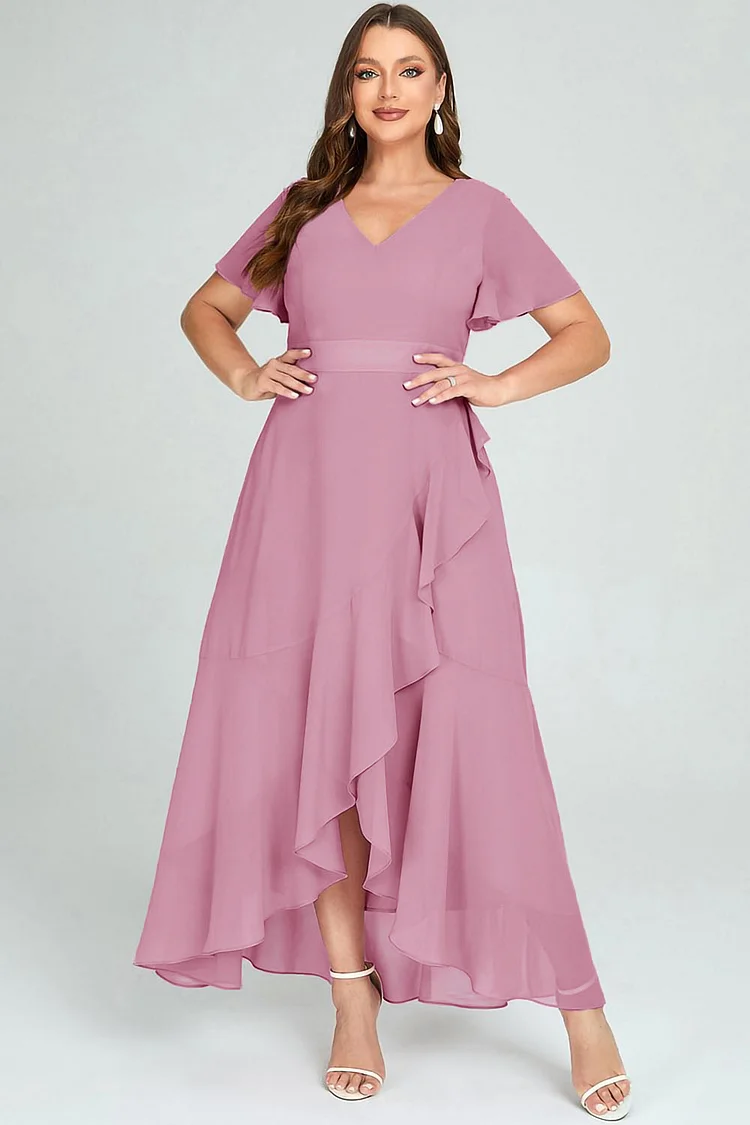 BUY IT NOW ! $39.99 (Save $7.00)
Lean into the fabulous wedding look in this plus size chiffon summer dress! It can lengthen your neck and defines your waistline, creating an illusion of a streamlined torso. The ruffle hem adds dimension and feminine touch to the dress. You'll definitely receive a plethora of compliments in this orchid chiffon maxi dress.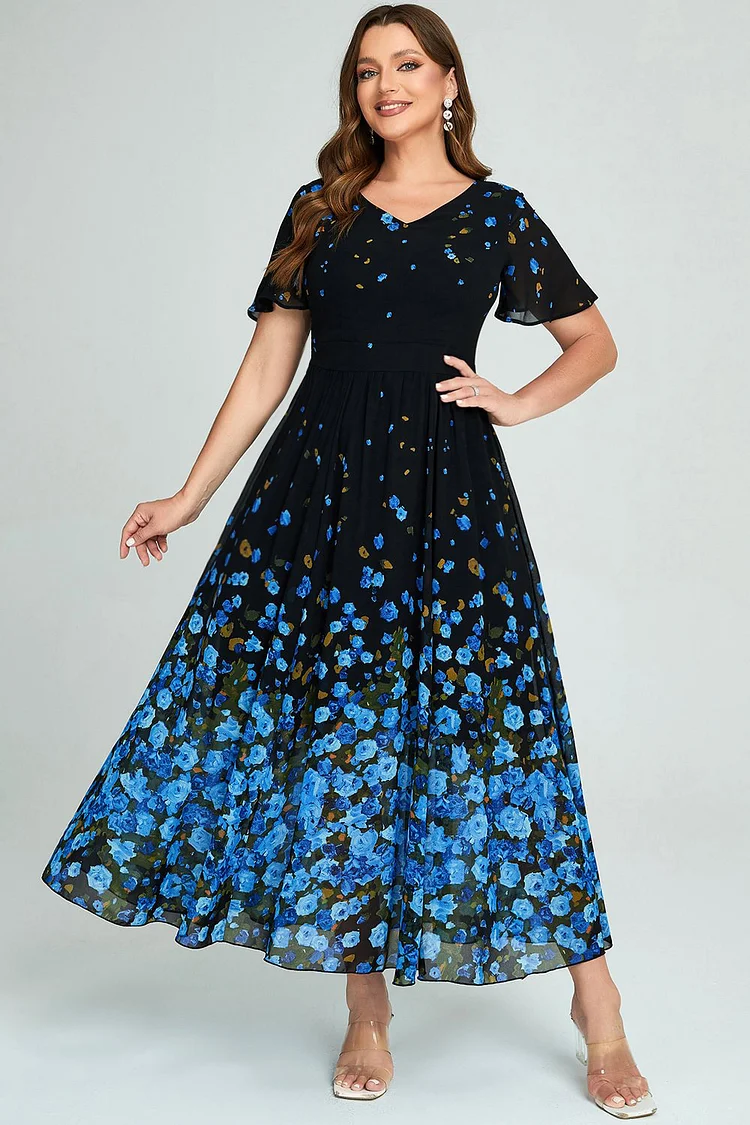 BUY IT NOW ! $39.99 (Save $7.00)
The plus size chiffon black dress is your go-to option for a wedding guest outfit. It's designed with ruffle sleeves, a v-neckline, and a floral print, which elevate the LBD from basic to chic, making it pop in a sea of wedding guest dresses. You can easily transform the casual dress into an elegant outfit by pairing it with earrings, necklaces, heels, and a clutch.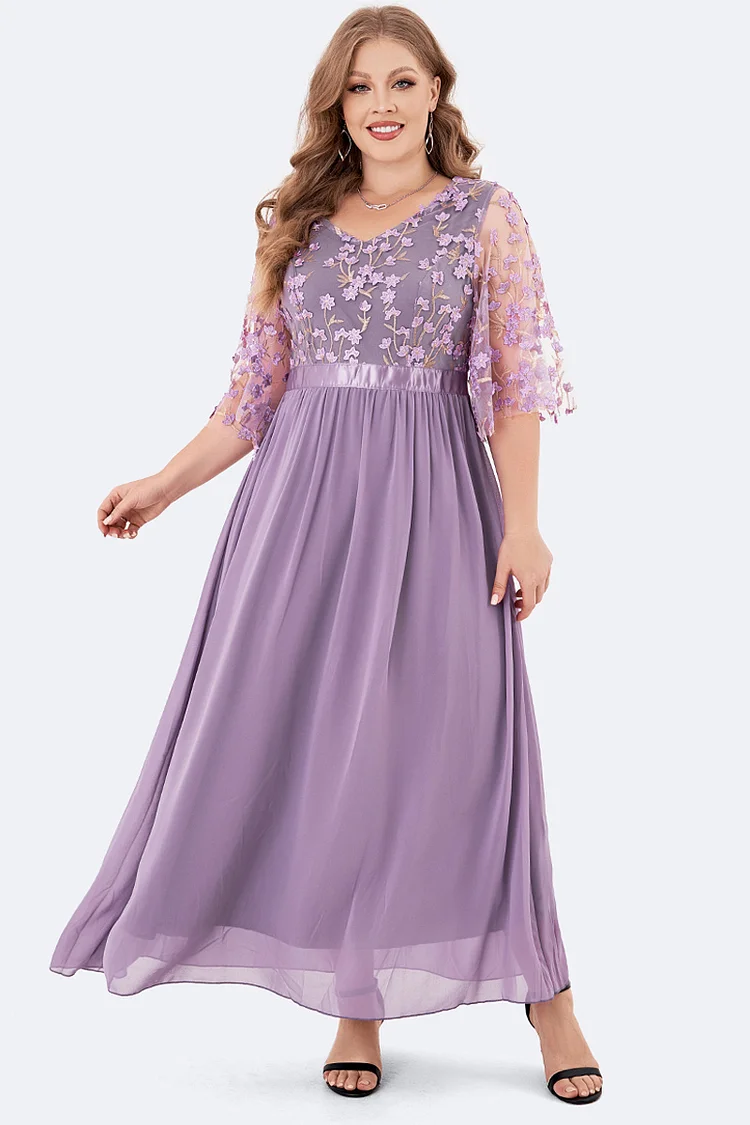 BUY IT NOW ! $45.99 (Save $10.00)
The plus size purple dress is absolutely to-die for if you're headed to weddings. It is airy, sheer, and lightweight, ensuring you stay cool and comfortable throughout the event. The dress can sculpt your waistline and create a more elongated silhouette while the stereo petal embellishments enhance the overall look with a sweet and special touch.
(Slate Blue / Navy Blue)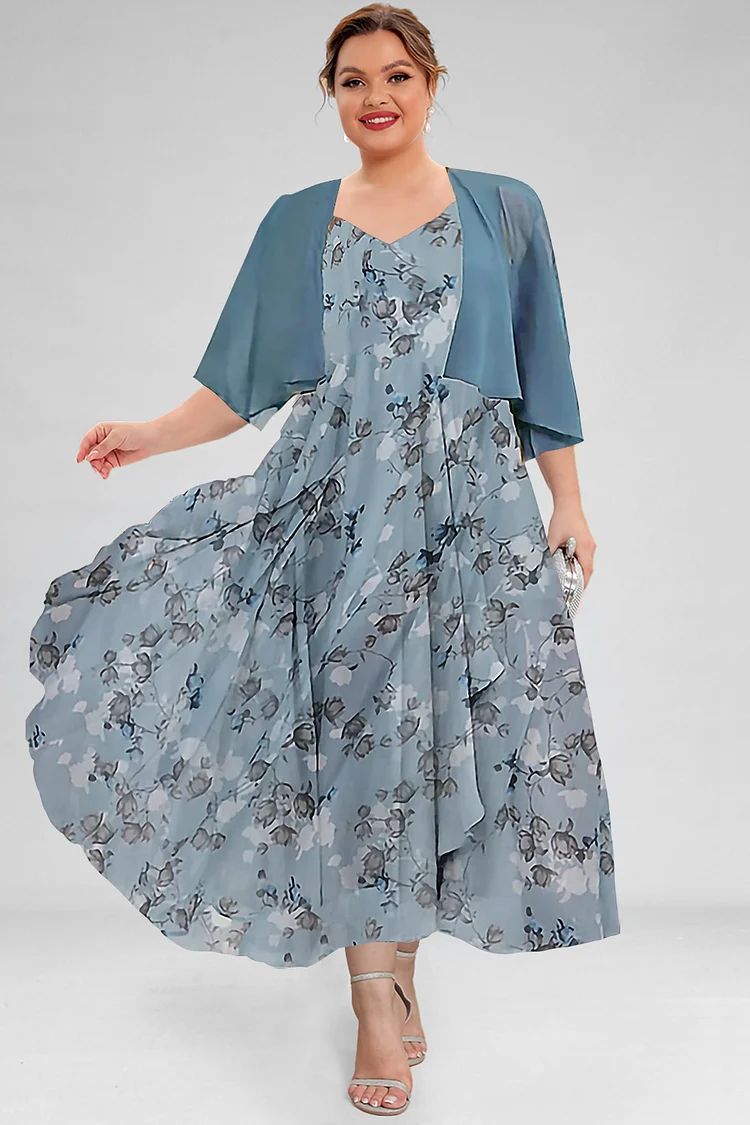 BUY IT NOW ! $42.99 (Save $10.00)
This plus size two-piece dress is the epitome of style and elegance. Featured with floral print, tea length, cross hem, and v-neckline, it complements your skin tone and hides your body imperfections thanks to the relaxed silhouette. Plus, it offers more coverage and versatility, enabling you to mix and match the outfit with anything in your year-round wardrobe.
(Pink / Blue / White)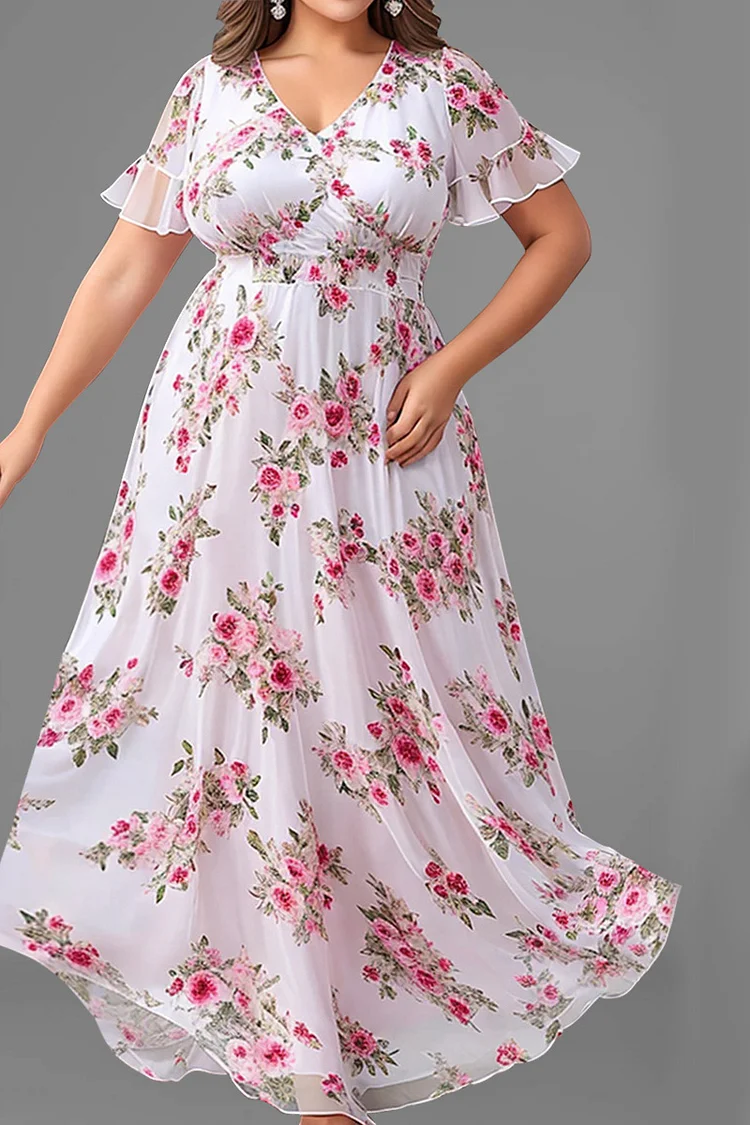 BUY IT NOW ! $39.99 (Save $10.00)
The plus size floral dress is equal parts casual and dressy, radiating a feminine elegance that makes it ideal for any type of wedding, whether it be a wedding, garden wedding, or church wedding. The v-neckline draws attention to your cleavage and collarbones, while the high-waisted silhouette helps to balance out your shape and create a lengthened appearance.
(Navy Blue / Hunter Green / Black)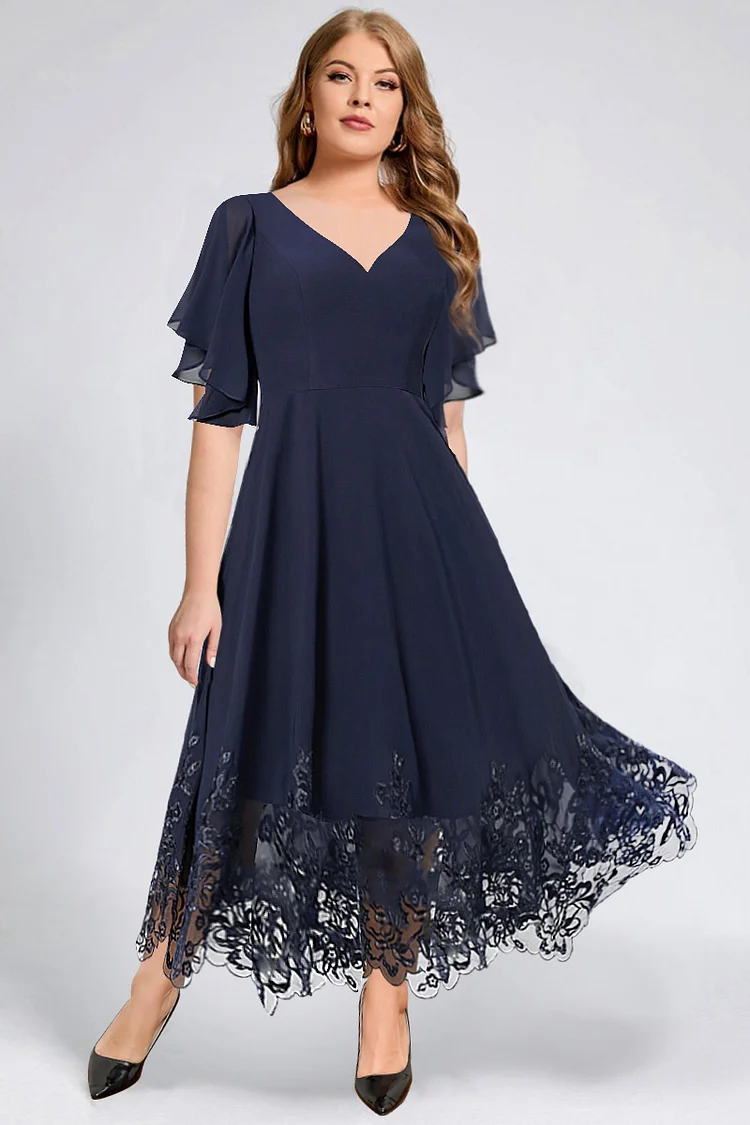 BUY IT NOW ! $49.99 (Save $10.00)
When it comes to wedding guest dresses, we always vote for the plus size a-line chiffon dress. It flaunts your every curve in all the right places while also allowing for an easy range of movement. We can't decide whether we love the delicate lace stitching or flutter sleeves more, as both details add a luxurious feel to the dress and take it up a notch.
FAQ
What Is Chiffon Fabric?
Made from silk, polyester, or nylon fibers, chiffon fabric is lightweight, sheer, and transparent, which adds a touch of elegance of luxury to clothing while providing maximum comfort and breathability. When used for evening gowns, it can create an expensive look, while in everyday outfits, it can create a casual and airy vibe.
In Addition to Weddings, Where Else Can I Wear a Chiffon Dress?
Chiffon dresses are versatile enough to wear for a variety of occasions, from formal events like proms, graduation ceremonies, and cocktail parties to casual settings, like beaches, vacations, and running errands. So you will never go wrong with a chiffon dress at any event.
Is a Chiffon Dress Durable?
It depends on how you take care of it. If you want your chiffon dress to stay in good condition for years to come, you should follow the care instructions on the label. Some may require hand washing or dry cleaning to maintain their shape and prevent wrinkles.