Do you have a dinner party or an important event but don't want to splurge on a formal dress? The good news is that dressy tops can provide a perfect solution. Typically, basic tops can make you look bulky and shapeless while dressy tops always come with a flattering silhouette that can show off your curves to their best advantage. Even better, dressy tops are often adorned with trendy elements like ruffles, floral prints, or batwing sleeves that can showcase your unique fashion sense and create a stunning effect, making you the center of attention. You also don't need to worry about how to style these dressy tops because they can pair well with anything, like solid-color leggings, denim jeans, or slinky skirts, and help to create various show-stopping looks.
If you're looking for dressy tops at a reasonable price, look no further than Flycurvy's selection of 9 top-notch options. These dressy tops are not only comfortable and soft against your skin but also suitable for any occasion, from formal to casual and everything in between. Keep browsing to find the dressy top that's perfect for you!
❤️1
(Navy Blue / Purple)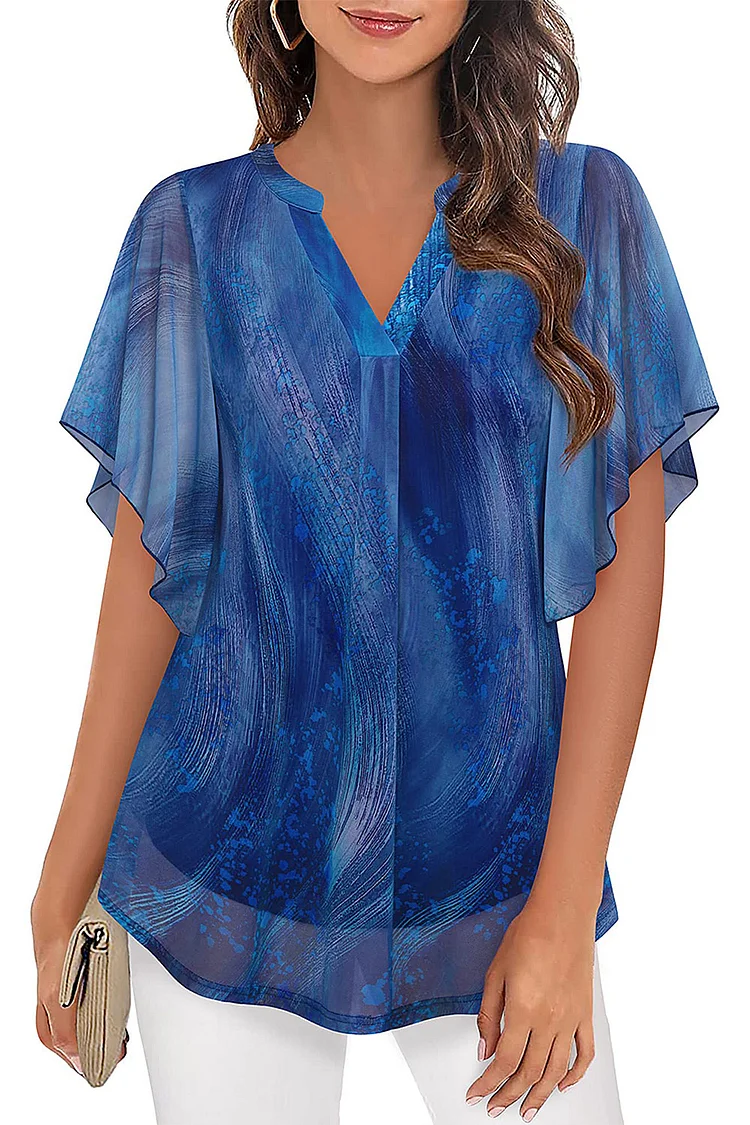 BUY IT NOW ! $28.99 (Save $5.00)
Indeed, we can't talk about the summer trends without mentioning this plus size flattering top accented with a marble print, ruffle sleeves, split neck, and double-layered detailing. Made from sheer chiffon materials, the elegant dressy top feels extremely comfortable, smooth, and breathable, keeping you feeling cool and sweat-free in the muggy weather. Additionally, the chiffon dressy top can be worn with a coat, like a cardigan or a jacket for added warmth on chilly days.
❤️2
(Purple / Blue)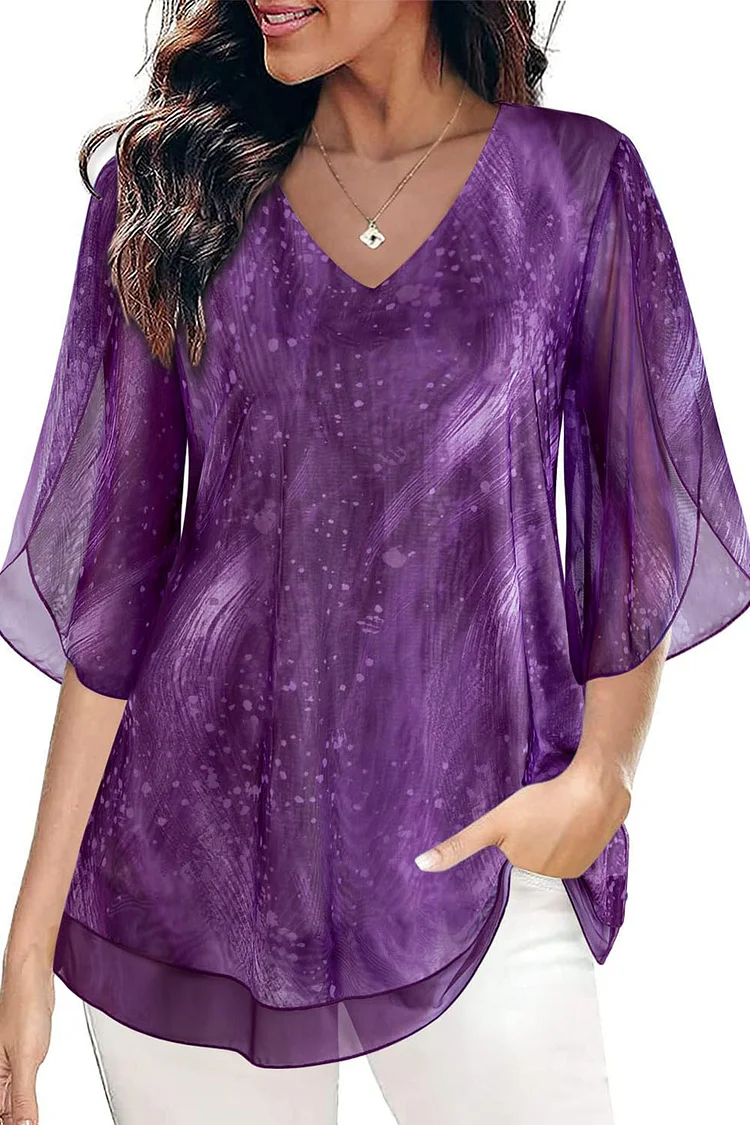 BUY IT NOW ! $27.99 (Save $5.00)
You always need a versatile dressy top that can take you from the workplace to a stroll in the park to nights out events in your all-year wardrobe. This plus size wedding top ticks all the right boxes! It starts with a flattering V-neckline that elongates your neck and falls into an A-line silhouette, creating a streamlined appearance. And the petal sleeves are a trendy addition to the top, which gives a fresh and modern twist to your overall look. Adding a necklace to your outfit would be the cherry on top.
❤️3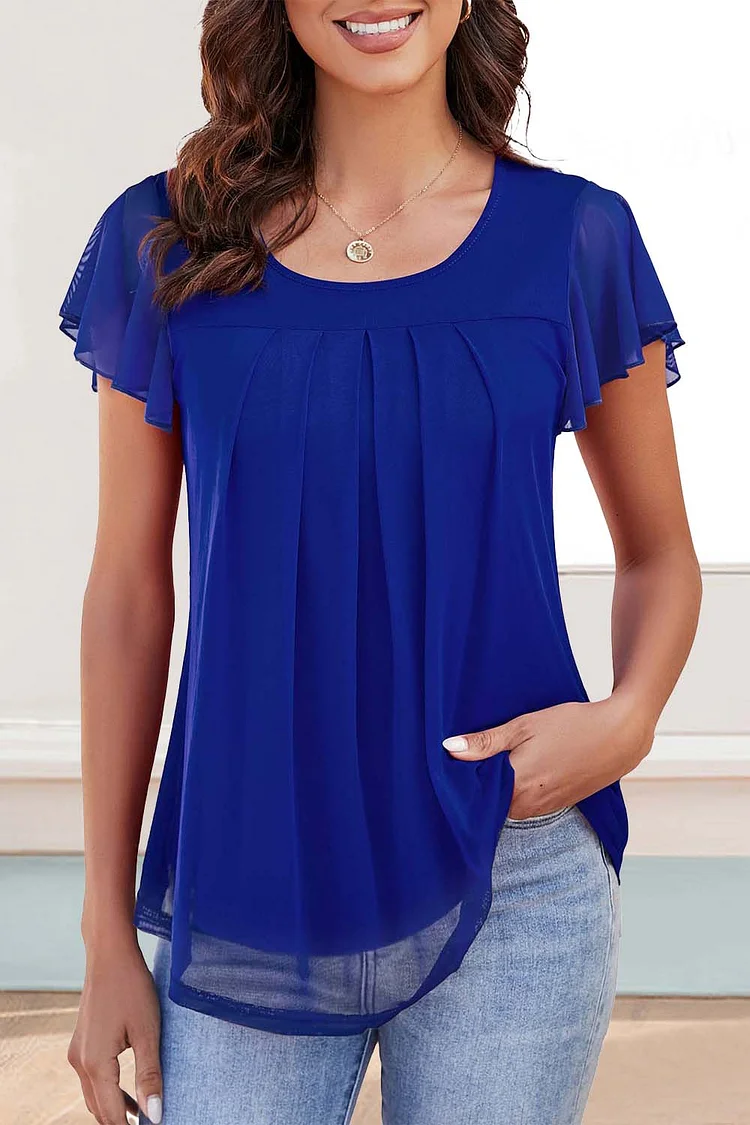 BUY IT NOW ! $27.99 (Save $10.00)
The plus size dressy top for wedding guests is as chic as hell that will become a must-have in your wardrobe, making it a surefire option for seasons to come. One of its major benefits is the pleated feature, which adds a playful touch to the top and makes it visually interesting and appealing. Besides, it offers a slimming effect by smoothing out any bulges and bumps. The flutter sleeves help to hide your upper arm fat and bring an extra special feel to the flattering top.
❤️4
(Black / White / Light Grey / Deep Black)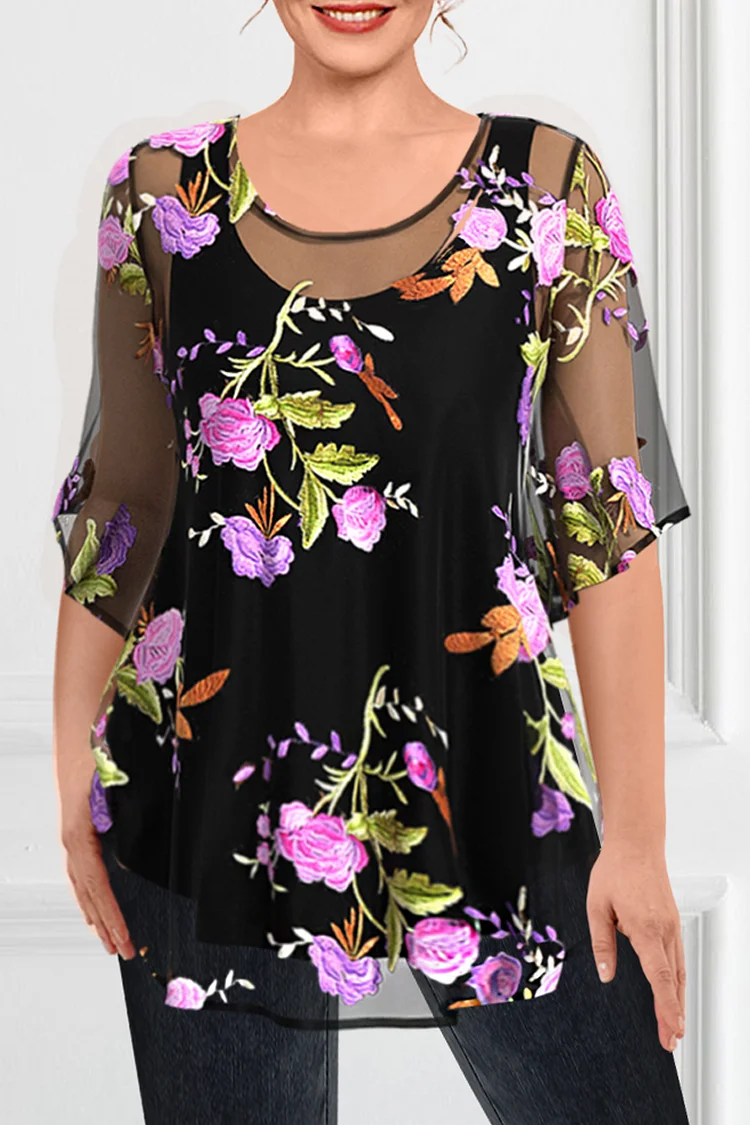 BUY IT NOW ! $19.99 (Save $10.00)
Effortlessly go from daytime to evening with this plus dressy blouse for special occasions! The floral print can show off your personality and elevate your look by lending an air of femininity and refinement to the top, making you stand out from the crowd. The slimming black color creates the illusion of a slim and sleek appearance by downplaying any unflattering areas. Plus, the blouse is made of super-soft chiffon fabric for added comfort.
❤️5
(Light Grey / White / Black / Deep Black)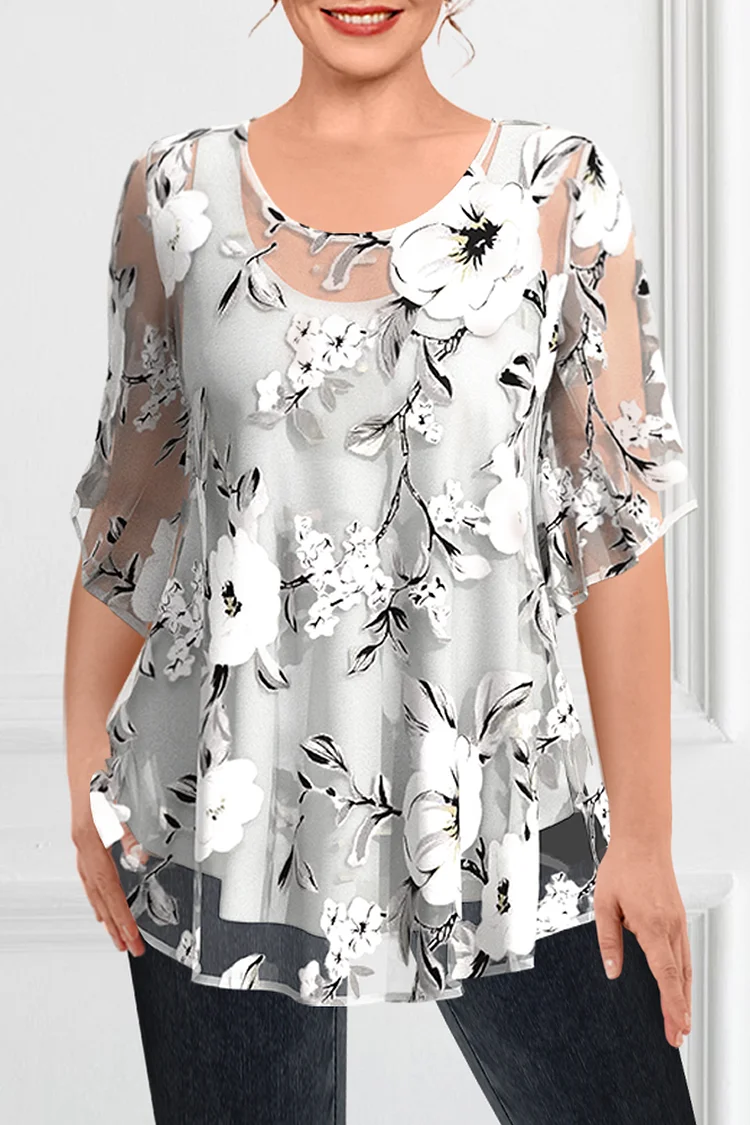 BUY IT NOW ! $19.99 (Save $10.00)
It's a no-brainer why this plus size floral print dressy top impresses us immediately: it's designed with chiffon see-through fabric, making it lightweight and comfortable enough to sleep in while giving you a sophisticated and stylish look. The added perk is that you can wear the two pieces separately to create many cohesive yet perfect combos. For example, you can match the solid tank top with a button-down shirt and dress pants for a more polished and professional feel.
❤️6
BUY IT NOW ! $27.99 (Save $5.00)
This plus size flattering top to hide tummy is perfect for times when you want to achieve a fashion-forward look without breaking the bank. The 2-in-1 feature creates a stylish layering effect and gives a unique spin on the top, while the abstract print enhances its aesthetic appeal, making you feel sophisticated and confident. The irregular cuffs are designed to add a modern flair to the top and draw attention.
❤️7
(Blue / Pink)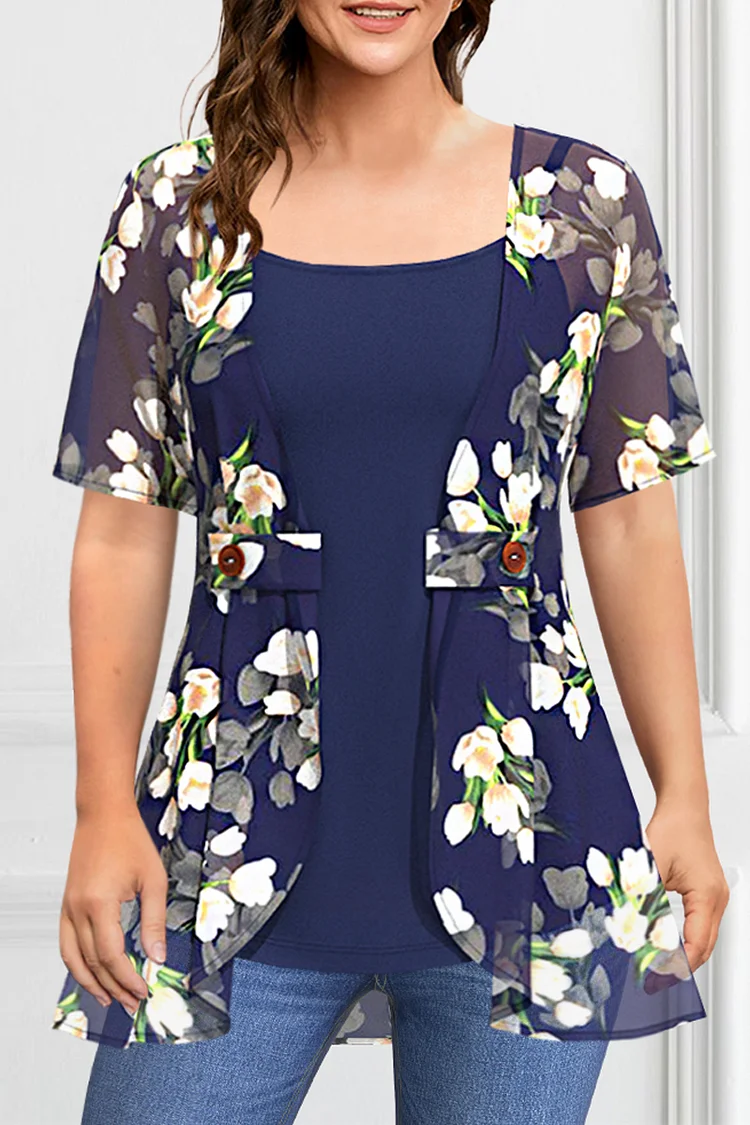 BUY IT NOW ! $26.99 (Save $10.00)
This plus size 2-in-1 top, crafted from chiffon with a floral print, is the ultimate style statement that you can rock time and time again. If you have narrow shoulders, this flattering top for big busts and bellies comes in handy. Its scoop neck can give your shoulders more volume and make them look wider, creating the illusion of a more balanced look. The cinched waist helps to hug your curves and create the desired figure.
❤️8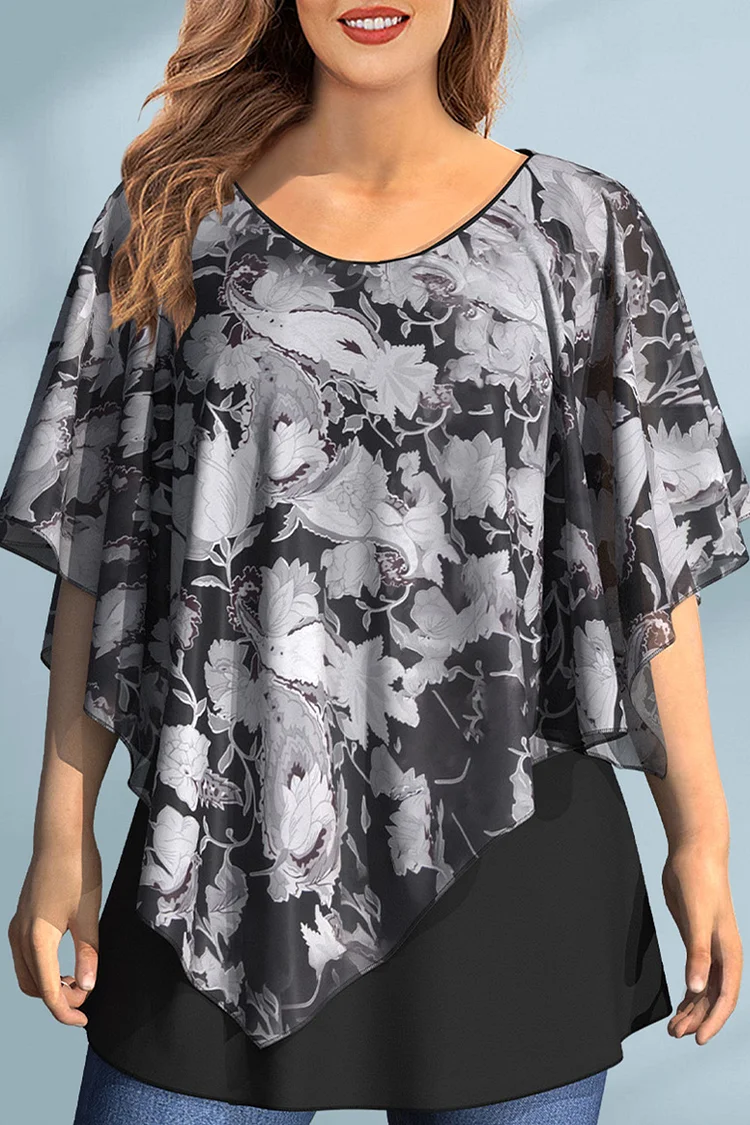 BUY IT NOW ! $28.99 (Save $10.00)
This plus size fancy top, featuring a floral print, is a reliable and versatile option for any setting. Due to its layered design, the batwing sleeve dressy top adds dimension to your look and provides a flattering fit by concealing areas of concern. The batwing sleeves add a comfortable and stylish touch to your look while ensuring unrestricted mobility.
❤️9
BUY IT NOW ! $9.99 (Save $19.00)
If you're not a fan of the previous understated top, take a look at this alternative option. It features similar details to the previous one but with a more attention-grabbing ombre sakura print, evoking a dreamy and whimsical atmosphere that captures the essence of a star-filled sky. This layered dressy top for big busts is sure to earn you a long list of compliments.