It is an arduous task to buy fashion and fitted clothing for plus size women. For the most part, you have limited options. They are loose and conservative dresses that hide your figure's curves.
Luckily, if you struggle to find large size garments, look no further than Flycurvy; we will give you a helping hand.
We are committed to providing the best plus size clothing. They will fit your frame properly and highlight your attractive body parts. We ensure that you will absolutely get the right clothes with a comfortable fit from us, regardless of your shape and budget.
These dresses will boost your confidence and make you appear more amazing at work, on dates, and at other special events.
Here we present different styles of plus size blouses for women. Explore your choices now!
🎶Tunic Tops
Flycurvy Plus Size Casual Dark Blue Pleated Cross Wrap V Neck Tunic Blouse
(Dark Blue, Black, Purple)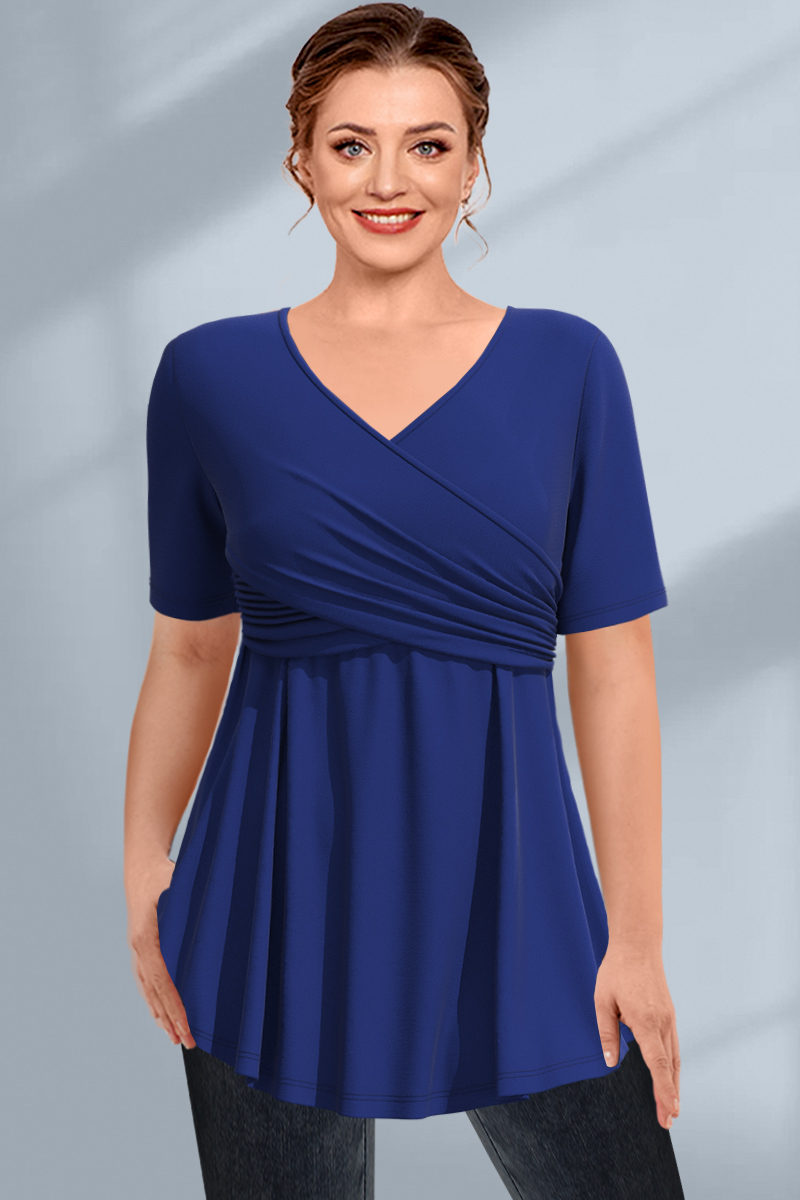 BUY IT NOW ! $19.99 (Save $15.00)
Shopping for flattering plus size tops? Give this dark blue tunic blouse a try! Featuring a v-neckline, the plus size spring and summer tops draw attention to your slender neck and attractive collarbones.
The tops hits at your hips, exactly hiding your butt, and produces an illusion of lengthening your frame.
The women's plus size summer tunic tops feel comfortable and have perfect stretch. It will fit your body in the right places. The front wrap and pleated details will subtly camouflage your tummy.
>>>>>>>>>>>>>>>>>>>>
Flycurvy Plus Size Casual Black Lace-Up Ruffled Eyelet Washer Blouse
(Black, Royal Blue, Red, Pink, Grey)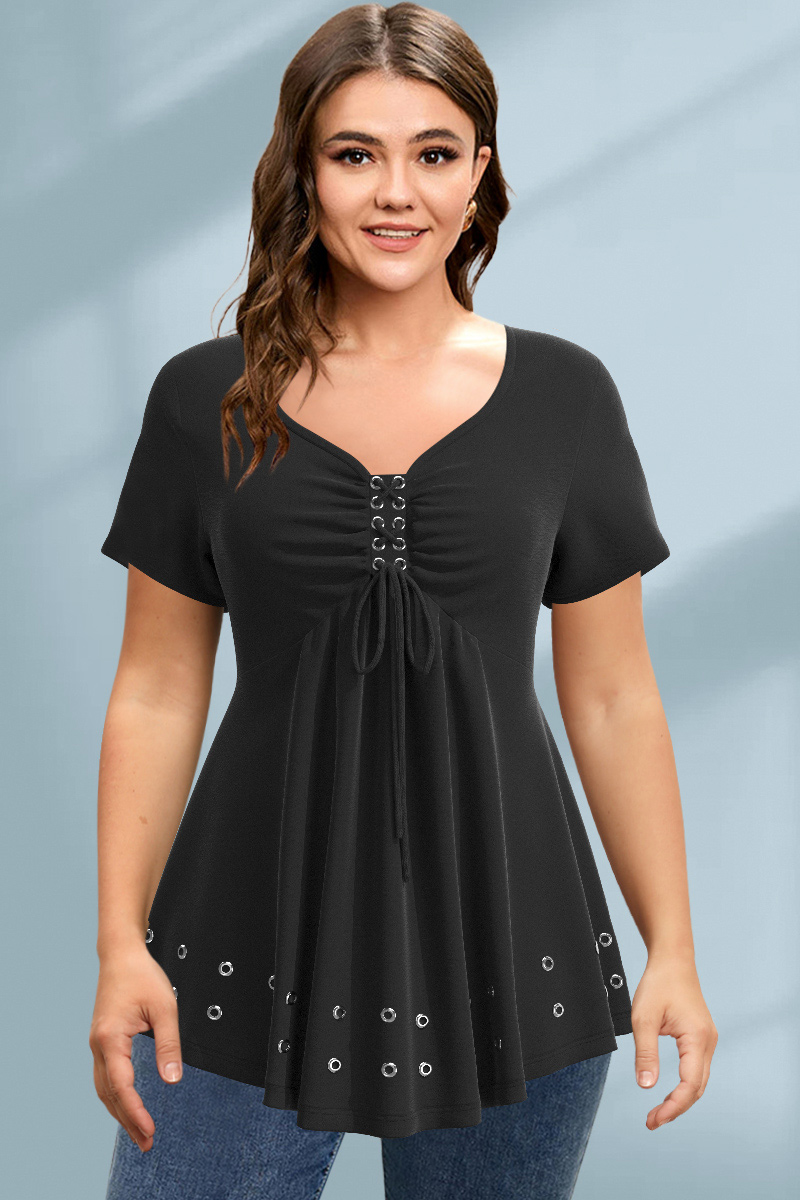 BUY IT NOW ! $19.99 (Save $15.00)
This plus size blouse for women is designed with a sweetheart neckline, short sleeves, lace up, ruffle, and eyelet details. The top is flattering on big shapes. It elongates your neck, accentuates your waistline, and hugs your curves.
You will look great by pairing it with jeans, leggings, sneakers, flats, or heels. It works well for any occasion. The plus size summer tops give you various chic yet charming outfits.
>>>>>>>>>>>>>>>>>>>>
Flycurvy Plus Size Casual Pink Plaid Print Lace-Up Fake Two Piece Blouse
(Pink, Blue, Purple)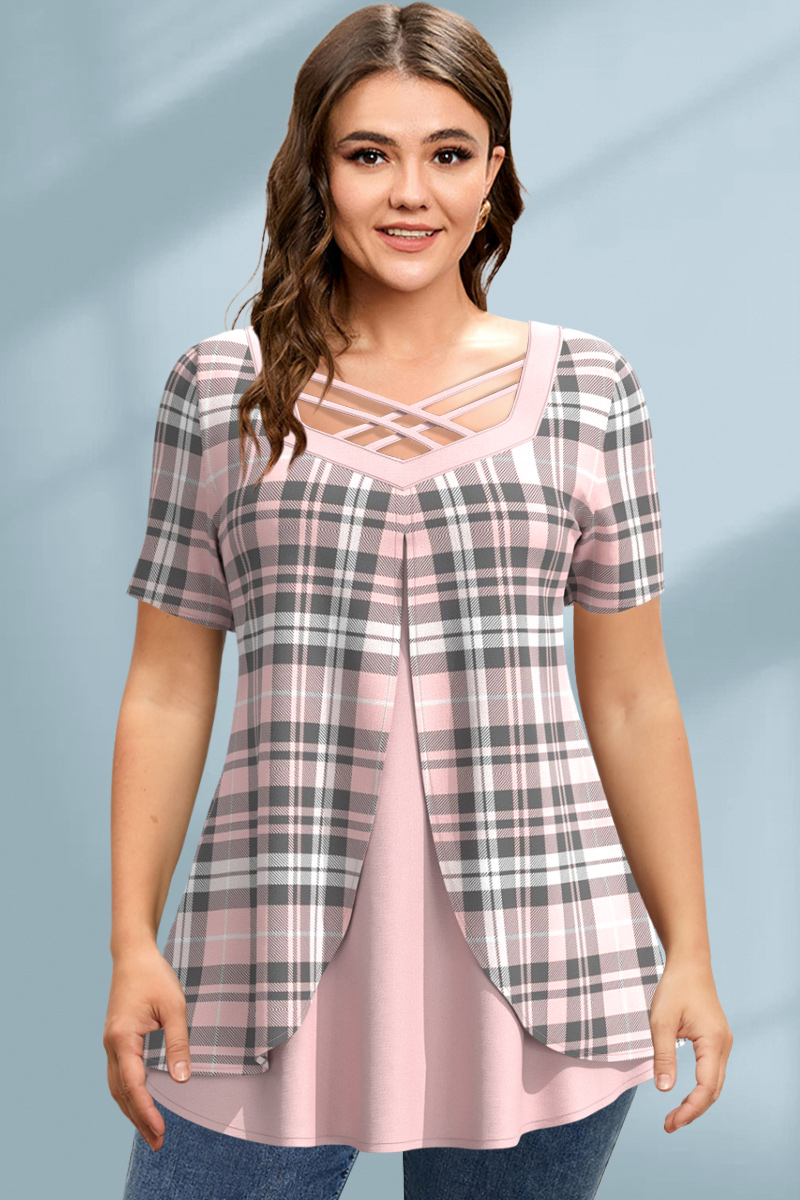 BUY IT NOW ! $19.99 (Save $15.00)
The plus size blouses for women have a sweetheart neckline and a lace-up design. The top is a trendy piece in fashion wardrobes. With comfy and breathable fabrics, it gives you a relaxed fit without being too tight around your waist and belly areas.
The two-fake-piece feature creates a layering effect and adds a playful touch. Wearing these plus size spring and summer tops for work or formal events will earn you tons of compliments.
>>>>>>>>>>>>>>>>>>>>
Flycurvy Plus Size Casual Purple Floral Print Drawstring Lace-Up Pleated Blouse
(Top-Purple, Set-Purple, Top-Blue)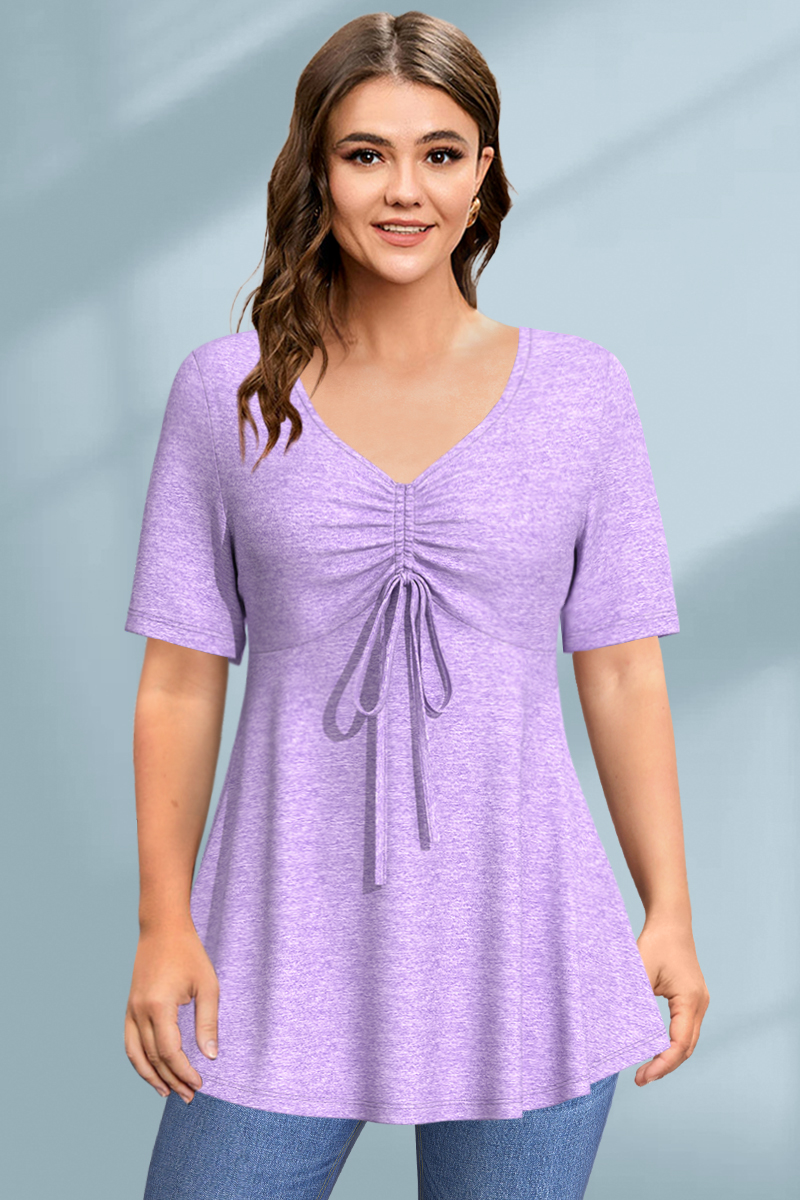 BUY IT NOW ! $14.99 (Save $10.00)
The flattering plus size tops with v-necklines enhance your feminine charm by directing attention to your long neck and collarbones. The decorative drawstring, a timeless fashion element, helps emphasize your chest area and elevate a simple look.
The plus size top makes you feel comfortable all day long. The plus size tunic tops are suitable for everyday wear. You should add it to your closet.
>>>>>>>>>>>>>>>>>>>>
🤩Dressy Tops
Flycurvy Plus Size Casual Turquoise Chiffon Plant Print Ruffle Sleeve Fake Two Pieces Blouses
(Turquoise, Purple)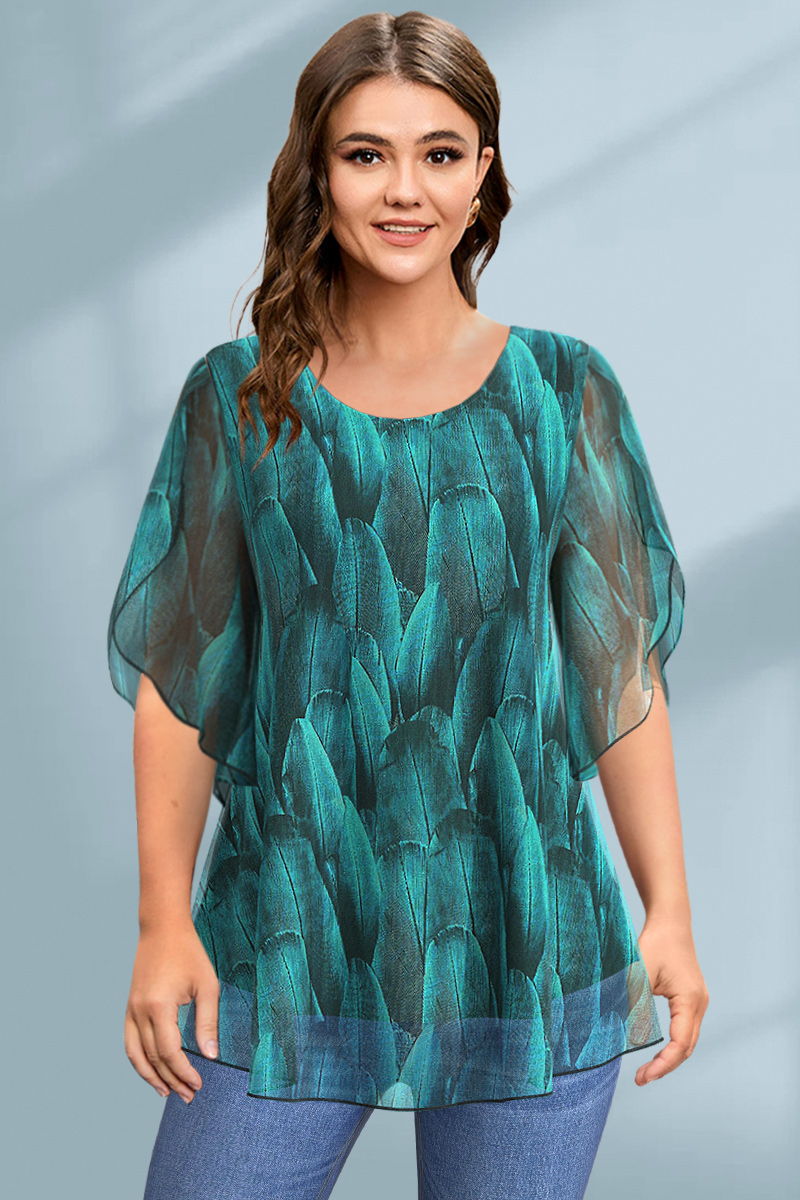 BUY IT NOW ! $19.99 (Save $20.00)
The plus size dressy chiffon tops are breathable and comfortable. It is forgiving on any figure and has a slimming effect by perfectly hiding your body flaws. The loose-fitting style gives you a casual fit and enough freedom of movement.
You can pull together a laid-back outfit by matching it with skinny jeans or create an elegant look with long skirts. It is an excellent choice to throw on plus size dressy tunics for work, weddings, and some special occasions.
>>>>>>>>>>>>>>>>>>>>
Flycurvy Plus Size Dressy Black Floral Print Ruffle Batwing Cape Sleeve Fake Two Pieces Blouse (Black)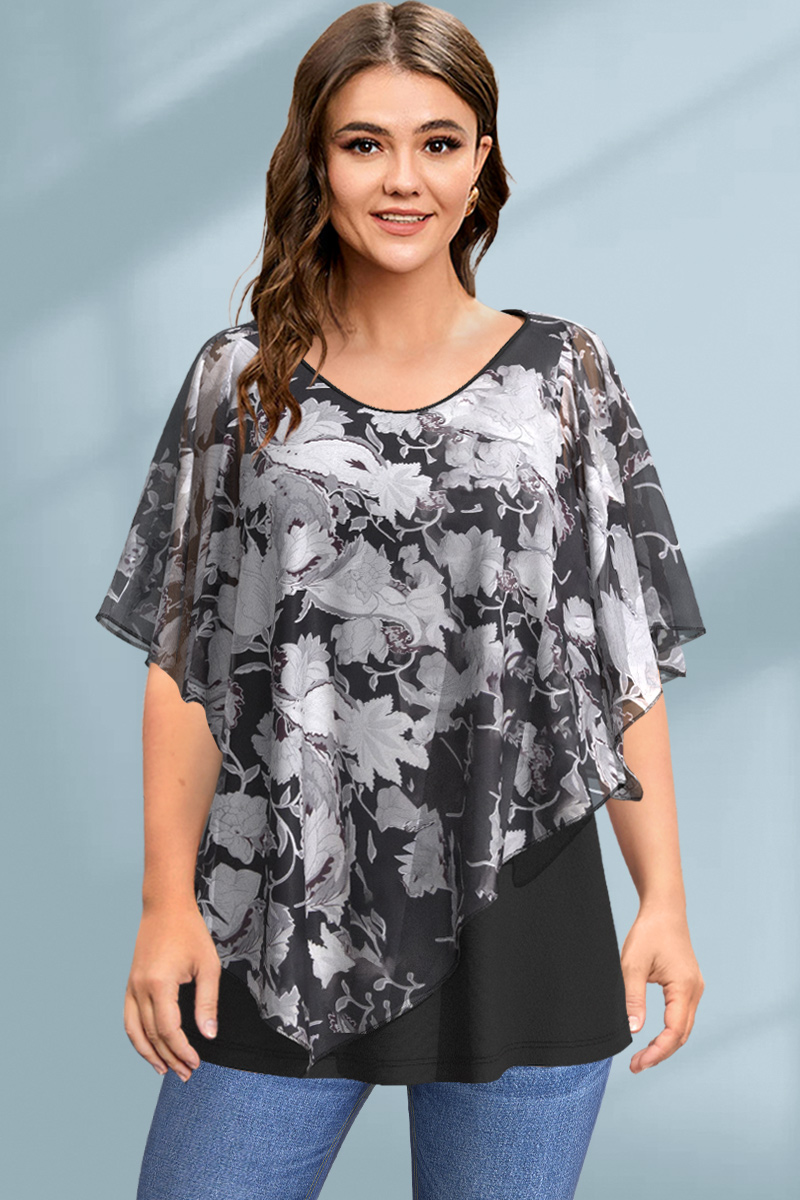 BUY IT NOW ! $19.99 (Save $17.00)
The plus size dressy tops with fake two pieces are roomy and will not make you feel restricted. You will no longer worry about showing your fat arms, as the batwing sleeves exactly hide them.
The floral print feature adds a feminine touch, and the asymmetrical hem gives it an airy, flowy feel.
The plus size black summer tops will make you stand out from the crowd even if you dress with flats and jeans to create a minimalist look.
>>>>>>>>>>>>>>>>>>>>
Flycurvy Plus Size Dressy Khaki Floral Print Double Layer Asymmetrical Hem Flare Sleeve Blouse
(Khaki)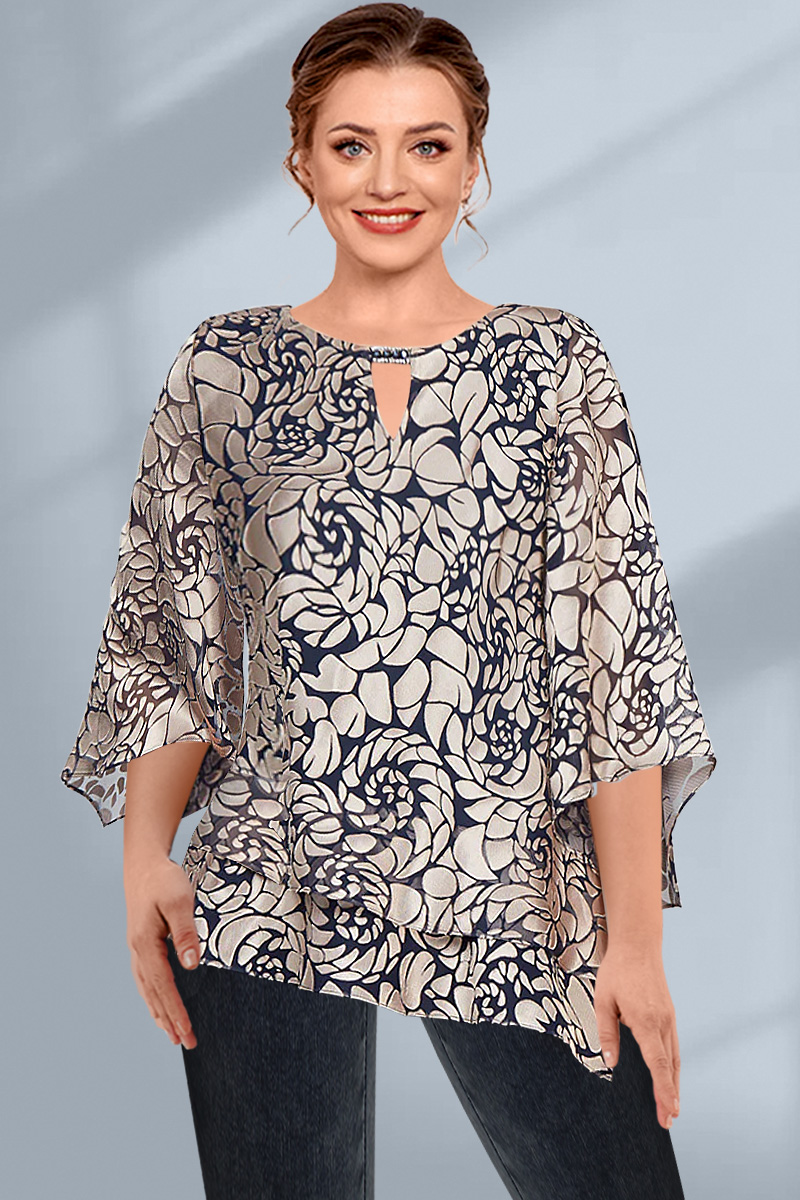 BUY IT NOW ! $19.99 (Save $15.00)
It's time to update your wardrobe. Why not create a chic yet casual look with the plus size dressy blouses? The biggest perk of choosing this top is that it fits plus size figures and highlights a slim silhouette. It easily creates an hourglass figure.
The floral print, double layer, flare sleeves, and asymmetrical hem combine to provide a trendy piece that never goes out of fashion. You can't go wrong with the plus size summer dressy tops for evening wear.
>>>>>>>>>>>>>>>>>>>>
🤗T-shirt
Flycurvy Plus Size Casual Green Retro Floral Print T-Shirt
(Green, Blue, Multicolor, Grey, Light Blue)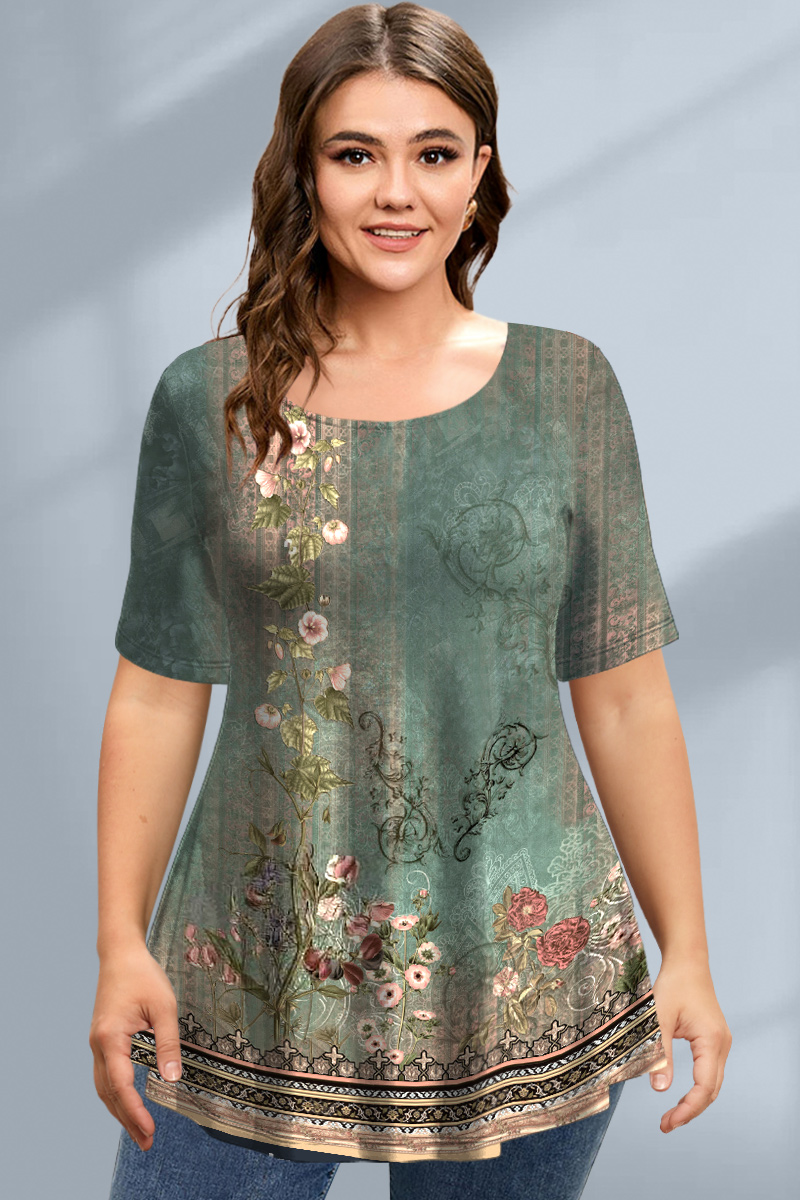 BUY IT NOW ! $12.99 (Save $17.00)
The plus size summer tops with short sleeves and floral prints give off a retro vibe. It is a must-have wardrobe staple for year-round wear. Your body will appear balanced and proportioned in this top.
The shirt effortlessly flaunts your curves and gives you a defined waist. The vintage blouse is unique, so there is a slim chance that you will dress the same as others.
>>>>>>>>>>>>>>>>>>>>
Flycurvy Plus Size Casual Burgundy Floral Print Colorblock T-Shirt
(Burgundy)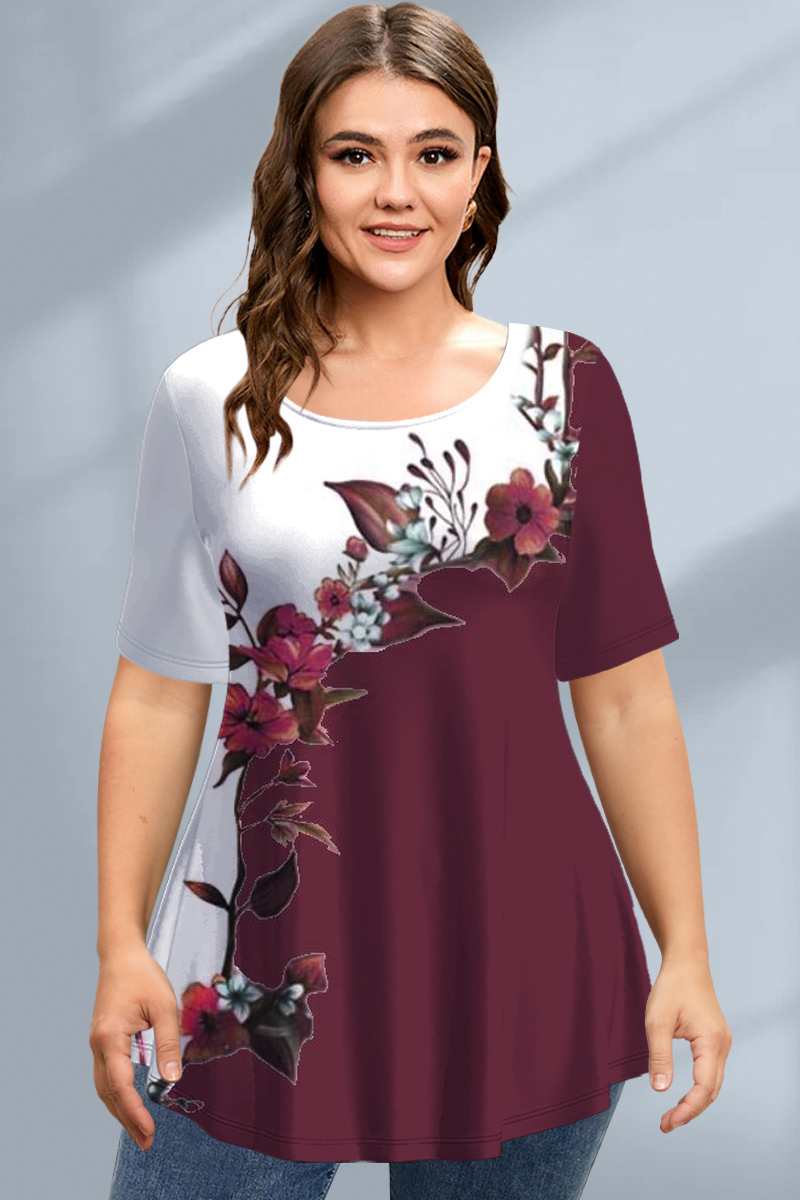 BUY IT NOW ! $12.99 (Save $17.00)
The plus size summer tops hide belly fat, emphasize body shapes, and make you look taller. The colorblocking feature creates a contrast and grabs attention. It also helps give you a slimmer figure.
The shirt fits comfortably at your waist and hugs your hips perfectly. The plus size tunics can be worn with leggings, jeans, skirts, heels, sandals, and boots. You will get an amazingly stunning outfit.
>>>>>>>>>>>>>>>>>>>>
Flycurvy Plus Size Casual Dark Blue Texture Print A-Line T-Shirt
(Dark Blue, Navy Blue, Pink, Royal Blue)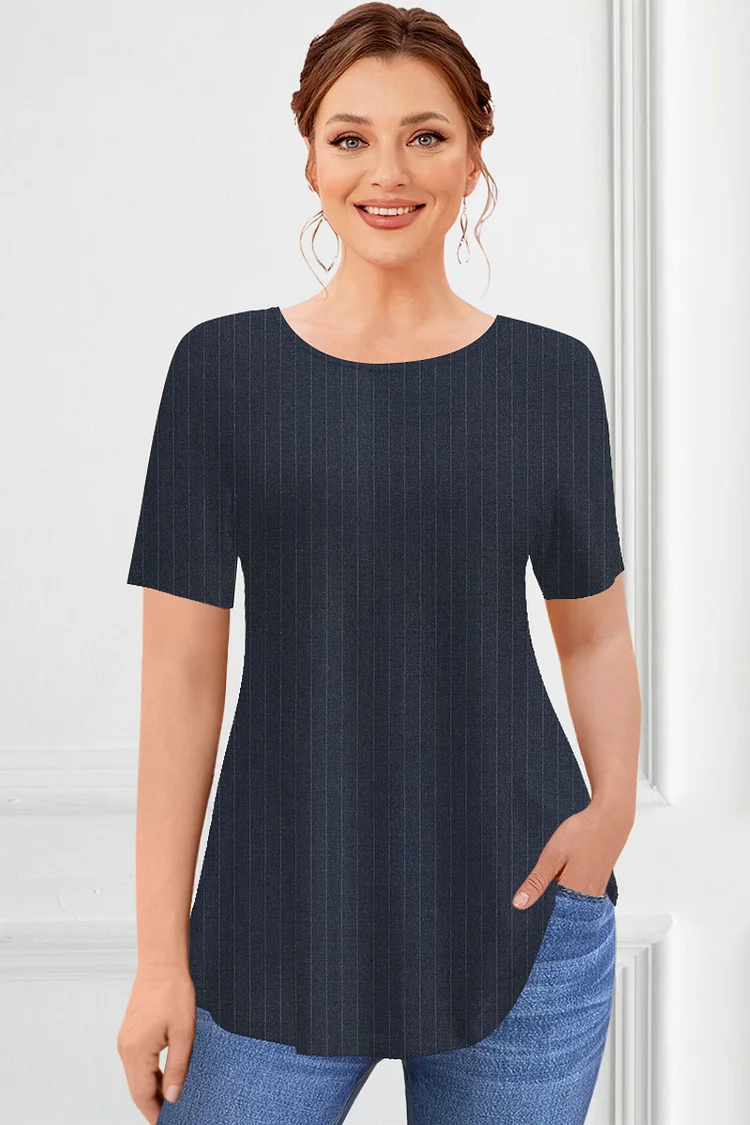 BUY IT NOW ! $12.99 (Save $17.00)
Designed with horizontal stripes, the plus size tunic tops complement your curves and create a slimmer look. It helps distract people's attention from your midsection, hips, and big thighs. The shirt provides a balance between your upper and lower body.
It is a piece of cake to achieve a sleek and charming look by matching appropriately. You can wear it to work, travel, or attend formal events.
>>>>>>>>>>>>>>>>>>>>
👍Tops on Sale
Flycurvy Plus Size Casual Red Lace Stitching Single Breasted Shirt Collar Blouse
(Top-Red)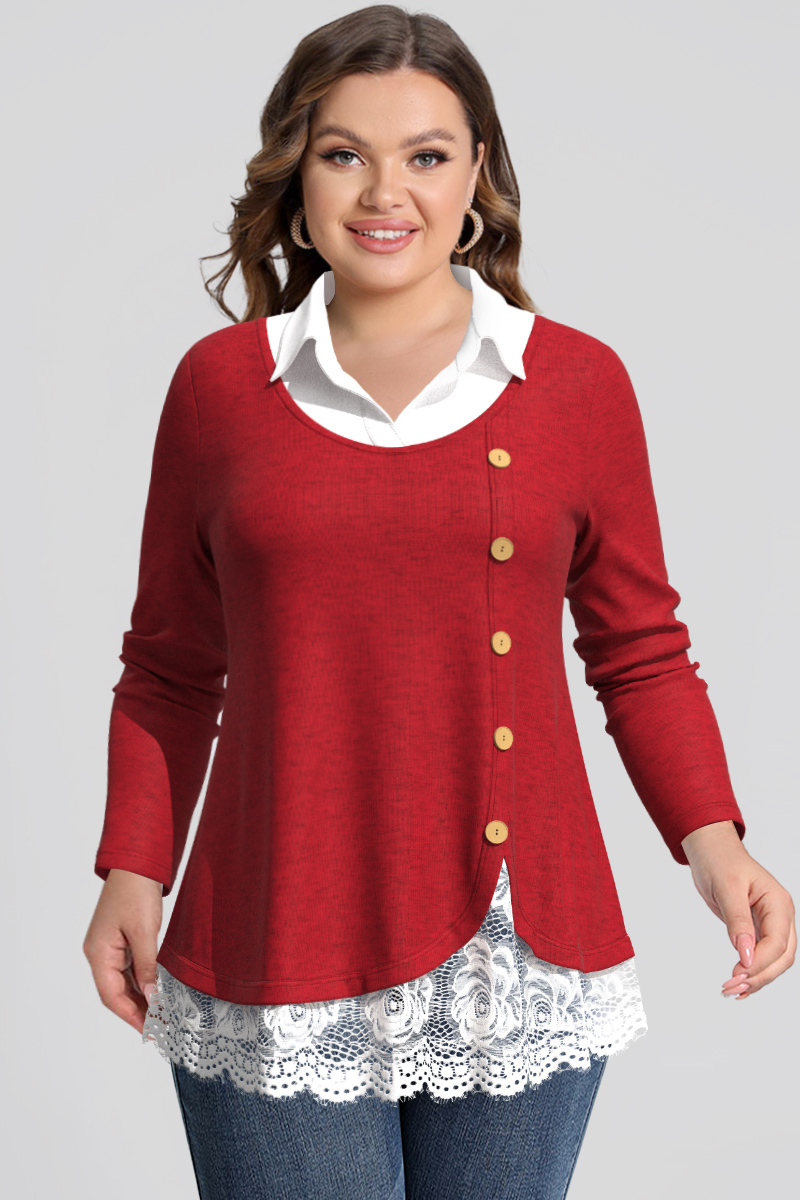 BUY IT NOW ! $9.99 (Save $30.00)
The blouse has long sleeves, shirt collars, exquisite lace, and decorative buttons. The vibrant color and strong color contrast have a striking effect and make you shine.
It balances out your wide shoulders and makes you look slim without being too bulky. The blouse exudes a festive vibe and is perfect for Christmas and other festivals or daily wear.
>>>>>>>>>>>>>>>>>>>>
Flycurvy Plus Size Casual Pink Lace Stitching Drawstring Lace Up Tunic Blouse
(Top-Pink, Top-Blue)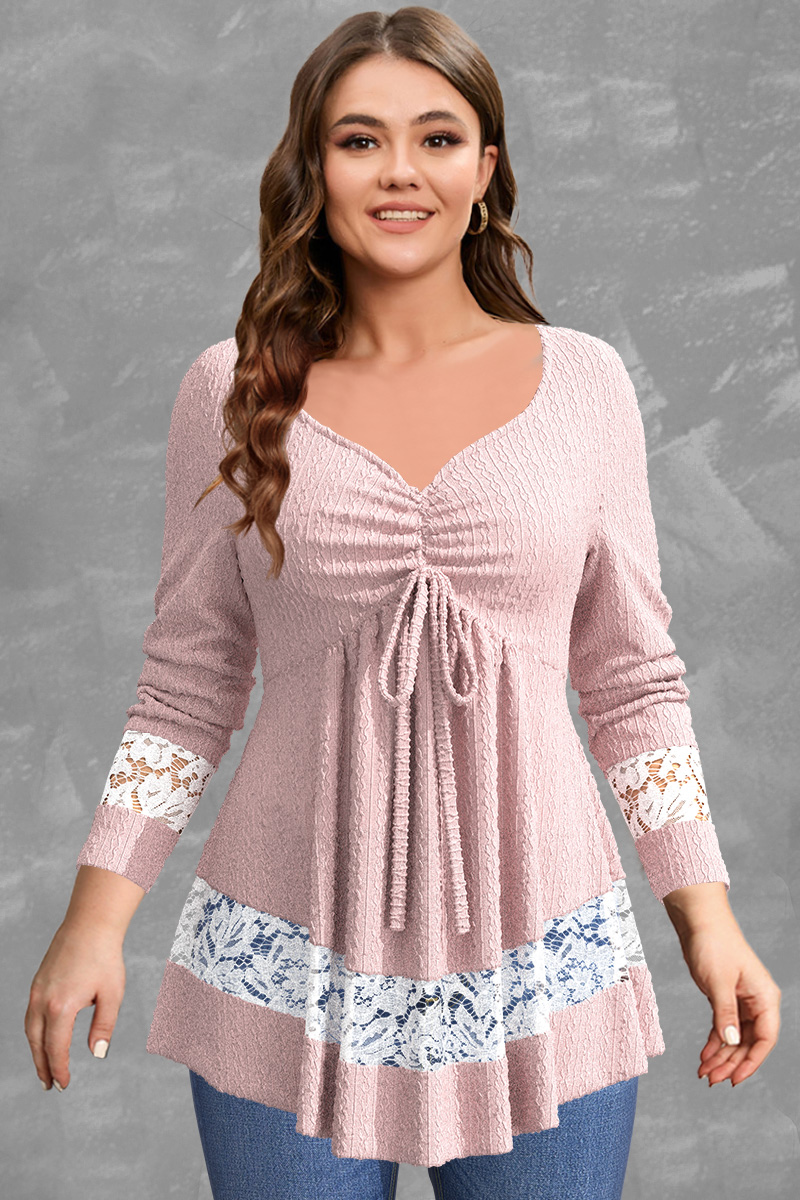 BUY IT NOW ! $19.50 (Save $19.49)
The plus size summer tops on sale are featured with a lace-up and a sweetheart neckline design, which put the focus on your bust area and collarbones, thus your tummy and hips will be ignored. It accentuates your waist and creates the illusion of a slimmer and longer silhouette.
The plus size summer XL tops keep you in shape. You can wear this blouse on warm days and layer a coat to keep warm on chilly days.
>>>>>>>>>>>>>>>>>>>>
Plus Size Lace Stitching Solid Tank Top
(Light Pink, Light Blue, Navy Blue, Light Purple, Rose Pink, Green, Brown, White, Blue, Grey)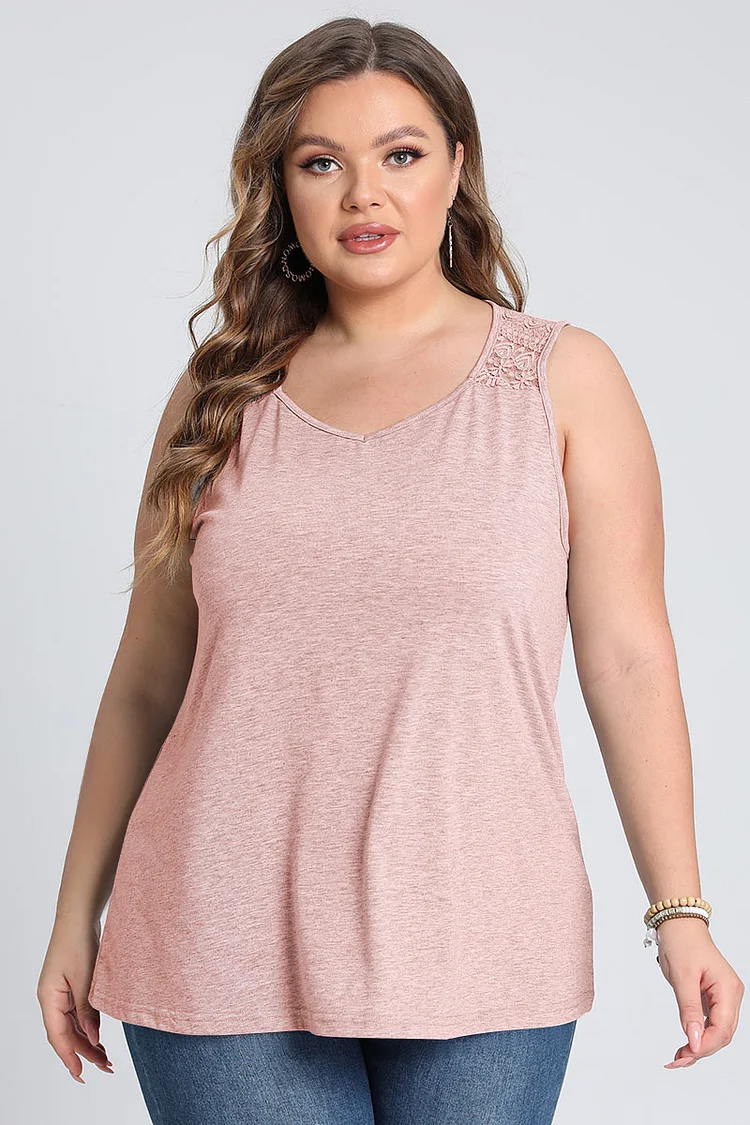 BUY IT NOW ! $9.99 (Save $20.00)
These plus size summer XXL tops are the best bet for a scorching summer, as the sleeveless design and breathable and moisture-wicking fabrics keep you cool. It shows off your arms and slender neck and provides a perfect range of motion.
The tank top works well for all four seasons. It can be worn as a comfortable undershirt or an outer garment. It can create a casual daily look and make you appear more feminine.
Final Thoughts
These flattering tops fit well on plus size women and have elongating and slimming effects. They will boost your confidence by bringing out the best assets of your body. It is an easy job to pair these plus size tunic tops with any pieces to have glamorous outfits. Pick one to your liking!