The hot season is here and it's time to refresh your summer wardrobe. Keep in mind that fabrics are one of the most important factors that you should take into account while shopping for summer pieces. Choosing lightweight and breathable fabrics that are not sticky to your skin is always wise.
Cotton and linen clothing derived from natural fibers are the best way to go in warm weather conditions. They can provide optimal comfort and allow the skin to breathe. Moreover, they are durable, eco-friendly, and wrinkle-free without any chemical materials that can be worn time and time again.
You do not need to put a lot of effort into exploring cotton and linen clothing for women. To make things easier for you, we are here provide a wide list of Flycurvy cotton and linen collections that come in embroidery, floral print, letter print, retro style, and solid color.
Whether you're hunting for party-ready dress, casual work clothing, or day-to-day outfits, we bet you these popular selections will fill the bill perfectly. Now, kick-start your summer with these tried-and-true cotton and linen clothes for women options that will not break the bank.
The linen blouses are the thing for you If you are a lover of loose-fit clothing. They provide proper coverage and easy movement. Besides, they ensure all-day-long maximum comfort and breathability. These relaxed-style blouses are flattering on any figure. Your body imperfections will be hidden so you will feel more confident about yourself.
These plus size linen tops are versatile enough to go with anything in your summer closet, from shorts to jeans, leggings to skirts. They will pull together a casual outfit with zero effort. You can wear them for outdoor activities, lounging at home, and in transit.
Check out the following blouses to see which one you prefer!
(Blue, Grey, Pink, Green, Yellow)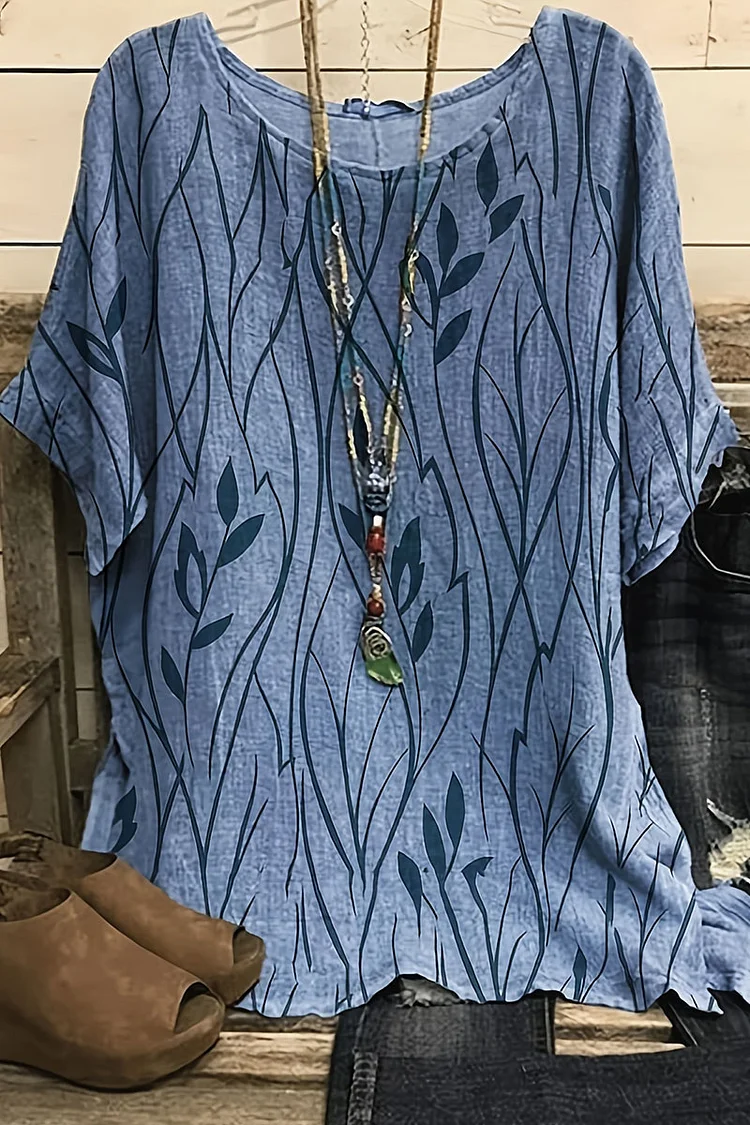 BUY IT NOW ! $17.99 (Save $7.00)
You can't go wrong with the basic linen top. It is an easy-going piece for everyday outfits and will provide endless styling options for you.
(Dark Grey)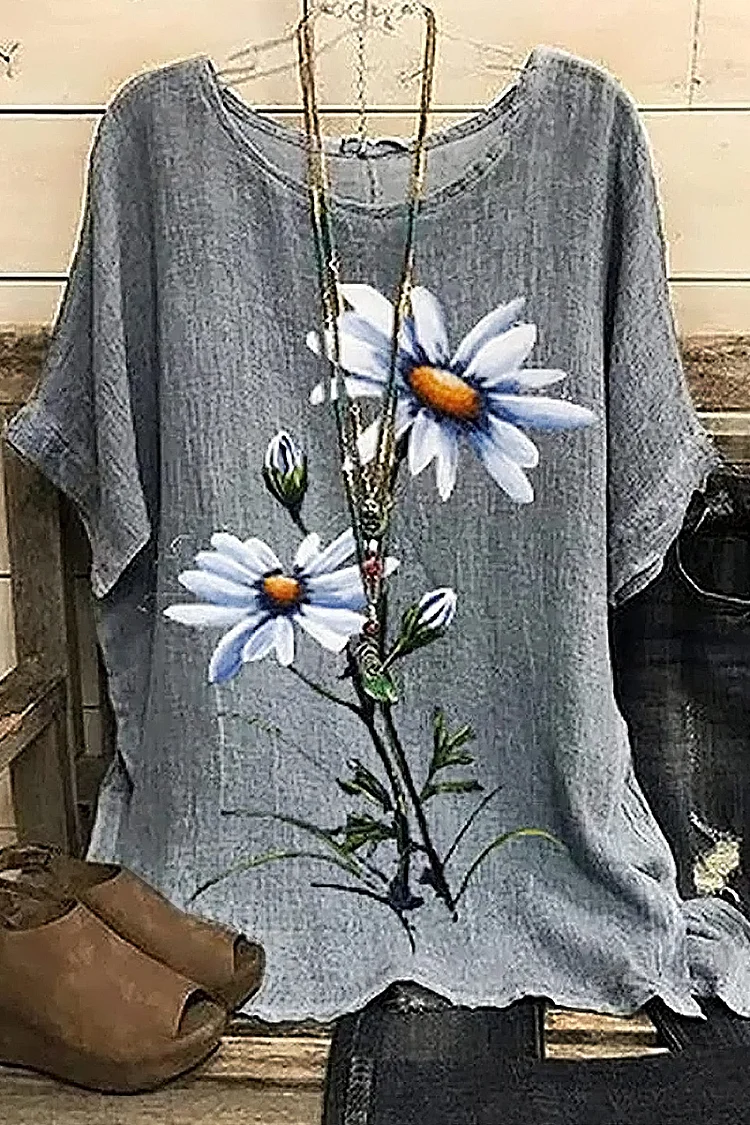 BUY IT NOW ! $17.99 (Save $7.00)
You can always rely on the linen top for women. It is designed with an eye-catching floral print which makes the top a more fashion-forward option.
(Light Blue)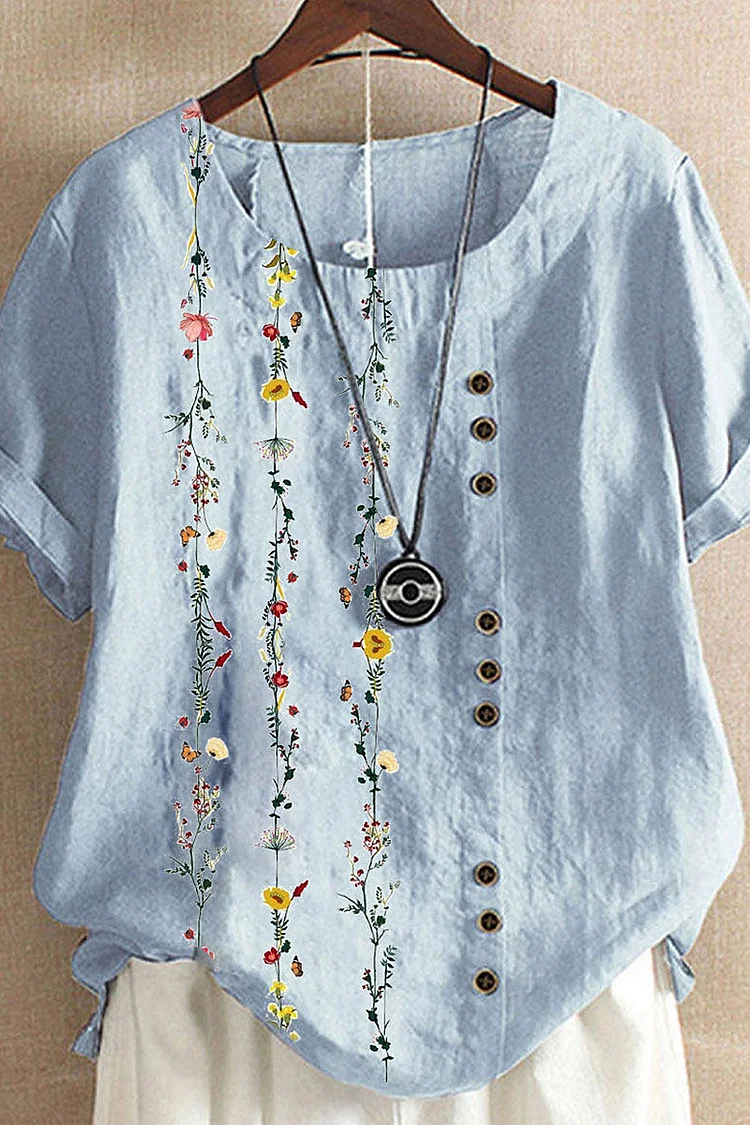 BUY IT NOW ! $17.99 (Save $7.00)
The floral blouse will give you a fresh look on beach days. We're obsessed with it. It is the perfect addition to your wardrobe.
(Light Blue)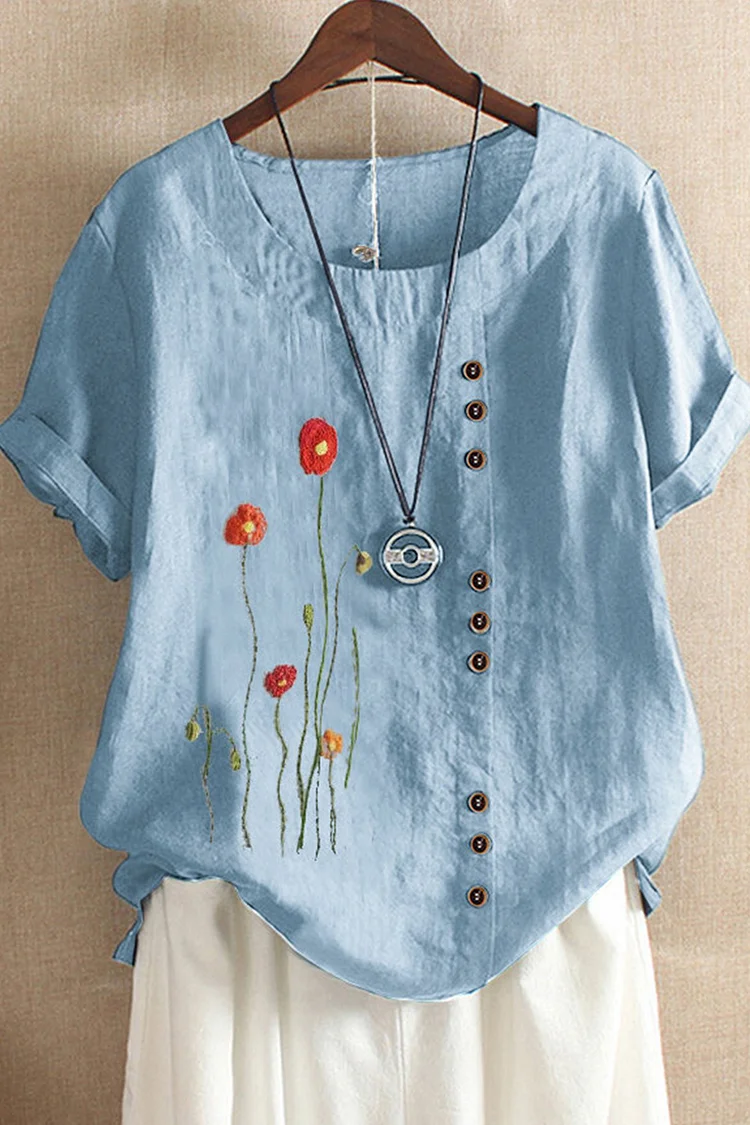 BUY IT NOW ! $17.99 (Save $7.00)
Lean into a casual yet chic look with the embroidery top. It is a quintessential part of your summer rotation.
(Red, Blue)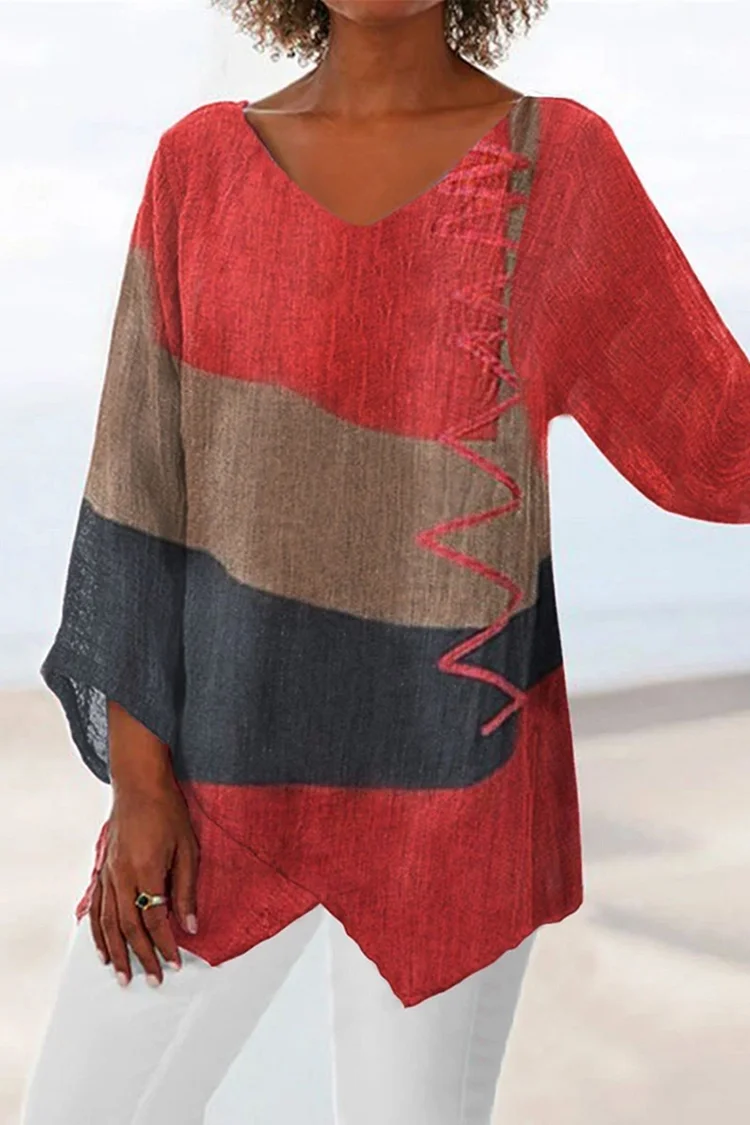 BUY IT NOW ! $17.99 (Save $10.00)
Make a big entrance in the colorblock linen tops for women. It adds a pop of color to your summer closet and helps you make a bold statement.
(Sky Blue, Yellow, Khaki, White, Grey, Navy Blue)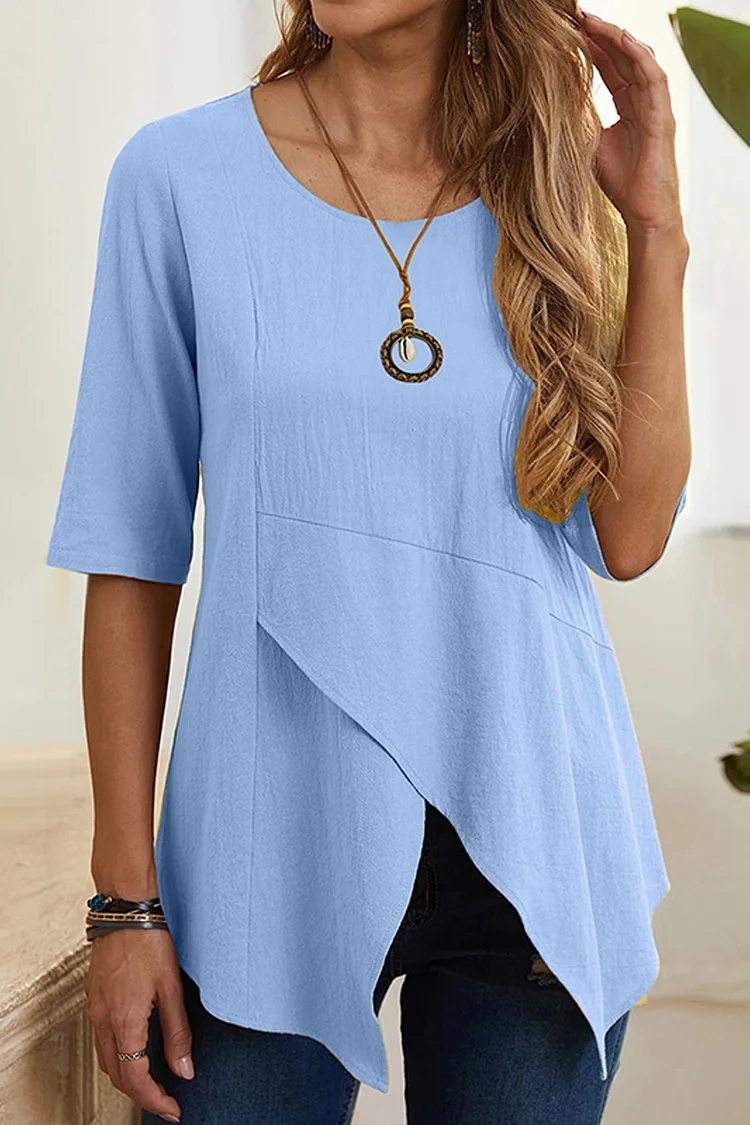 BUY IT NOW ! $17.99 (Save $7.00)
The sky blue blouse is the best way to flatter your skin tone and cover up your tummy. The asymmetrical hem lends a modern twist to the solid blouse. The premium quality top is really worth the money.
Nothing says summer quite like our tank tops. They are moisture-wicking that can keep you cool and sweat-free in sweltering months. They can be worn alone or worn as a base layer matched with a blazer or jacket for extra warmth and a layering effect when the weather turns cold.
The tank tops will create the appearance of a smaller torso thanks to the figure-flattering silhouette. We are partial to these multifunctional tank tops. They can be the ideal office wear, party wear, beachwear, loungewear, and sleepwear.
Take a look at the tank top selections! It's worth giving them a go!
(Dark Grey, Cycan)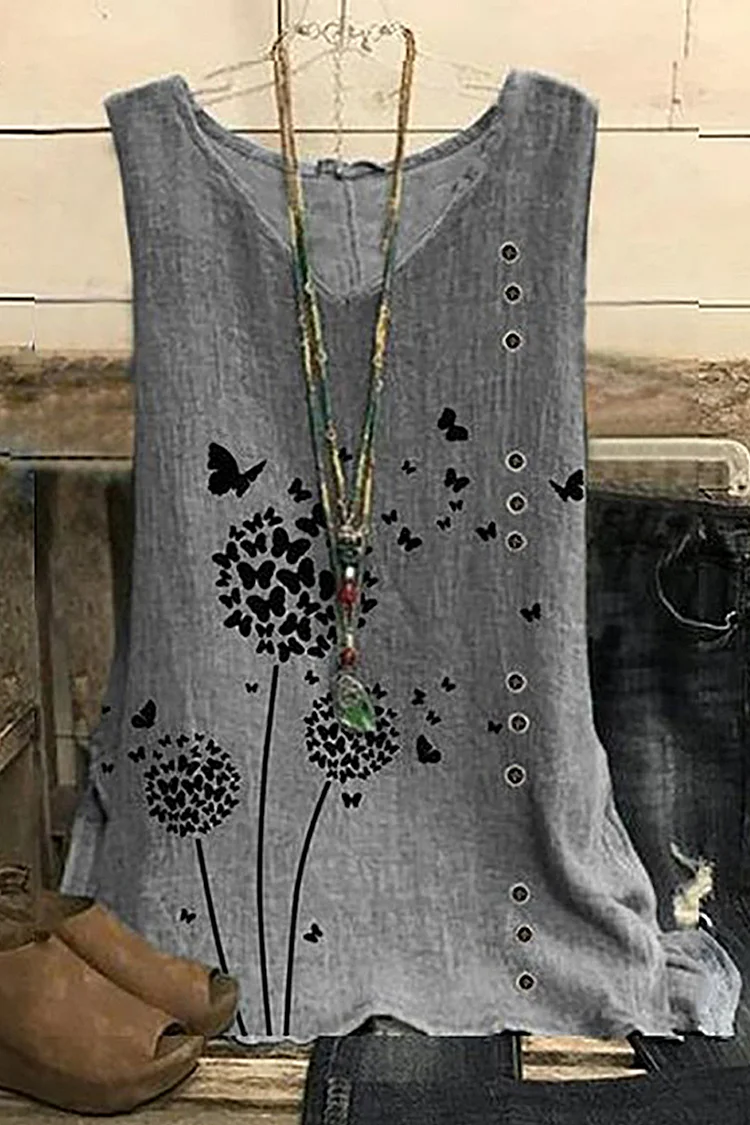 BUY IT NOW ! $17.99 (Save $7.00)
The dark grey color blouse can be styled with pants of any color. The butterfly print offers a special touch to the blouse.
(Navy Blue, Light Blue)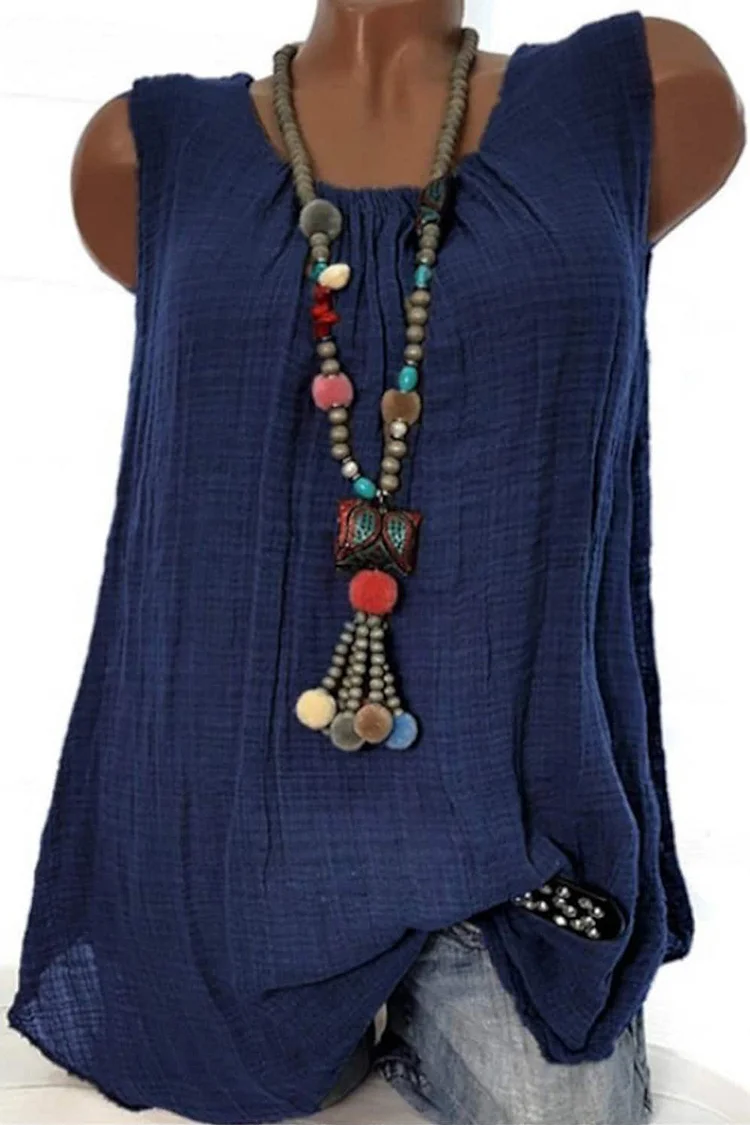 BUY IT NOW ! $14.99 (Save $10.00)
The tank top will help you to beat the heat. The pleated detail offers a flattering effect and the length will mask your midsection and hips.
You can always rely on cotton and linen summer dresses for a sophisticated and stunning look. They are our favorite picks. The slim silhouette and comfortable fit make a big impression on us. They are soft on your skin and give you a laidback summer feel without sacrificing style. They are modest and casual options that will guarantee to get heads turning.
The dresses can be dressed up with heels and the right accessories. They work well for dressy events or informal occasions. They will definitely make you look your best.
Trust us, the below dresses will definitely make you stand out from the crowd.
The linen midi summer dress will bring out your curves without being too tight. You will fall in love with its streamlined silhouette. And the tribal floral print takes the dress to the next level.

The casual fit and breezy style solid dress will create a beach-ready outfit. Polish off your look with a straw hat and sandals.
The comfortable and soft pants featured with minimalist style are your best friend when the temperature heats up. The elasticated waistband is designed to fit your waist nicely and helps to give definition to your waistline without clinging to your figure.
The solid pants are summertime staples that stand the test of time. The functional pockets are a huge plus. You will never regret buying the practical and trendy items.
The pants are equal parts casual and formal. They can be paired with button-down blouses and shirts to achieve a sharp and professional look for the office, job interviews,s and business trips. Also, T-shirts or crop tops can coordinate with them for cool streetwear.
Embrace the solid pants trend! They are excellent options for summertime.
(Light Grey, Dark Grey, Burgundy, and click for more)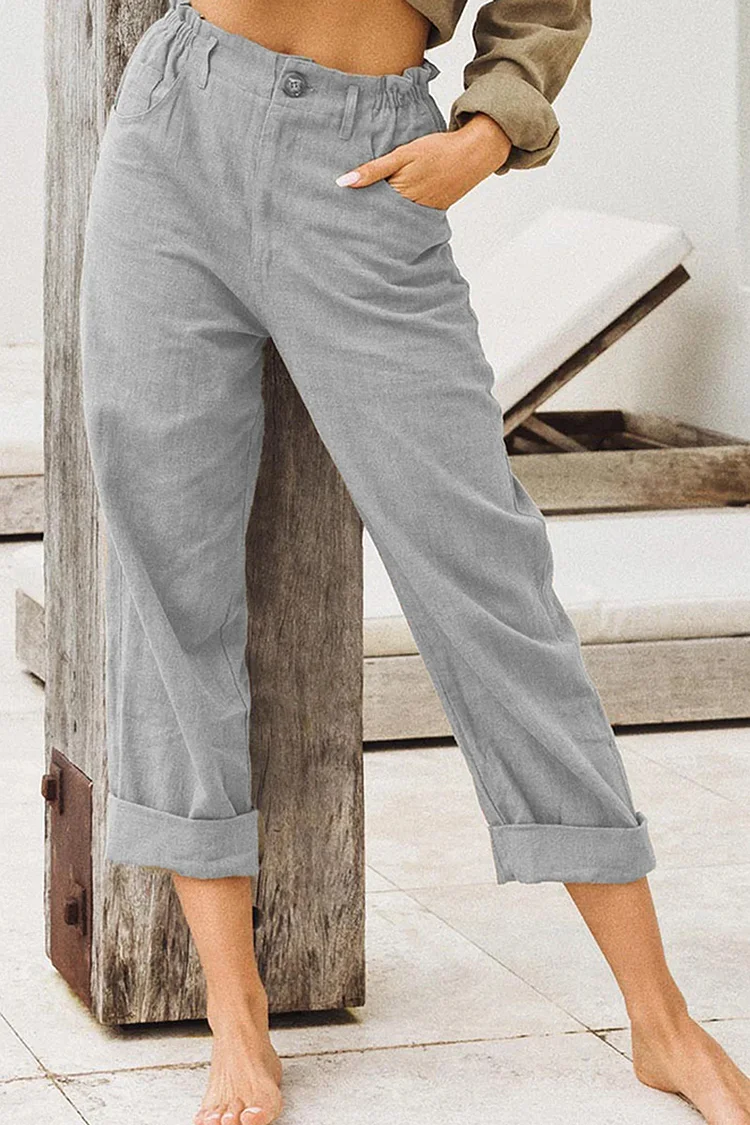 BUY IT NOW ! $17.99 (Save $7.00)
The classic investment piece will not disappoint you. The plus size linen pants come in a variety of colors and are a good match for any kind of top.
(White, Grey, Black, Green, Beige, Red)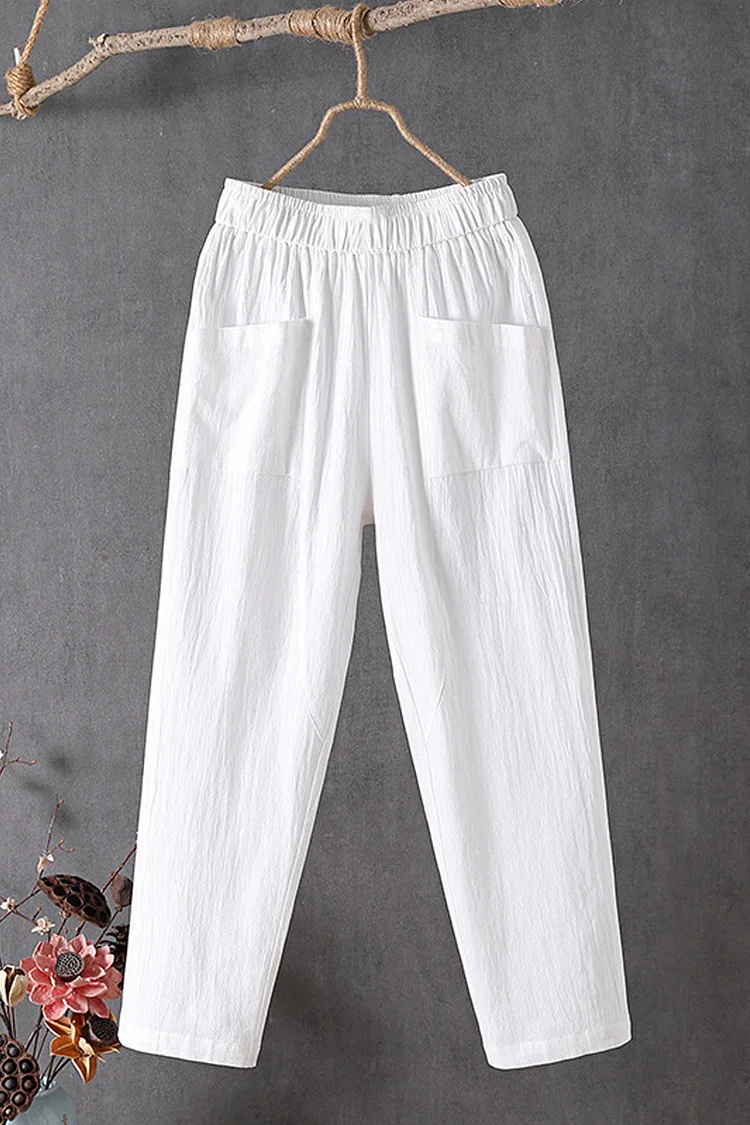 BUY IT NOW ! $15.99 (Save $7.00)
We particularly love the white linen pants for women. With the versatile piece, mixing and matching clothing will no longer be a headache.
Final Words
Cotton and linen clothing is a blessing in hot and dry climates that you should invest in. Go with these breathable pieces will keep you comfortable throughout the sultry summer days. They are a stylish take on the trend and will never go out of fashion. Why not get one that suits your style preference to spice up your summer wardrobe?