If you're ready to fully embrace the sunny season, there's nothing better than slipping into a cozy tank top, especially one with a built-in bra. This tank top is obviously a super convenient choice for those who'd rather skip the bra. Just want to let you know that wearing a poorly fitting bra can harm your health! It can cause skin irritation, nasty neck and back pain, breast sagging, and not to mention terrible discomfort throughout the day.
Don't let an ill-fitting bra ruin your day! Well, in this situation, a fabulous tank top is an absolute lifesaver! It gives great support and perfect shape to your bust, making it look perky and full without feeling too constricting.
Now that you're aware of the amazing advantages of tank tops, it's time to dive into selecting the perfect ones for you. But with the abundance of shelf bra tank tops available, you may be feeling a bit frustrated trying to find the perfect one for you. Don't be discouraged. You can absolutely count on Flycurvy! We've gathered a top-notch selection of 11 tank tops with built-in bras. You'll be pleasantly surprised by just how comfy and chic they are.
Scroll further to check out these amazing shelf bra tank tops with different styles!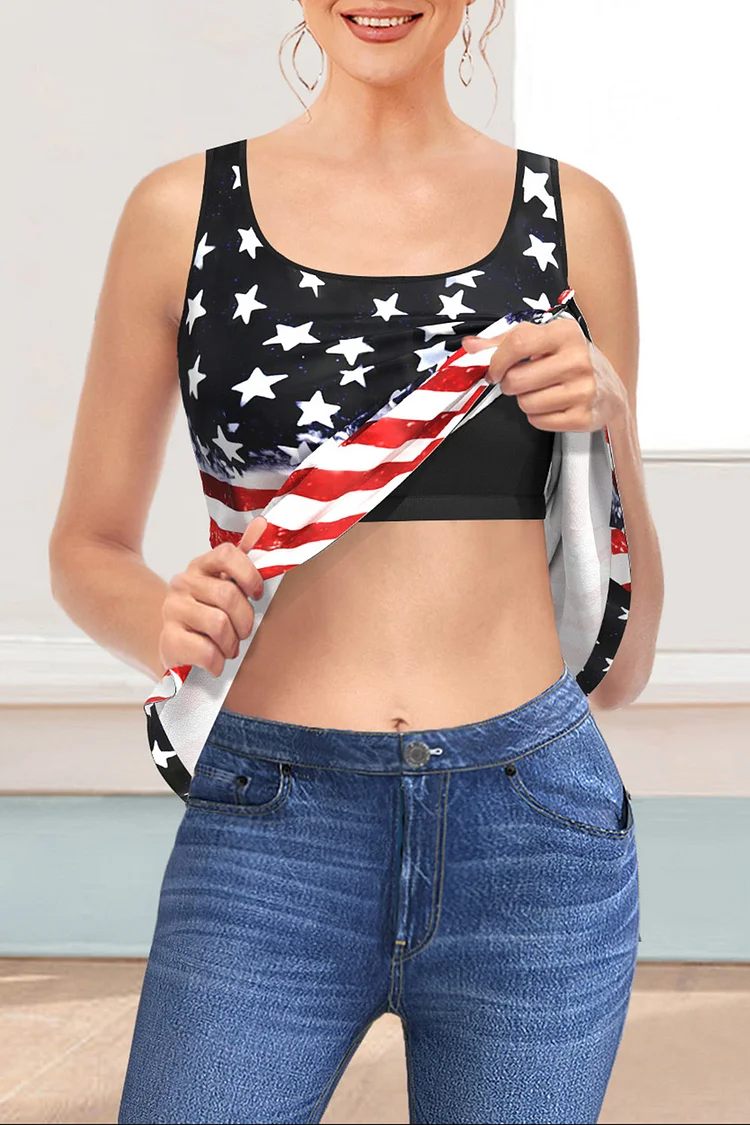 The plus size black striped star print tank top with a built-in bra will be the best choice when you need an effortlessly casual look in a pinch. Its versatility makes it can coordinate well with any pieces in your closet, no matter whether it's shorts, jeans, leggings, or skirts. It can save you time on styling so that you sleep a few extra minutes this morning. Thus, why not give the shelf bra tank top a try?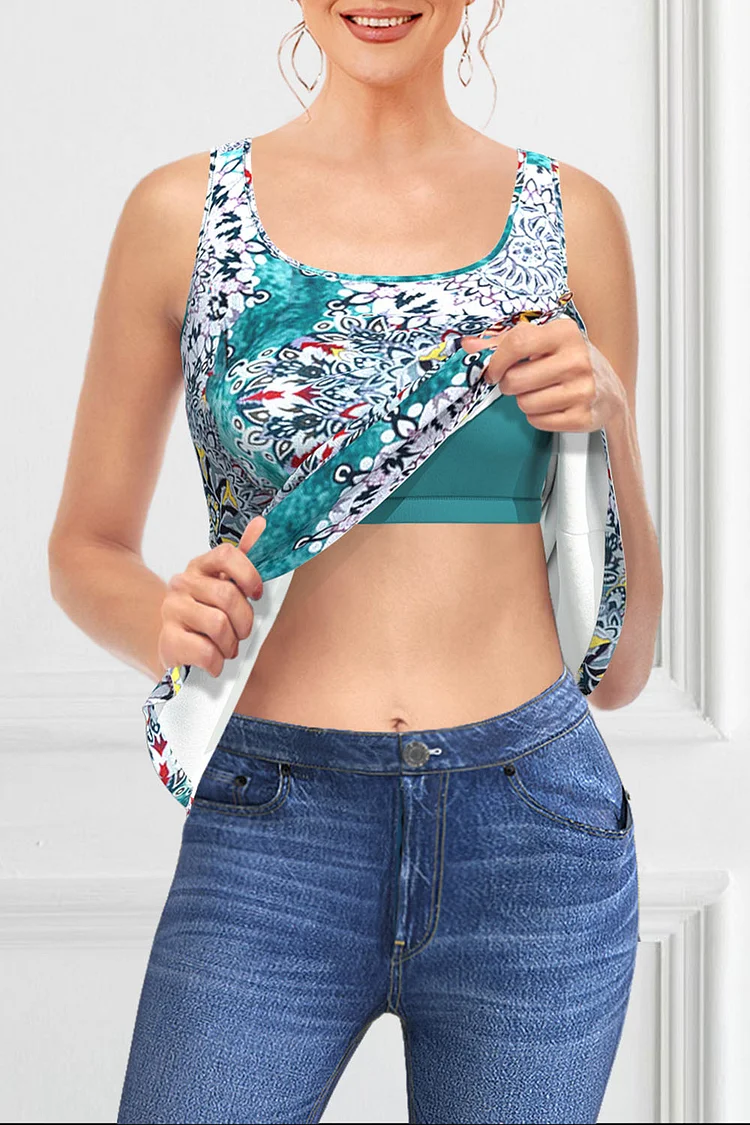 The plus size teal green tank top with a shelf bra is sure to make a splash. This color is complimentary to your skin tone and can help you feel more relaxed. Plus, this built-in bra tank top boasts a unique and eye-catching tribal print which gives off a free-spirited and energetic vibe. It is your thing if you want to showcase your personality. It is really a worthwhile investment piece for 2023.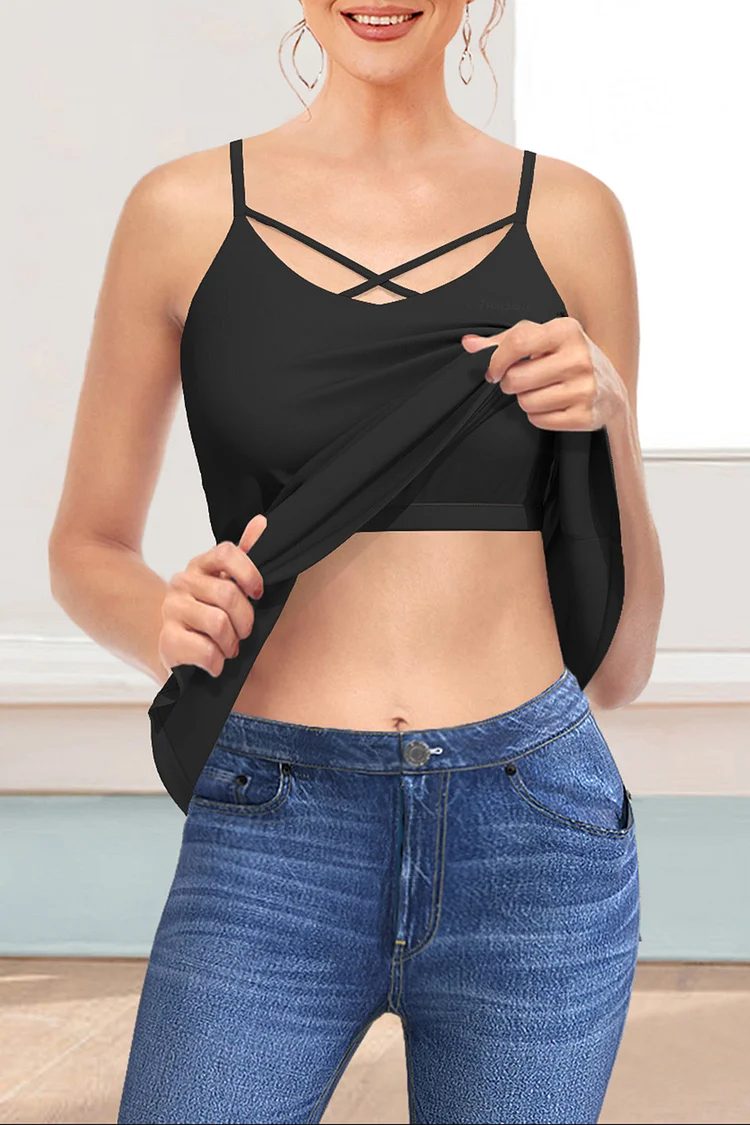 We're hooked on the plus size cami tank top with a supportive cup. It is a standout option over normal tank tops thanks to the stylish design and the perfect fit. The crossover strap adds a feminine and playful touch to the built-in bra tank top, which enhances your overall appearance.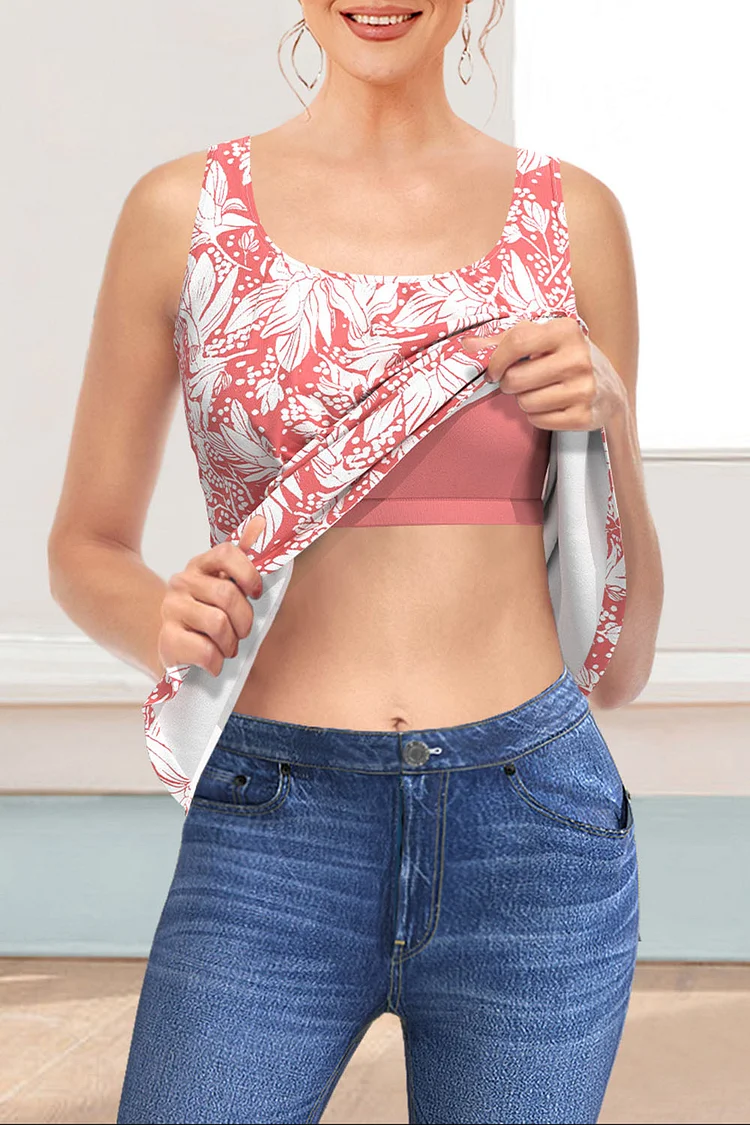 All the yeses for this plus size pink tank top with a built-in bra. It can elongate your neckline and give definition to your collarbones. You can't miss out on the stunning option! The shelf bra tank top will create an appearance of a slim silhouette and elevate your style. Also, the pink floral print will give you a sweet and cute look.
Prepare to turn heads in this plus size blue shelf bra tank top! It comes with a feather print and cross strap. They are sophisticated features that will lend a luxurious feel to the top and take it to the next novel with ease. For a more polished and classy outfit, play around with delicate earrings, pants or skirts, and heeled sandals.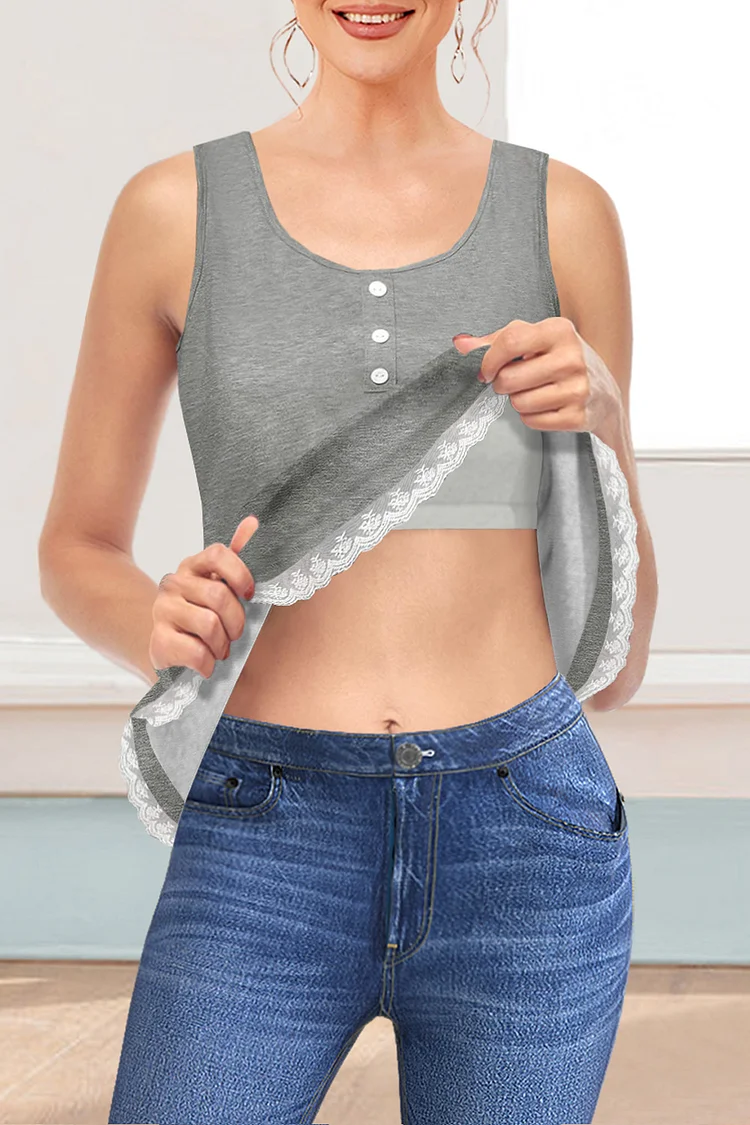 For those who want to make your large busts appear smaller, look no further than the plus size grey tank top with a supportive cup. It can give you a streamlined and smooth silhouette thanks to the flattering fit. Besides, the lace stitching detail makes the casual top a more refined piece by incorporating a touch of elegance into it.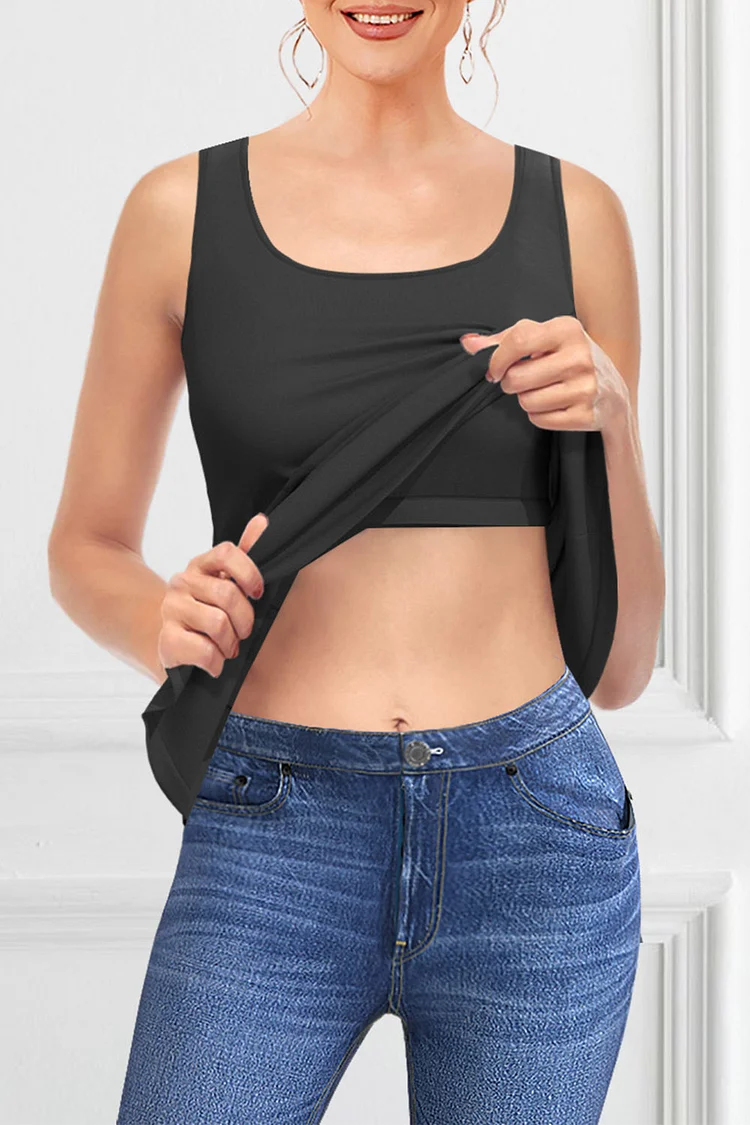 The plus size black solid color shelf bra tank top tops our list of the most comfortable summer pieces. The lightweight and moisture-wicking fabrics will keep you dry and cool during the sticky summer. The relaxed fit tank top with a built-in bra guarantees you maximum movement, allowing you to wear it for workouts. The fundamental piece deserves a place in your wardrobe.
(Dark Grey / Black)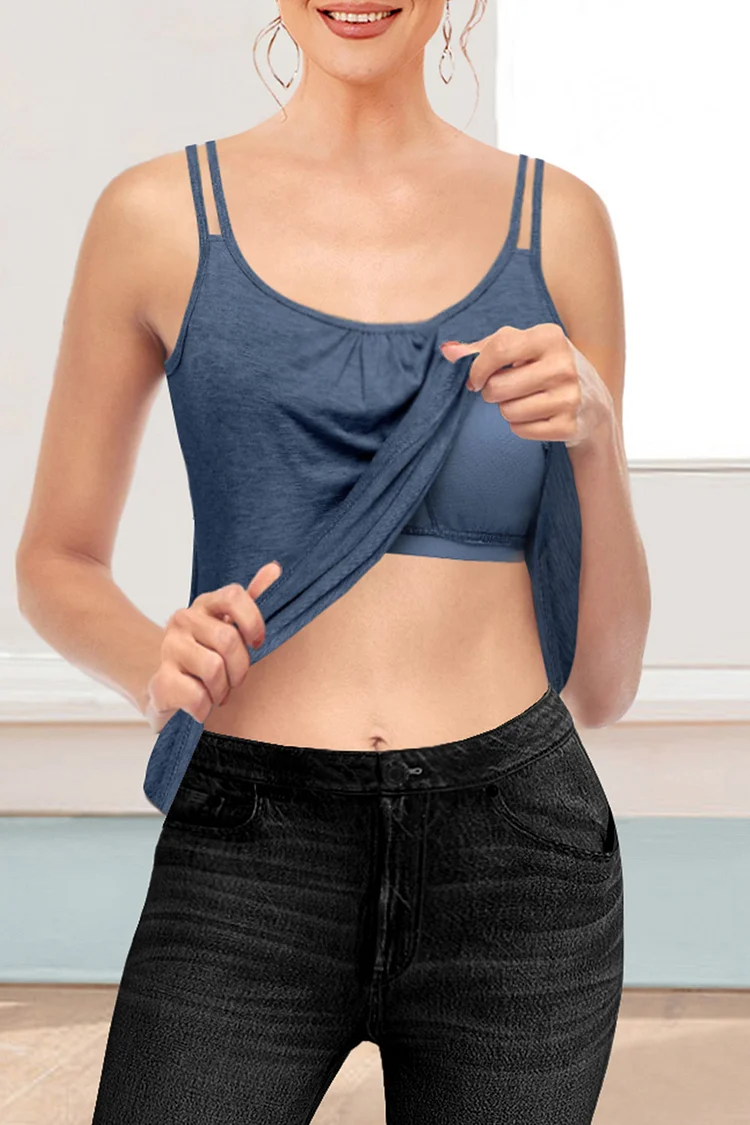 Always consider this plus size dark grey cami tank top with a built-in bra. It is the epitome of comfort and fashion. The shelf bra tank top has proven to be a timeless classic in summer trends so you can wear it a million times. Additionally, the special cut-out detail brings a special flair to the top, and it is one of the key features that make the top stand out.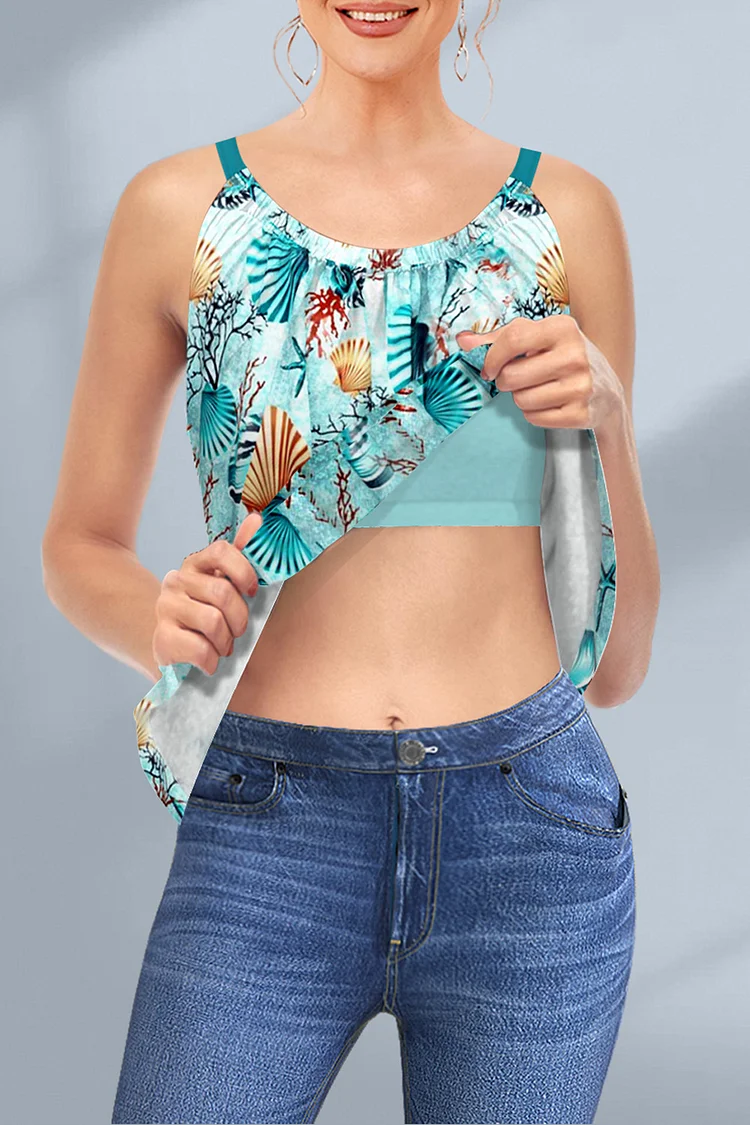 You won't be able to take your eyes off this plus size tank top with a built bra. It accentuates your body shape while offering a comfortable fit. We especially adore the ocean print because it lends a refreshed feel to the top and makes for a must-have staple for summer. Moreover, this shelf bra tank top will take you to parties, clubs, low-impact activities, casual outings, and more.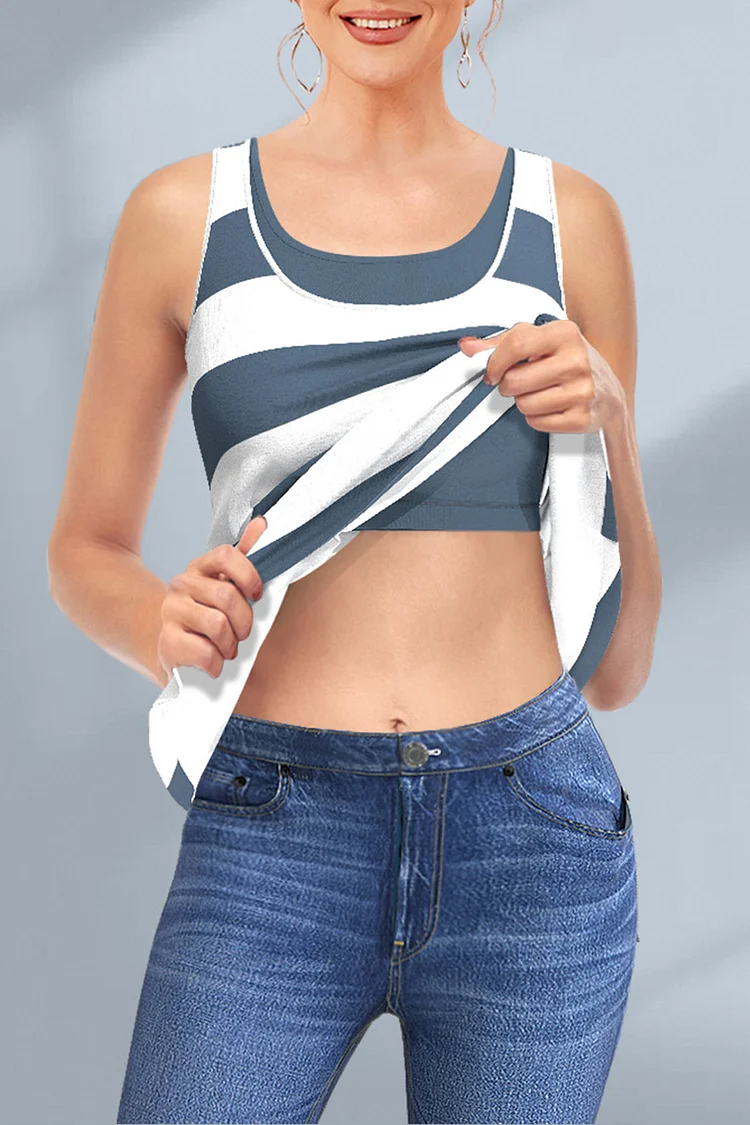 The plus size gray striped print shelf bra tank top has won us over and over again. It is multifunctional enough to wear as sleepwear, work outwear, beachwear, and office wear. You can wear the tank top with shorts and sandals or flip-flops for a casual look in the heat. Of course, it can be paired with jackets or cardigans, jeans, and sneakers for extra warmth when the weather turns color.
Final Words
There's nothing more comfortable than these tank tops with built-in bras above. This not only prevents the discomfort and pain caused by ill-fitting bras but also makes a versatile addition to your wardrobe throughout the year. The tank tops with shelf bras offer great value without compromising on quality. We're certain that you'll love them. Choose your favorite and rock it in any situation!