Every woman needs a show-stopping outfit that can come to the rescue when important occasions come up, such as weddings, bridal showers, or cocktail parties. These outfits might come in various styles, price ranges, and fabrics, but they all serve the same purpose - to make you look your best and carry yourself with poise. With the right outfit, it's a piece of cake to catch the eyes, earn tons of compliments, and also brighten up any special day. So do you have such an outfit in your wardrobe? You can never have too many good things, thus whether you already have a show-stopping outfit or not, make sure to check out the wardrobe mainstay - the lace dress.
When we think of lace, luxury, elegance, and femininity will always come to mind. These very features make a lace dress a favorite among many people. A Lace dress can offer a timeless option that lasts for years and it's always a safe bet for any black-tie event. If a lace dress makes your heart flutter, then explore Flycurvy's lace dresses for women below, you're sure to find the budge-friendly option that fits your unique style.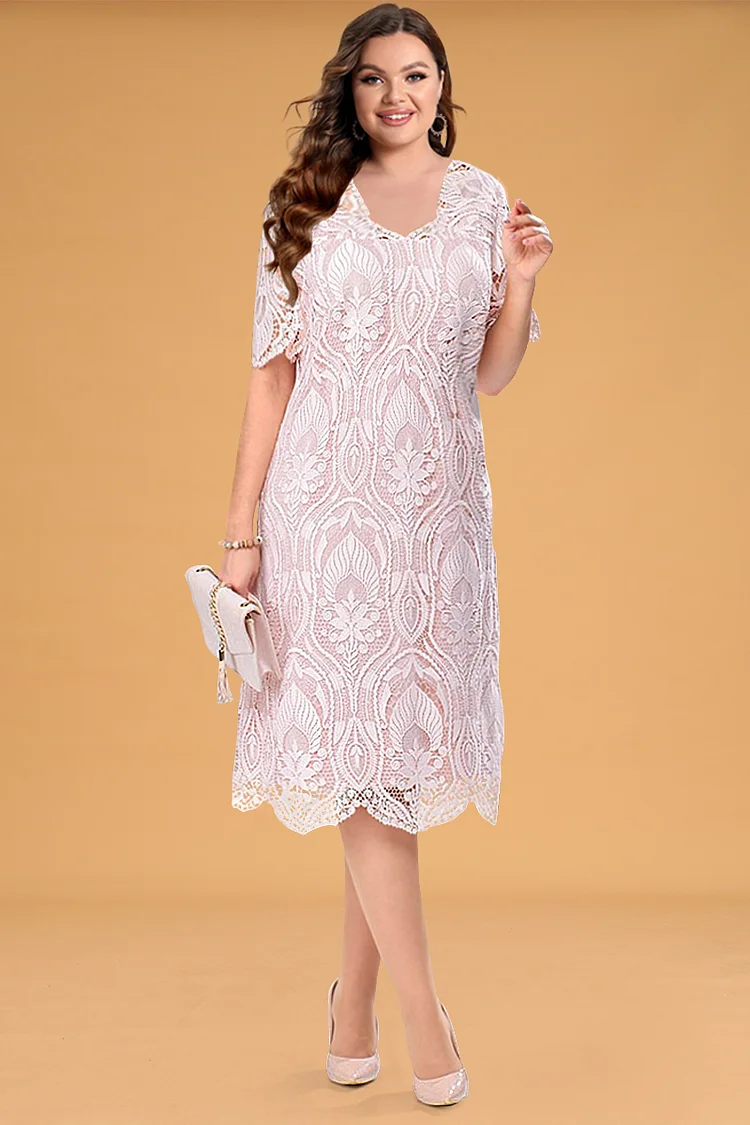 BUY IT NOW ! $25.99 (Save $24.99)
The plus size lace formal dress for wedding guests features a streamlined silhouette and exudes a classy and elegant vibe. The soft shade of light pink is versatile and can be paired with different colors, giving you a sweet look bound to level up your style effortlessly. Additionally, the asymmetrical hem adds a modern twist to your outfit.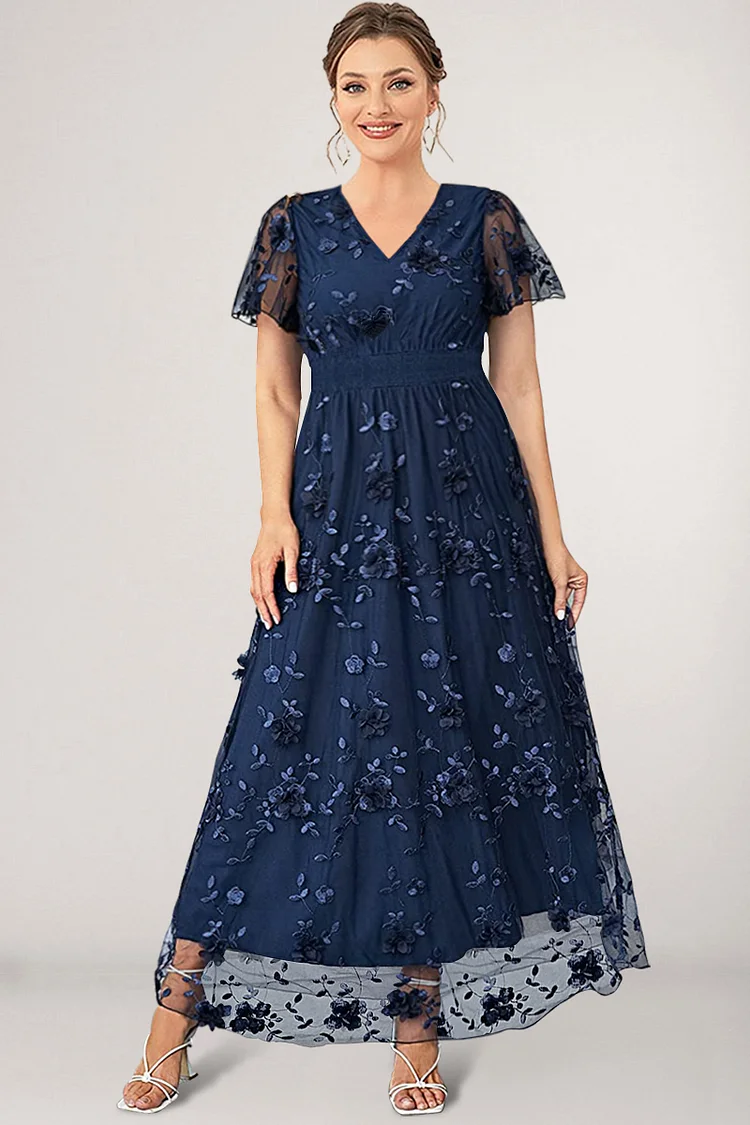 BUY IT NOW ! $49.99 (Save $15.00)
You'll want to wear the plus size chiffon dress again and again thanks to its super comfortable fabric and unique style. The lace floral embroidery adds a touch of sophistication and luxury to the mother of the bride dress, while the high-waisted design can look your torso appear balanced and long.
(Purple / Blue)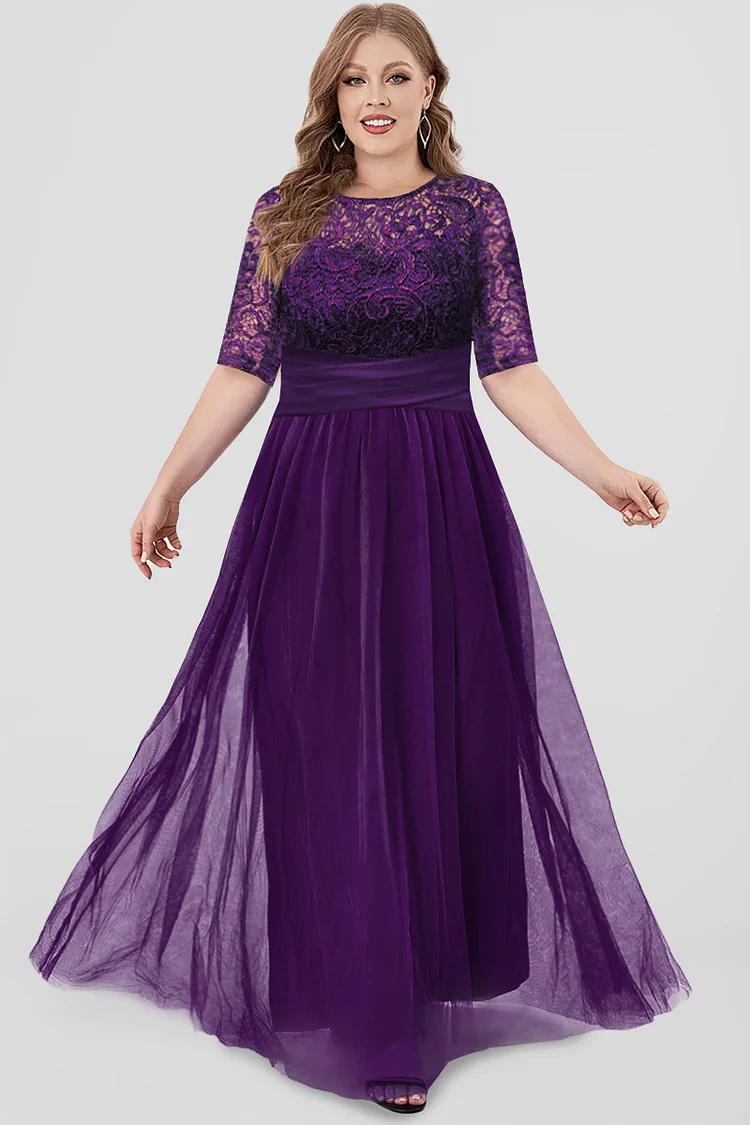 BUY IT NOW ! $49.99 (Save $10.00)
If you're looking for a modest yet classy dress, you can't go wrong with the plus size lace stitching dress. It provides you with full coverage, ensuring that you can avoid any wardrobe malfunction. Moreover, the A-line silhouette can create a sleek figure by smoothing out any problem area.
(Purple / Wine Red)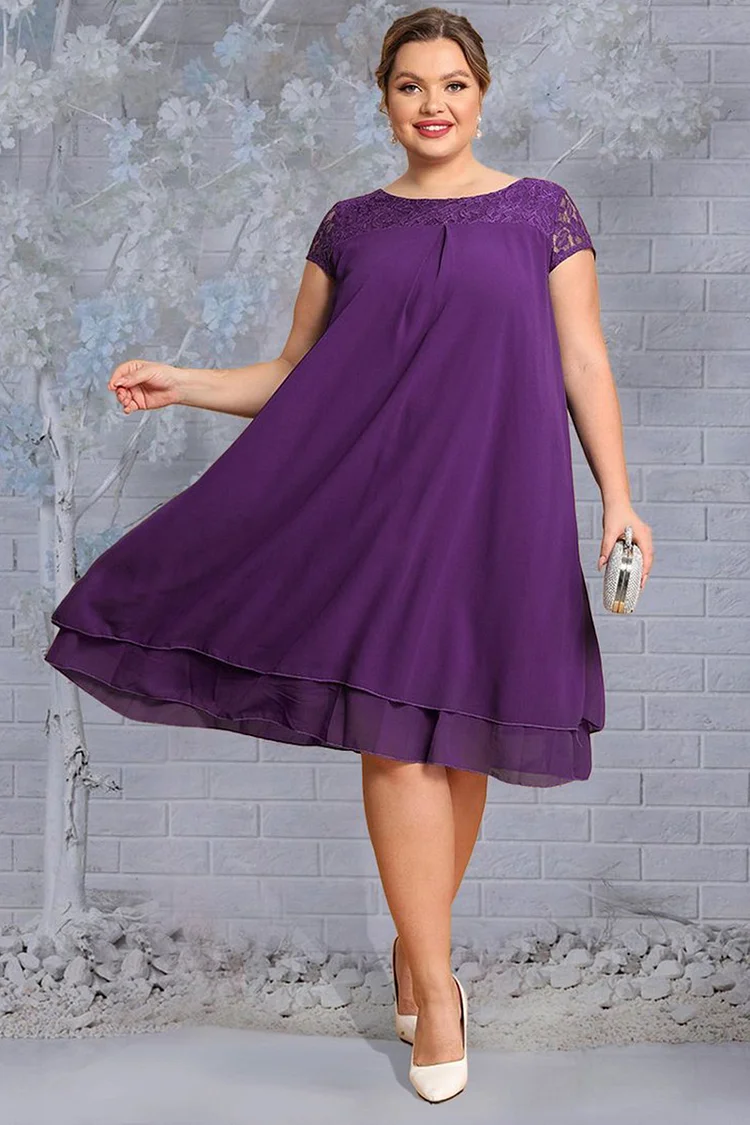 BUY IT NOW ! $39.99 (Save $9.00)
If you're a lover of loose fit, the plus size lace stitching dress will be more up your street. It can create a flattering appearance by hiding any bulges or lumps, while enabling flexibility so you can move freely and even hit the dance floor or participate in any activity without feeling restricted Plus, the relaxed silhouette gives the lace casual dress a more casual feel.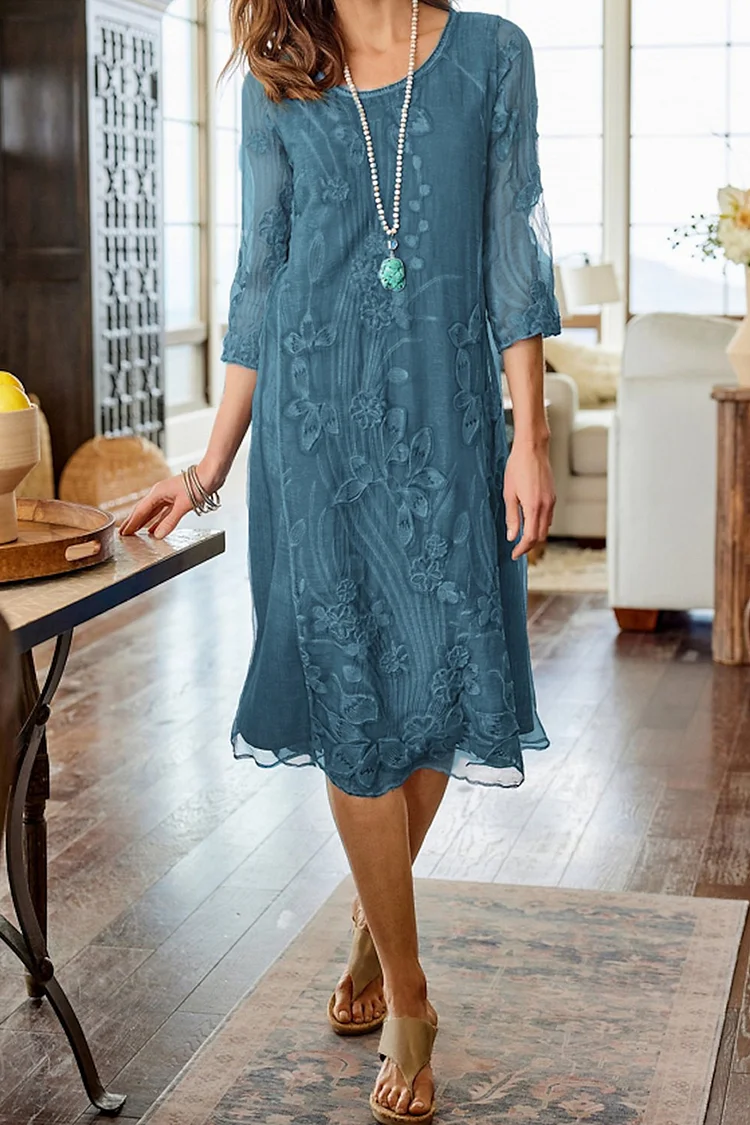 BUY IT NOW ! $46.99 (Save $10.00)
The plus size lace embroidery dress is an ultimate date-to-night summer piece that can be worn for formal events and everyday errands and everything in between. It boasts high-quality materials that feel super comfortable, breathable, and durable that will remain in good condition for years to come.
(Red / Pink / White / Black / Navy Blue / Wine Red)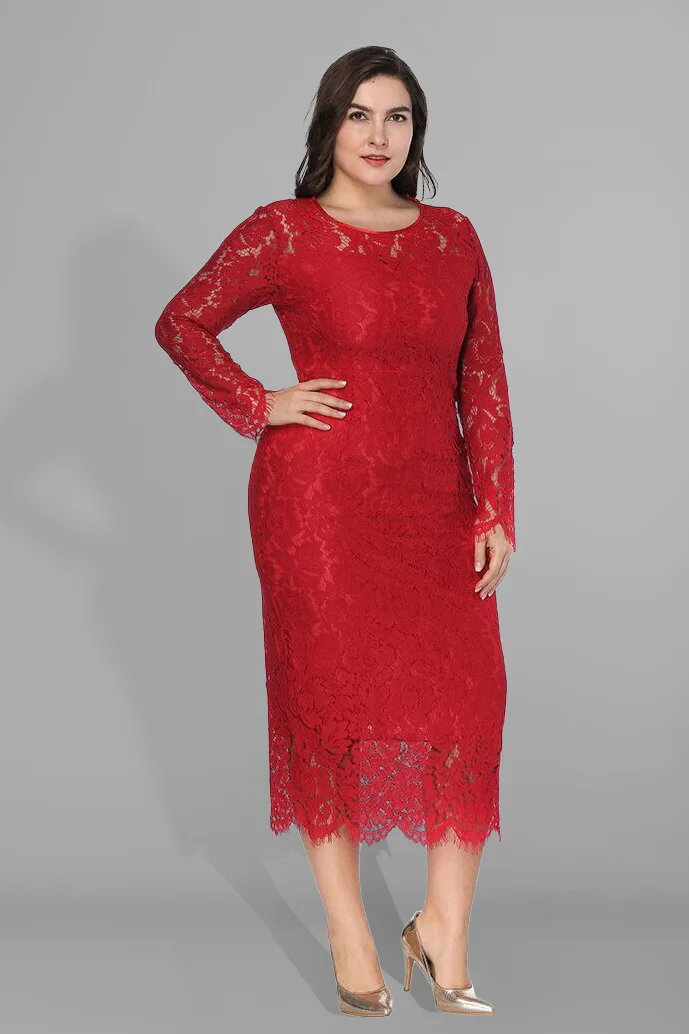 BUY IT NOW ! $59.99 (Save $10.00)
The plus size long sleeve lace dress allows you to achieve a sophisticated yet sexy look without showing any skin. The dress fits like it was made for you, accentuating every curve to its full potential. The lace bodycon dress' vibrant shade is eye-catching and adds a touch of feminine charm, making you look radiant.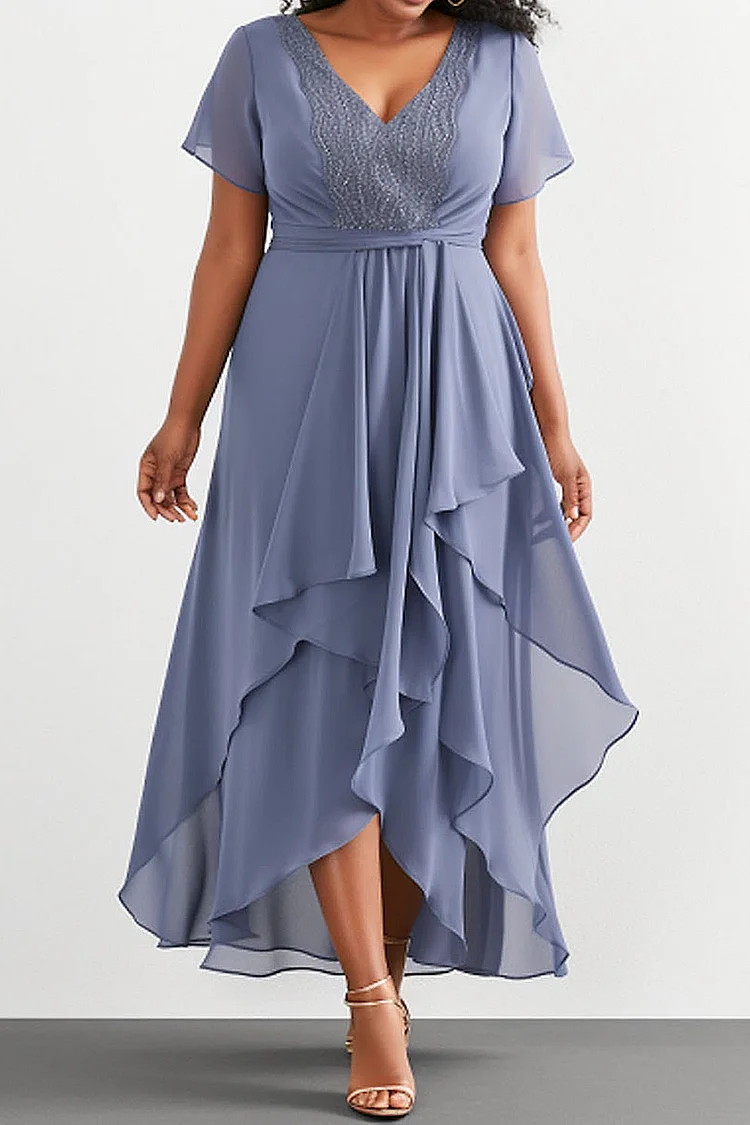 BUY IT NOW ! $46.99 (Save $10.00)
Here's another plus size lace blue dress option that can earn you fashion credits for any occasion. Every detail of the dress exudes stunning style, from its v-neckline to the asymmetrical layered hem to the lightweight chiffon fabric. The special hem creates a flowy vibe and adds visual interest to the dress.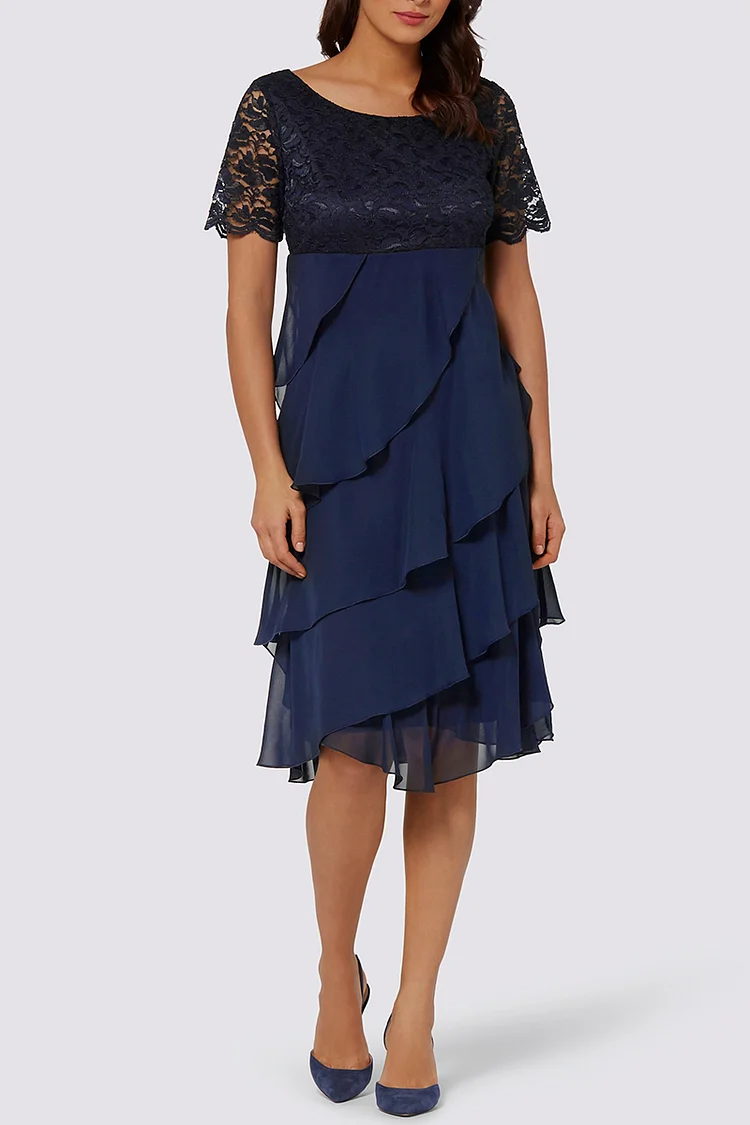 BUY IT NOW ! $39.99 (Save $10.00)
The plus size lace midi dress is in a league of its own! Made from comfortable and luxurious chiffon fabric, you'll love how it feels against your skin and won't want to take it off. The ruffle hem brings a feminine and playful feel to the dress and also helps to create a flattering silhouette by hiding your tummy.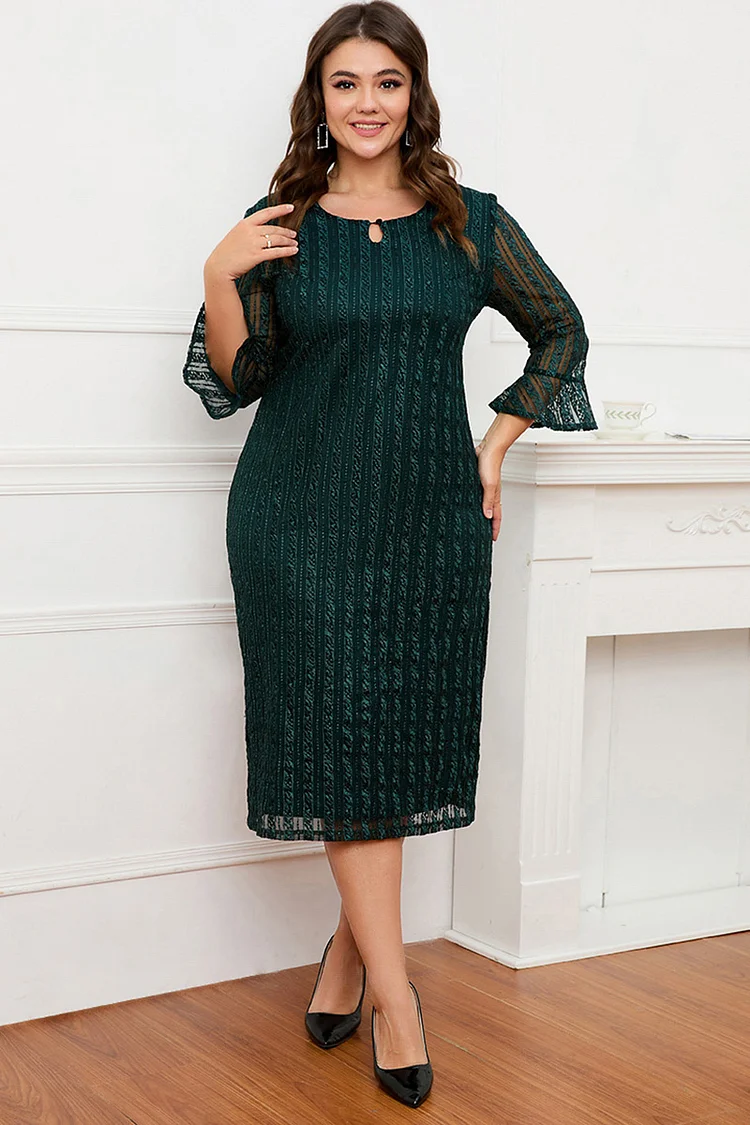 BUY IT NOW ! $22.50 (Save $22.49)
We can bet that the plus size dark green dress is going nowhere. There are lots of great things about the dress that make it really appealing: the cute flare sleeves, double layer, keyhole, and figure-hugging fit. You can slip on a pair of heels and accessorize with earrings to add extra elegance to the outfit.
Final Words
Lace adds a sophisticated and stylish touch to any outfit and can instantly elevate your style game. We're confident to say that our lace dresses are the perfect choice whether you're looking for a formal-event-appropriate look or a casual yet stylish ensemble worn for daily wear. So if you're looking to breathe new life into your closet and stand out from the crowd this summer, don't let these plus size dresses slip away!