14 Best Plus Size Mother of the Bride Dresses in 2022 Fall Trendy
Sep 15, 2022 by Flycurvy | Luna Gisele | MoB Fashion Blog
💎Live up the occasion and your enjoy life's biggest moments with these amazing gowns.💎
*Mother-of-the-Bride Plus Size Dresses / Fall Weddings / Plus Size Formal Dress
Feel worried? For being the mother of the bride, to attend your daughter's wedding, which would be her
super big day of her whole life, and definitely an opportunity to express their love and their unique
mother-of-the-bride duties. What you need to do is to choose a 👗Formal Dress that can share your blessings
to her and tell her how much you love her~
Flycurvy collection for mother of the bride is responsing to this question. From mother of the bride series
to casual everyday essentials, we have prepared hundreds of plus size dresses for you to choose your favourite
one, and our designer keeps drawing her paper for more moms and plus size girls, we want to see the
beauty of you, and find your own style and fit that you adore. More importantly, it is you, who make the dresses
more charming, delightful, and elegant.
Now, let's check out 14 of our favourite 🤩Plus Size Mother-of-the-Bride Dresses for 2022 Fall weddings.
#🤍1. White Chiffon with Cape A-Line Lace 3/4 Sleeve Fake Two Pieces Midi Dress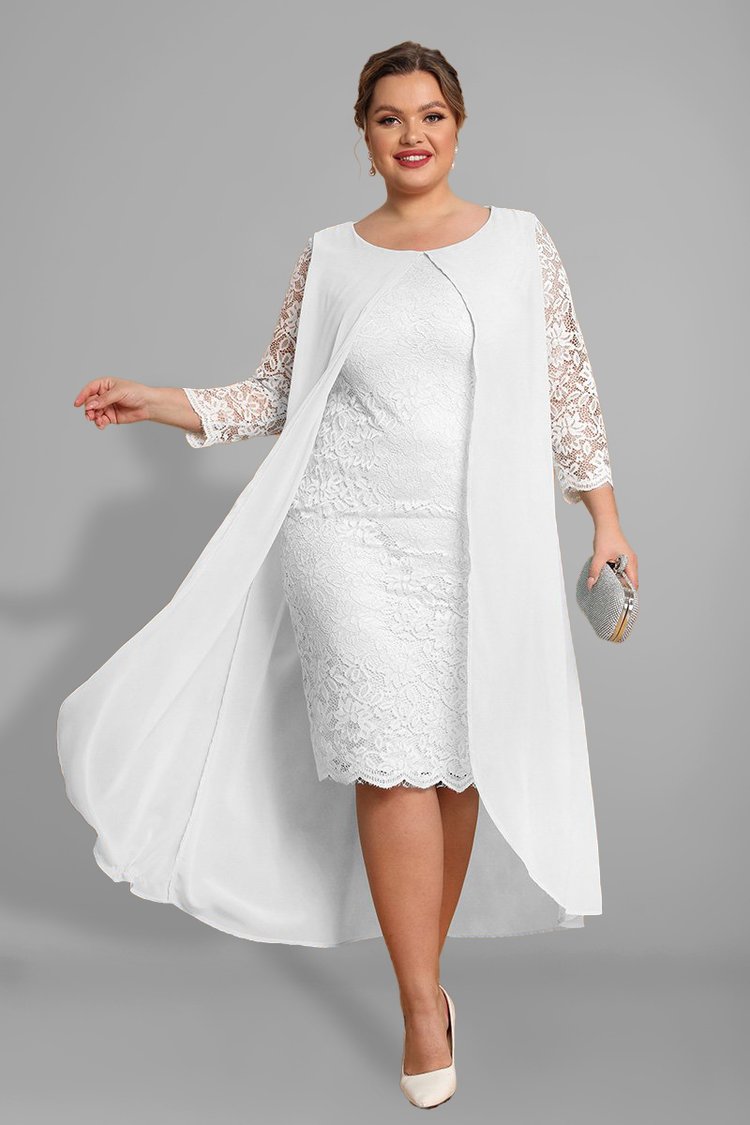 White 🎈Chiffon Dress with cape is the best idea for mother of the bride in her child's big day. Fake Two Pieces
can shape your body nicely and lightfully, Long sleeves are a wonderful way to hide the big arms, plus the
romantic lace decoration is very on theme for the Fall wedding, making you enjoy the wedding happily and
beautifully.
#💙2.Navy Blue Shiny Layered V Neck Floral Detail Sheer Sleeves Midi Dress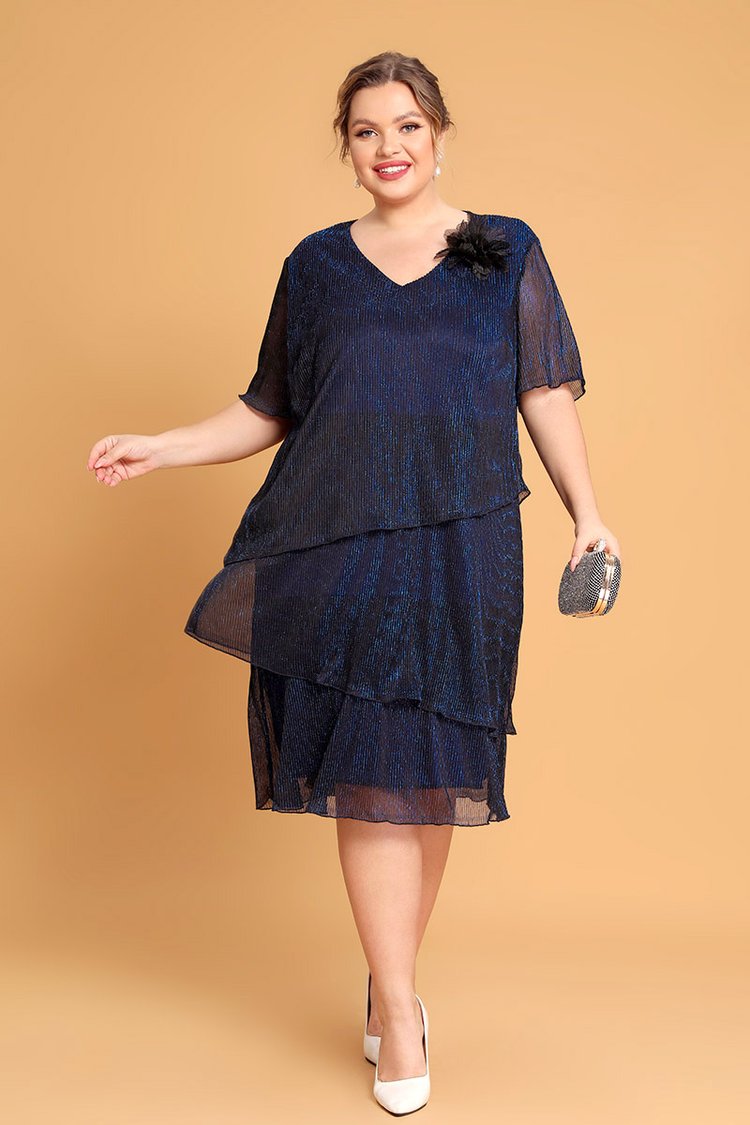 Layers will show your elegance when the wind flows in the pre Fall wedding night, and your temperament of
Mother of the Bride. V shape neck 🌷Floral details decorate your neck perfectly as well as the short illusion
sleeves shape your shoulders beautifully. Black flower on your left shoulder shows your best wishes to the
new couples.
#👗3.Silver Chiffon Embroidery Layered Sheer Midi Sleeves Maxi Dresses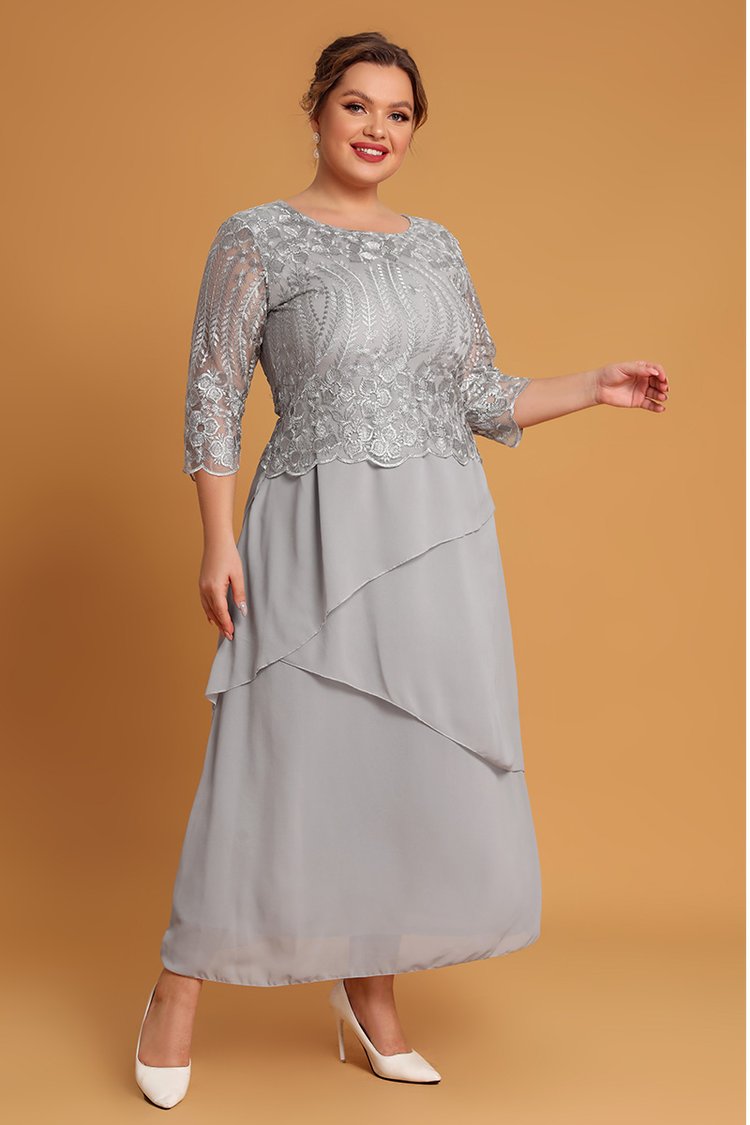 From the intricate printed design on the top to the grey layered maxi skirt, and with other decorations include
the sleek crew neck, graceful sheer ❤️Midi Sleeves and formal length dress, you'll feel sophisticated and
comfortable during your child's big day.
#🌞4.Stormy A Line Scoop Neck Chiffon Beading Sheer Sleeves Layered Maxi Dresses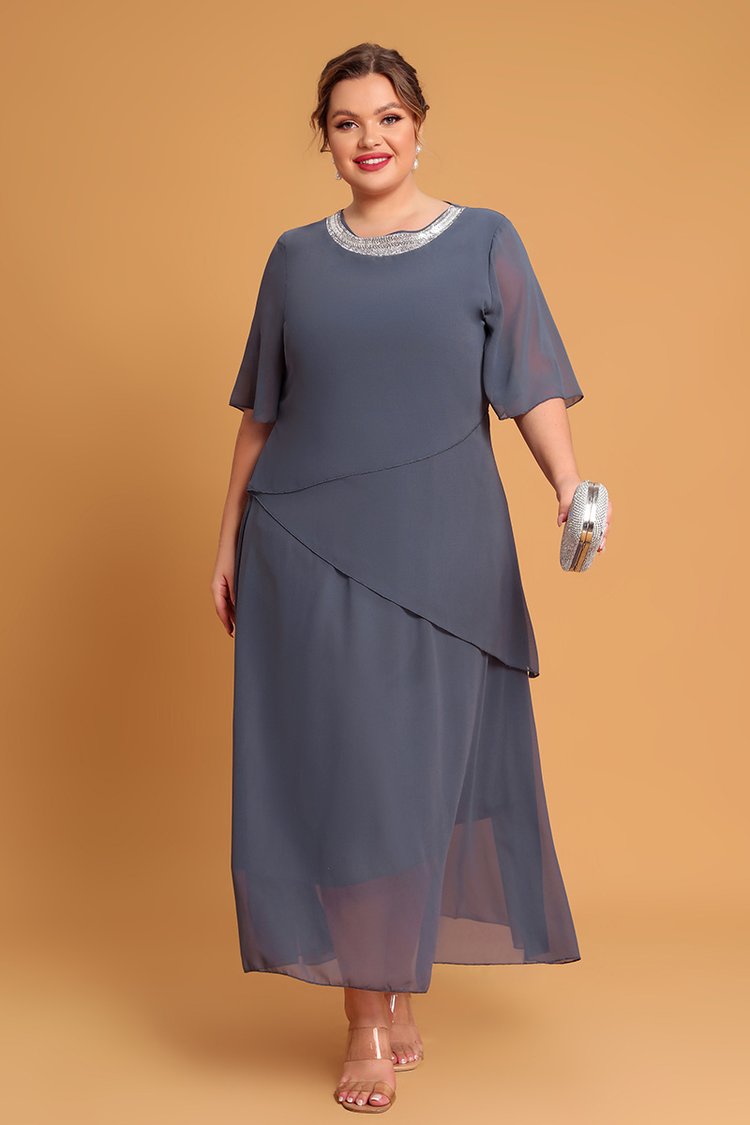 The wind blows through the layers of your beautiful dresses, sending your best wishes and love to your child,
this is truly the best mother of the bride dress in 2022 fall, plus beading decoration around the scoop neck chiffon
which shows your elegance impressively, and midi illusion sleeves and foot length 👗Maxi Dress shape you well,
just embrace this best of all!
#💟5.Pink Chiffon Rhinestone Detail Faux Two Pieces with tulip sleeves Midi Dress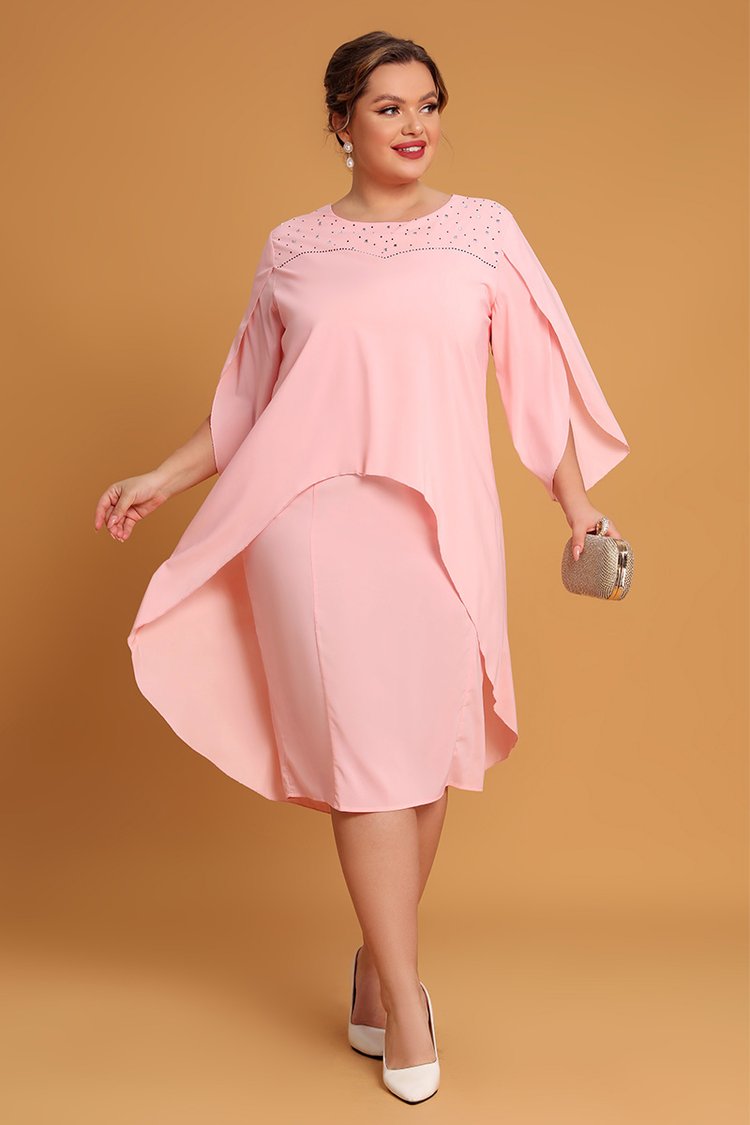 All the time, we love a simple and warm colour to share our blessings to the wedding. This pure 🌺Pink chiffon
gown for the mother of the bride is one of our must-buy recommend styles for autumn. With delicate rhinestone
decoration around neck, midi double layers sleeves and ths skirt combine with shiny handbag and white shoes
can present your elegance deeply.
#💙6.Blue 3/4 Sleeve Mesh Lace Embroidery Sheer Sleeves Layered Midi Dresses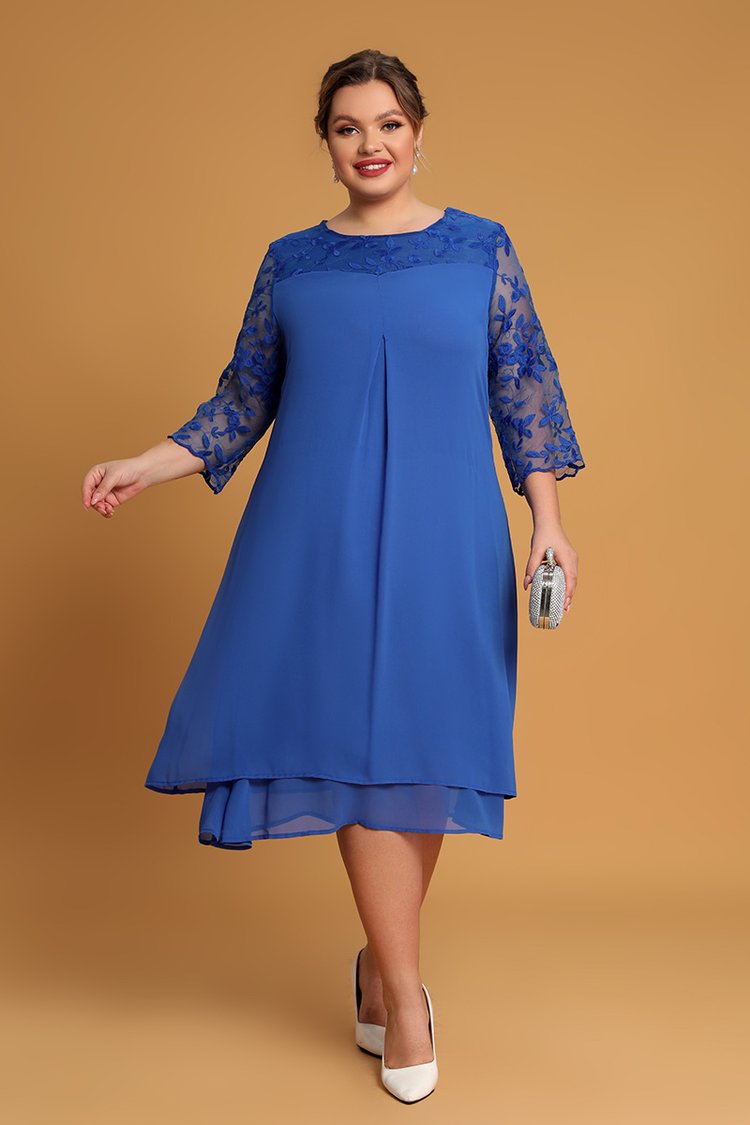 Attending the late fall gathering party impressively and gorgeously with this blue lace embroidery formal
midi dresses. The intricate floral embroidery adds a sophisticated element to this knee-length layered Fall
mother-of-the-bride dress. 3/4 mesh lace sleeves nicely hide the arms in a romantic way. Style your elegant
outfit with floral embroidery to pop against the 🌊Blue.
#💗7.Red V Neck Layered Hem Tunic Pleated Midi Dress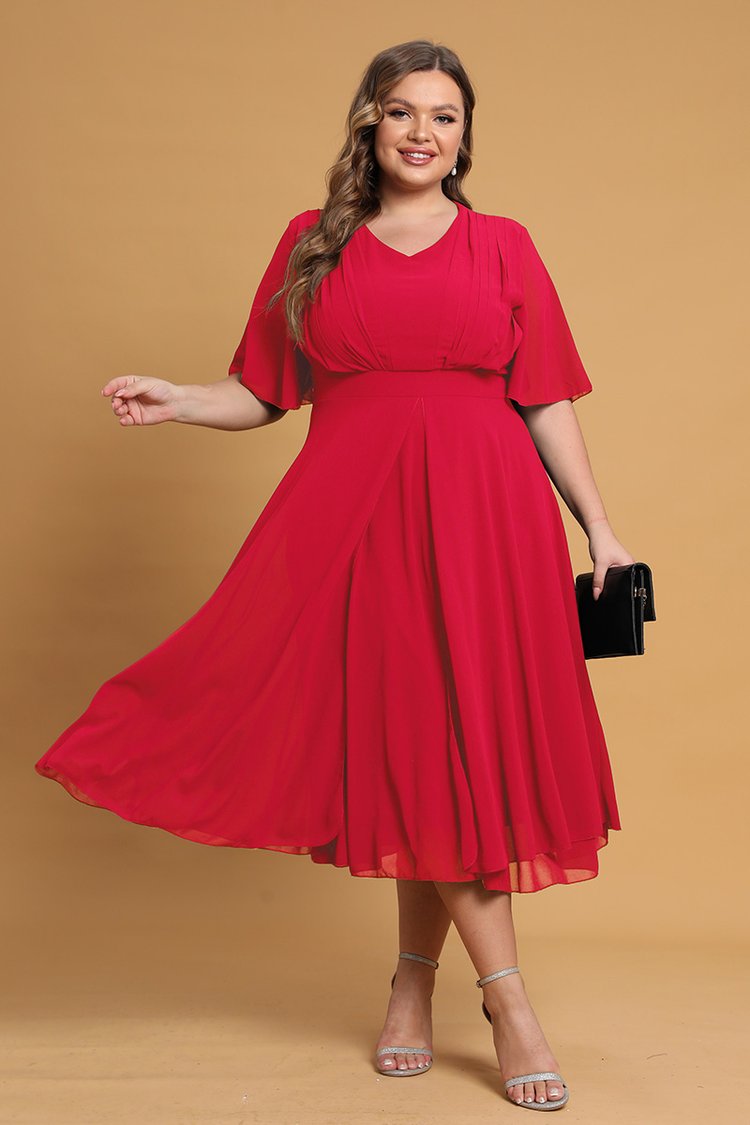 Simple, Elegance, Blessings. You'll be prepared for your child's fall wedding wearing this red 🥓Pleated design
dress. This modern MOB dress has a V neckline that flows into a flowy midi-length skirt. The dress even comes
with double layers hem tunic to shape your figure nicely.
#🖤8.Stormy Beading Appliques Lace Sequins Two Pieces Maxi Dresses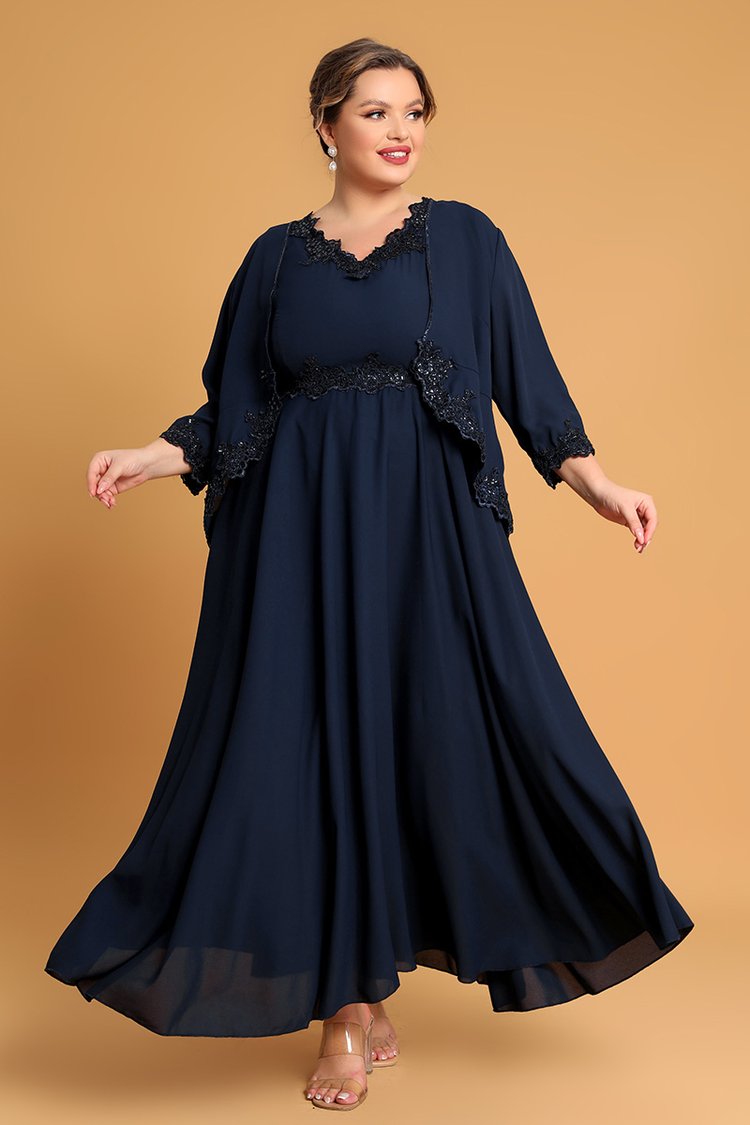 You can enjoy more beautiful options with this two pieces maxi dresses, internal sleeveless dress with a sable
coat, or simple nighty dress with navy blue 🍦Lace decoration shirt. Or just be prepared for your child's wedding
with this stormy formal plus-size mother-of-the-bride dress suits. Sophisticated boat neckline to the elegant
layers on the skirt, beading appliques lace sequins in this maxi dress totally show your grace perfectly.
#💌9.Grey Floral Print Long Sleeve Mesh Layered A Line Tunic Maxi Dress
Wandering on the garden to share your sincere wishes to the new couples with this white floral adorned dress
is truly the Fall favourite of mother of the bride. The floral frock is fully embellished with ⛄White botanical
embroidery for an enchanting ensemble. Double layers design make this foot length dress more beautiful,
put on your white heels to show your elegance.
#💖10.Red Lace Pocket Round Neck 3/4 Sheer Sleeve Tunic Midi Dress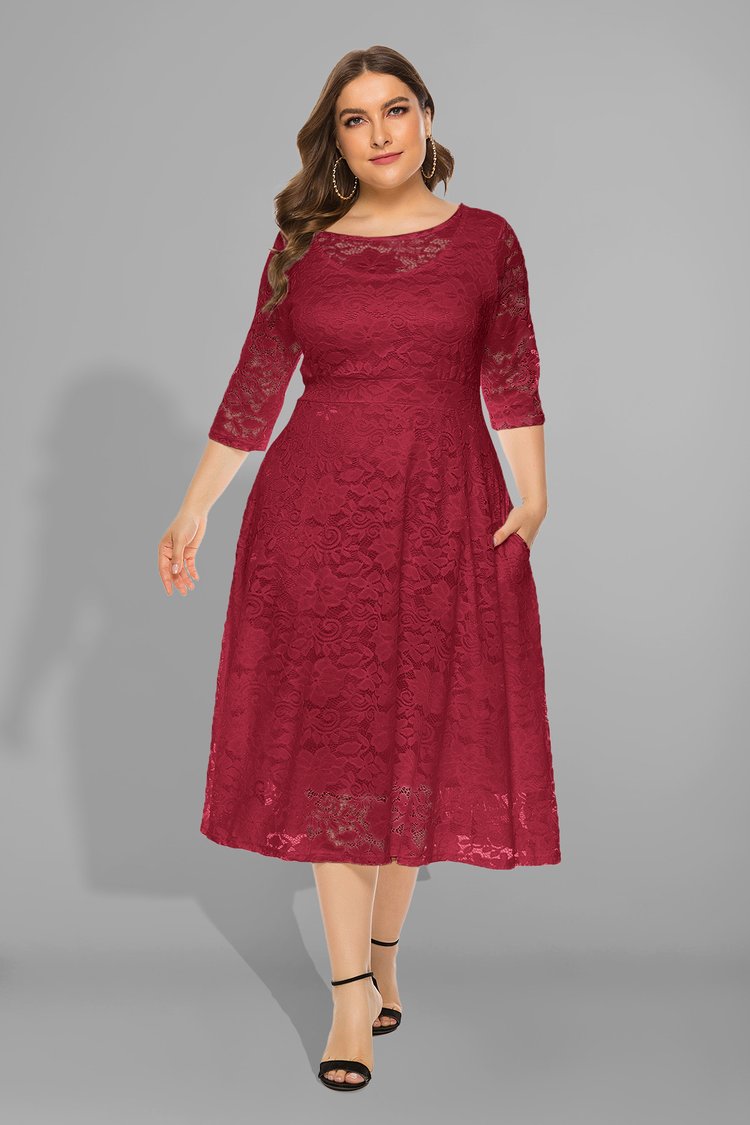 Red represents your deep love to your children and happiness of the wedding. Therefore, wear this wear this
red midi dress with full lace decoration in their big day to let them know how much you love them and
pay attention his/her wedding.(and plus point is the 🍗Pocket!) Present it enchantedly in the fall gatherings.
#🌟11.Grey Cowl Neckline Cap Style Sleeve Shiny Maxi Dresses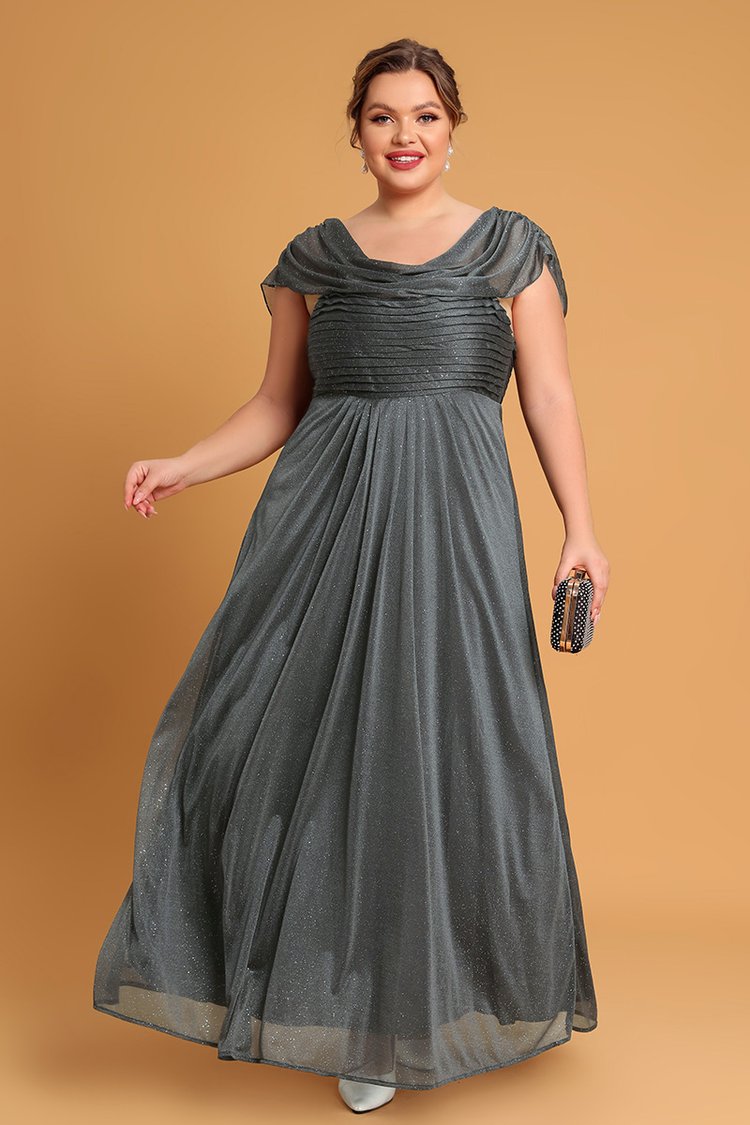 You'll glitter all night long in this 🌒Grey sparkly mother-of-the-bride dress. This elegant long dress features a
an off shoulder cowl neckline. A-line dress perfect for any occasion. The sophisticated silhouette is elevated with
a half round neckline and a pleated bodice. Soft, breatable and comfortable tops for women, comfy to wear.
The shiny grey shade makes it an exceptionally beautiful plus-size dress for a Summer or Fall affair.
12.Grey Pink Floral Mesh 3/4 Sleeve Elegant Midi Dresses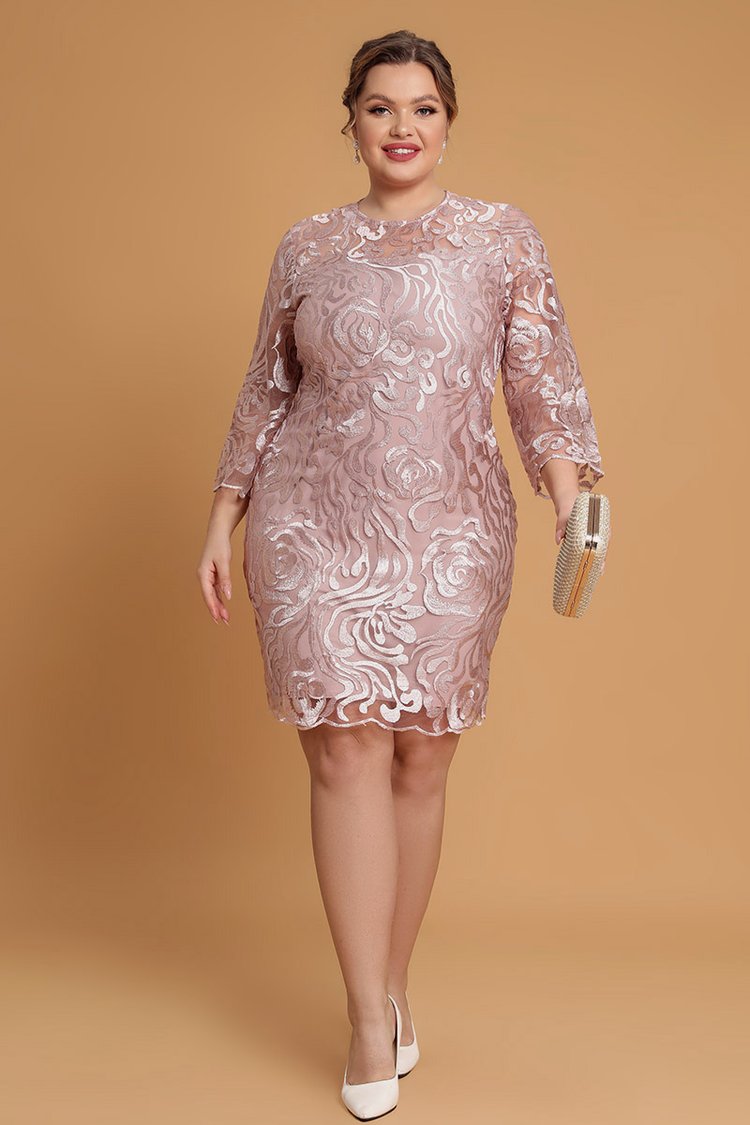 You'll definitely stand out in this spectacular fall mother-of-the-bride gown. The grey pink 💃Midi Dress is
covered in a floral decoration—perfectly show your elegance and blessings for an upscale evening affair or
weddings. Style your day-of ensemble with minimalist jewelry and simple white pumps to let the print shine.
#🖤13. Plus Size Formal Black Lace Flocking Mesh Velvet Double Layer Tunic Maxi Dress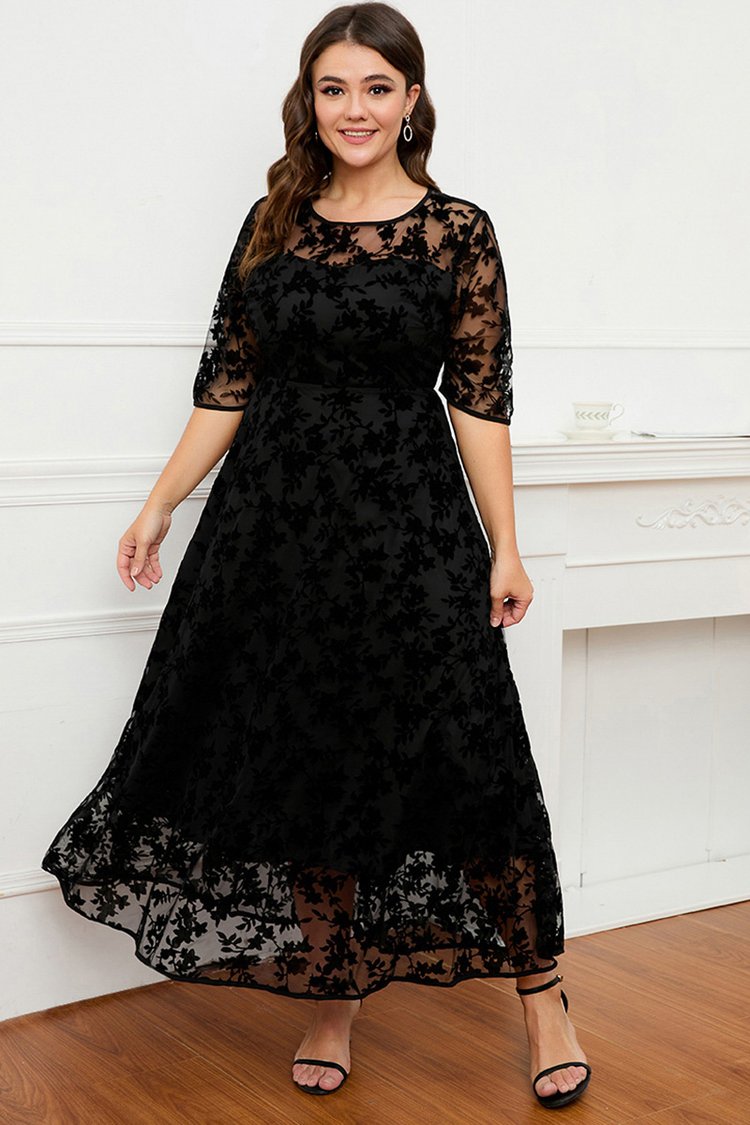 This 🖤Black lace plus-size maxi dress is perfect for mother of the bride in the late fall wedding.
The comfortable round nect, see-through long sleeves with full lace decoration put your arms out of sight
and draped bodice create a dreamy, layered look. Best of all, you can dress this outfit and style it with a
simple black heeled sandals to show your decent and temperament.
#💓14.Wine Red Formal Midi Dress Two Pieces Suits with Floral Shirt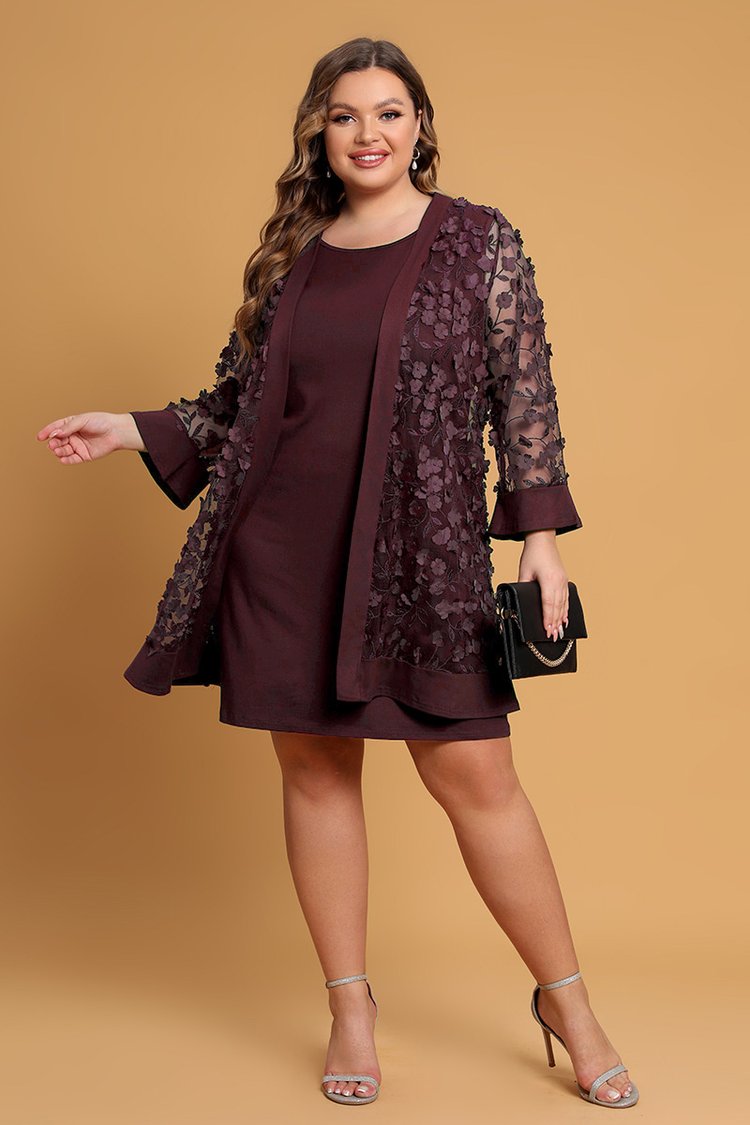 Floral lace appliques decoration shirt is the highlights of this sparkly plus-size Wine Red dress. The short frock
is accompanied by a matching chiffon jacket with floral lace. The unique and elegant wine red shade, combined
with the shorter skirt, black heels and purse, making it the favourite of a fall wedding for mother of the bride.
*Sizes cover from L to 5XL, and plus size ladies will have no worries about finding the right size for their own.