9 Best 2022 Fall & Winter Plus Size Midi & Maxi Sleeves Tops for Plus Size Ladies
Sep 19, 2022 by Flycurvy | Luna Gisele | Plus Size Fall Tops
Update your wardrobe with Flycurvy plus size midi & maxi sleeves
warmer & casual Tops and enjoy your everyday happiness.
*3/4 Sleeves/Fall Tops/Long Sleeves/Plus Size Daily Essentials

Long sleeves come with the Fall.🍂
It's time to update your wardrobe since the Fall is coming, Long Sleeves and 3/4 sleeves plus size Tops
would be the most popular choices for daily essentials replacement of the short sleeve shirt. The days of
plus size ladies of struggling in finding a fitable tops of their size are gone, now we need to make some
change and be fashion-savvy as well. However, flycurvy has prepared fashionable and stylish plus size tops
for pre Fall 2022 for your reference. More patterns like Animals and Flowers are available, more style of formal
and semi formal are designed to meet the need. We have got you covered with our top picks of plus-size tops
in trendy designs and significant Colours. Flaunt your favorite pre Fall tops and pair it with jeans, skirts or any
bottoms you like.
✨Plan

A

: Plus Size Blouses - Casual |

Stylish

| Pretty🎀
Chic and super versatile, our plus size blouses are made to be styled up or down for any occasion.
Nomatter nights out or lovely days out we've got you covered with this edit of casual and gorgeous plus size
blouses for you. The classic flowy white blouse is a must- have for every plus size lady and we have plenty of
styles to choose from whether you prefer lace or ruffle for work or weekends. Classic black blouse or a colourful
satin blouse can be styled with your favourite bottoms and accessories and you're good to go.
Pair one of our loose jeans, fancy coat and your favourite pair of heels for a glam Winter night look.
#1👚Flycurvy Plus Size Casual Black Stripe Velvet Silver Pressed Stand Collar Roll Tab 3/4 Sleeve Blouses
(Black / Burgundy)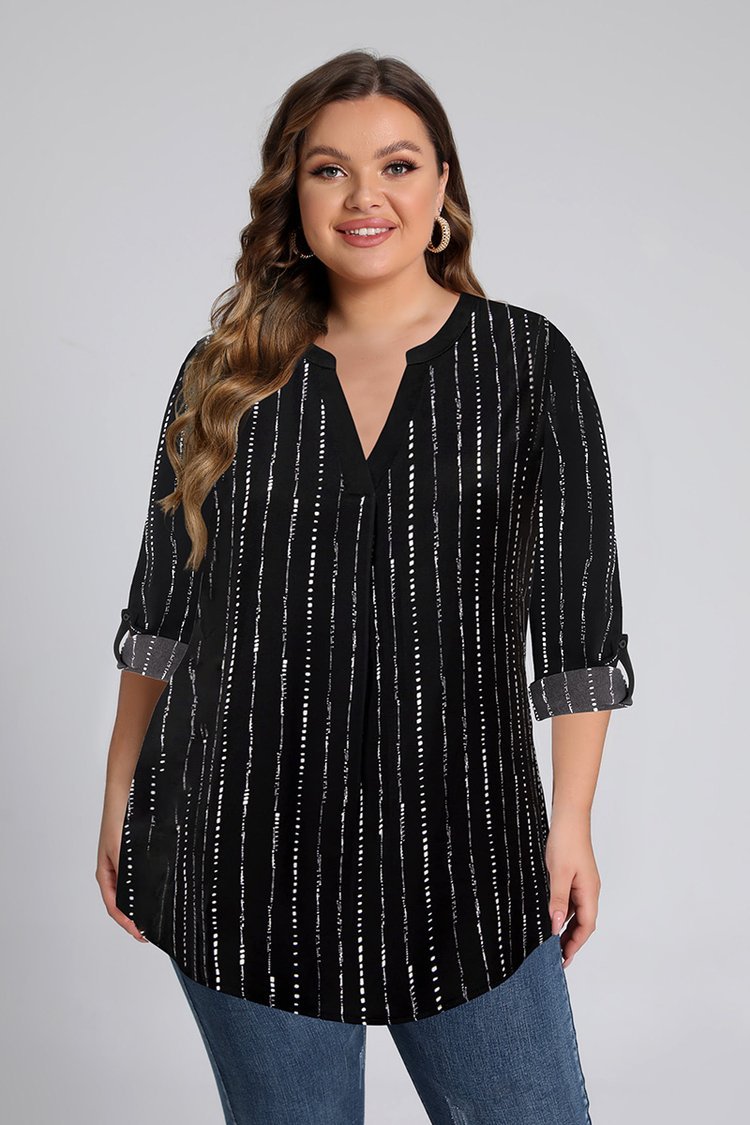 BUY IT NOW ! $29.99 (Save $10.00)
+ Details of Beauty :
With the details like deep v neck, stand collar and roll Tab 3/4 Sleeve, this Flycurvy plus size lady's black
stripe velvet top for women would make you look more Capable and Experienced, perfectly suits for daily work,
plus the color black and straight stripe can shape your body and hide the curves you want. Just pair it with
black jeans or casual trousers, flats and heels are fine as well, then you can enjoy your wonderful afternoon
coffee with friends or supermarket time with families.
>>>>>>>>>>>>>>>>>>>>
#2👚Flycurvy Plus Size Grey Scoop Neck Pleated Fake Two Pieces Long Sleeve Casual Blouses
(Grey / Light Blue / Light Pink)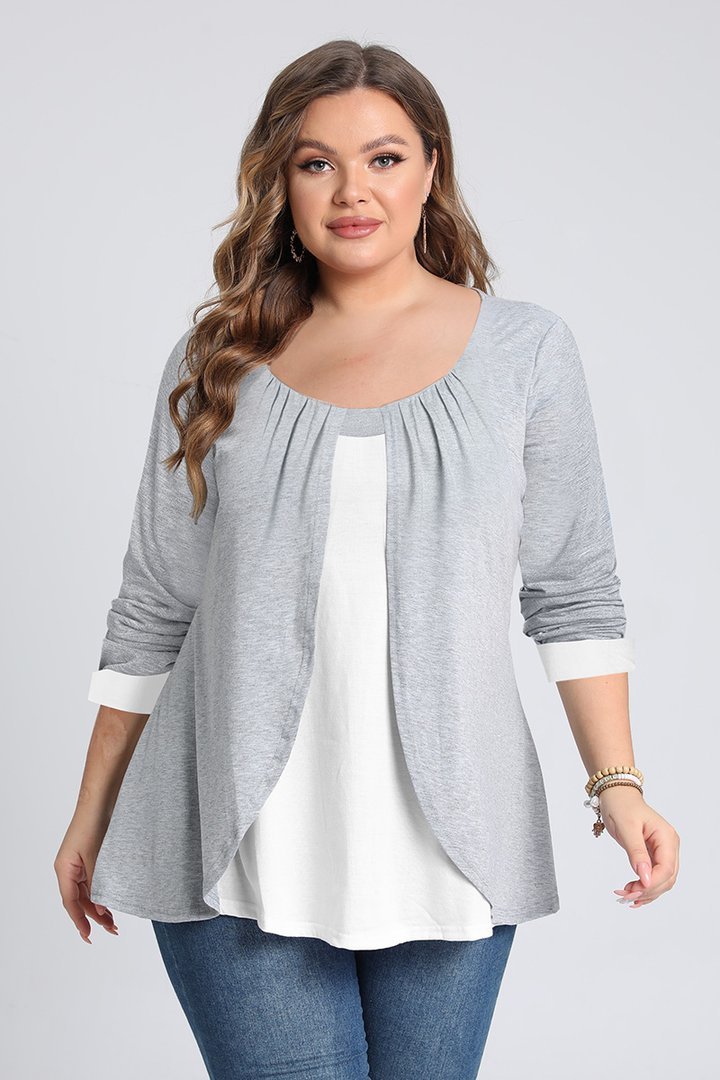 BUY IT NOW ! $32.99 (Save $10.00)
+ Details of Beauty :
Update your Fall essentials with Flycurvy white and grey colorblock plus size top for which can cover your
waist nicely and hide the place you want. Plus with the design of the round neck and neck pleated, this plus
size top presents your softness and tenderness even more. Pairing it with Casual Jeans and Flats for a daily
look, or you wear it with a skirt, which is suitable for afternoon tea parties or outdoor dinners. The long sleeves
make you have no worries about the wind getting cold in the evenings, so you can participate in parties with
peacefully and comfortably with this wonderful plus size tops.
>>>>>>>>>>>>>>>>>>>>
#3👚Flycurvy Plus Size Black Solid Tulip Sleeve V Neck Pleated Casual Blouses
(Black / Navy Blue)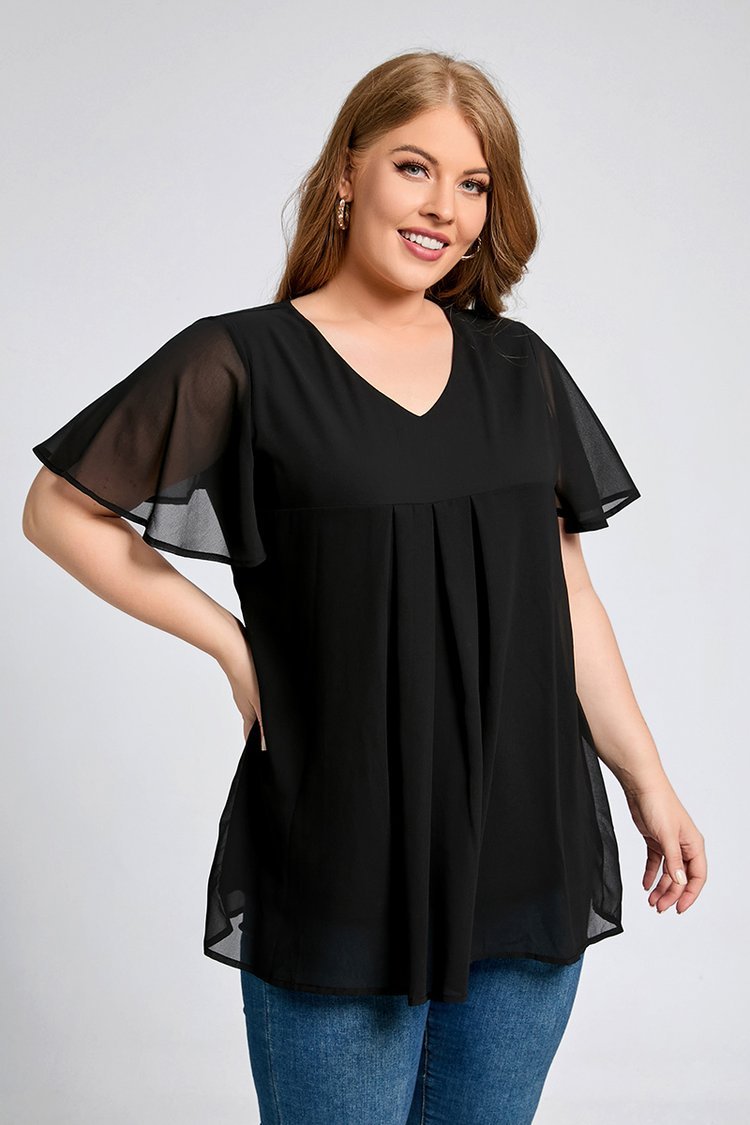 BUY IT NOW ! $27.99 (Save $9.00)
+ Details of Beauty :
Pick up this black elegant Tulip Sleeve plus size casual blouse, it's classic and modern design of V neck
and pleated details are great for office work or after hours, pair it with gorgeous skirt for a tea party,
or jeans for supermarket shopping.
>>>>>>>>>>>>>>>>>>>>
#4👚Flycurvy Plus Size Casual White Round Neck Ombre Print 3/4 Sleeve Blouses
(White + Black Ombre)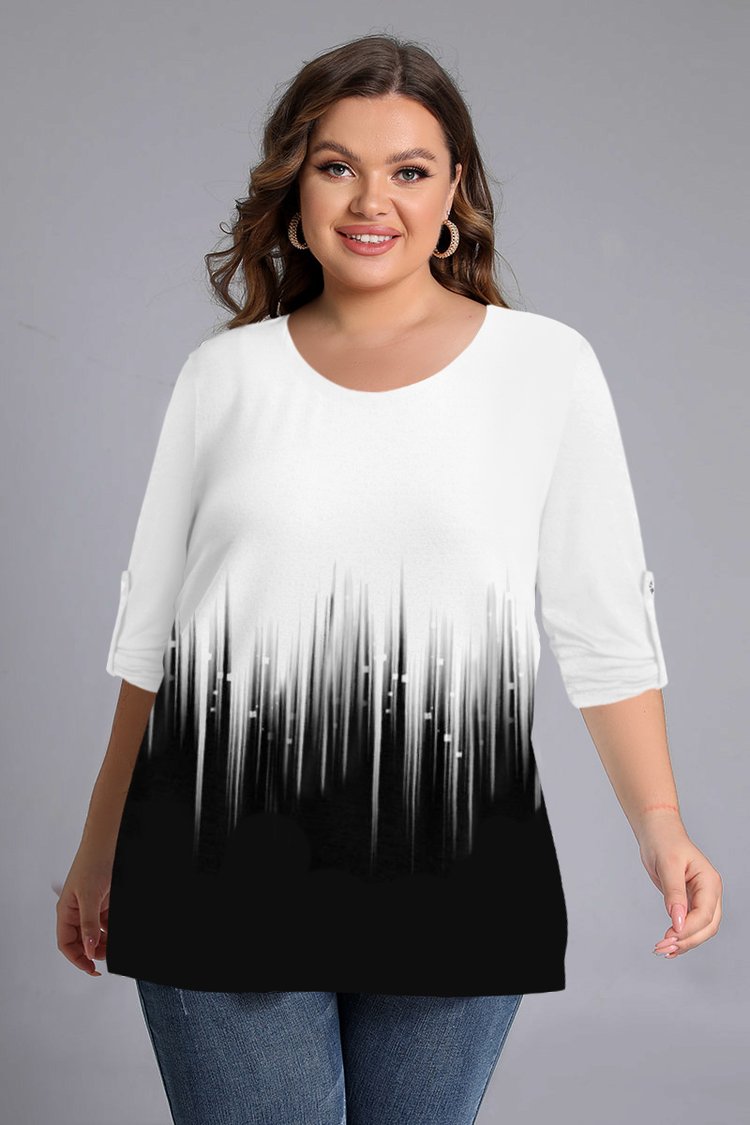 BUY IT NOW ! $24.99 (Save $10.00)
+ Details of Beauty :
This plus size blouse for women has fashionable black and white ombre, with round dots in the middle,
this blouse presents the beauty of a Snowy North American Forest. Since the Fall has come, let's replace
your old clothing with Flycurvy plus size tops and clothes. Pick this stylish 3/4 sleeve round neck plus size
blouse to respond to the fashion call of the new Fall and Winter. Wear this plus-size trendy black and white
shirt with cool black trousers and heels, and enjoy outdoor picnics with friends and families~
>>>>>>>>>>>>>>>>>>>>
#5👚Flycurvy Plus Size Casual Dark Grey Mesh Velvet Asymmetrical Hem 3/4 Sleeve Blouses
(Dark Grey)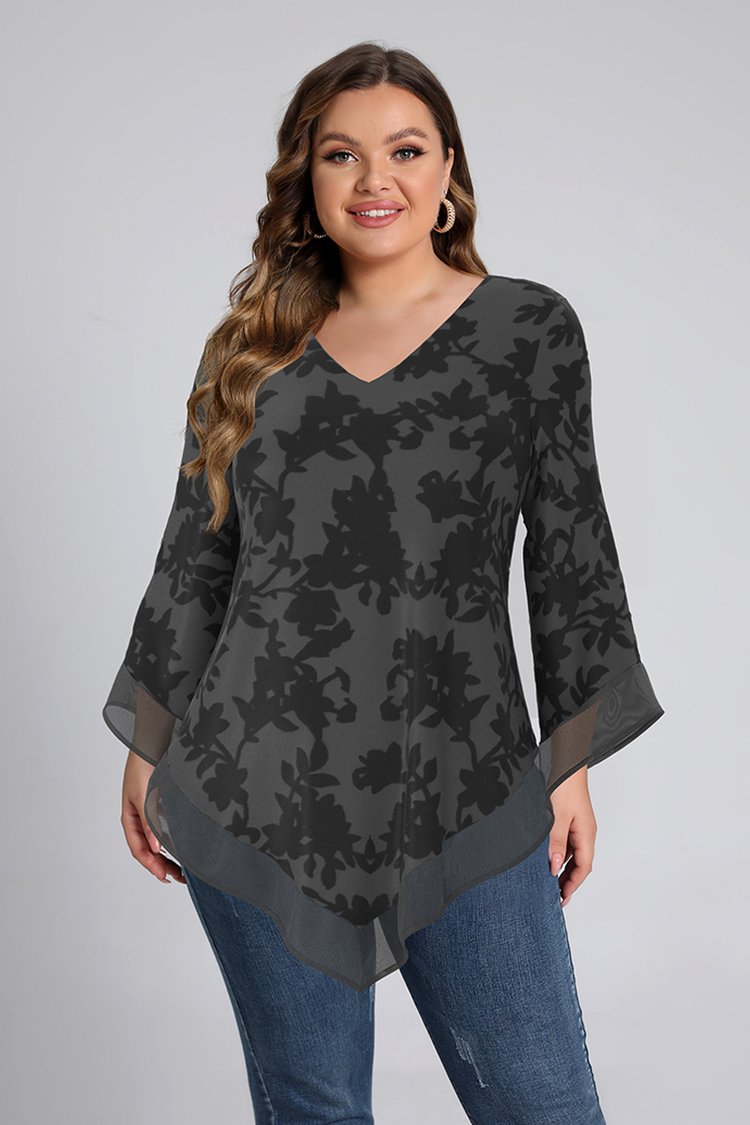 BUY IT NOW ! $29.99 (Save $7.00)
+ Details of Beauty :
Want something special? This Flycurvy plus size dark grey mesh velvet blouse can fulfill your imagine.
Needless to say, mesh velvet shows your elegance and mistery in the night party, plus with the combination
of deep v neck line together with 3/4 Sleeves and Asymmetrical Hem shapes your body nicely and perfectly
hide your curves in the dark. You will definitely stand out in th crowd, pairing it with black flared trousers
or skirts, black heels or boots, it's time to see the queen of the night!
>>>>>>>>>>>>>>>>>>>>
#6👚Flycurvy Plus Size Casual Brown Mesh Floral Print Flowy Pleated Blouses
(Brown)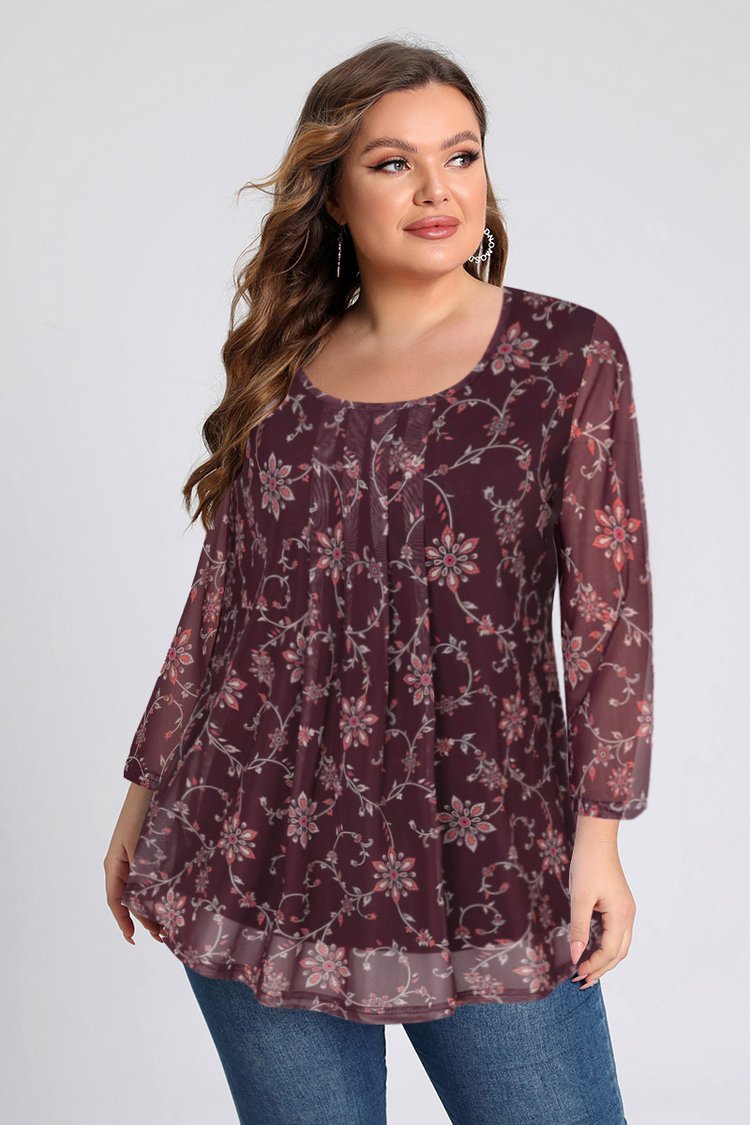 BUY IT NOW ! $29.99 (Save $10.00)
+ Details of Beauty :
Wearing this beautiful plus size flowy pleated blouse, and enjoy an elegance you in the tea party or friends
gatherings, a skirt with same color or jeans would perfectly match the night party, or an afternoon drink
with friends. This is absolutely the most beautiful blouse in Flycurvy plus size Fall collection, and the best choice
for your wardrobe seasonal update. Details of the see-through sleeves and chiffon layer can hide the curves
you want, and allow you wearing it casually and appearing charmingly.
>>>>>>>>>>>>>>>>>>>>
#7👚Flycurvy Plus Size Casual White Turn-Down Collar Butterflies Print Blouses
(White)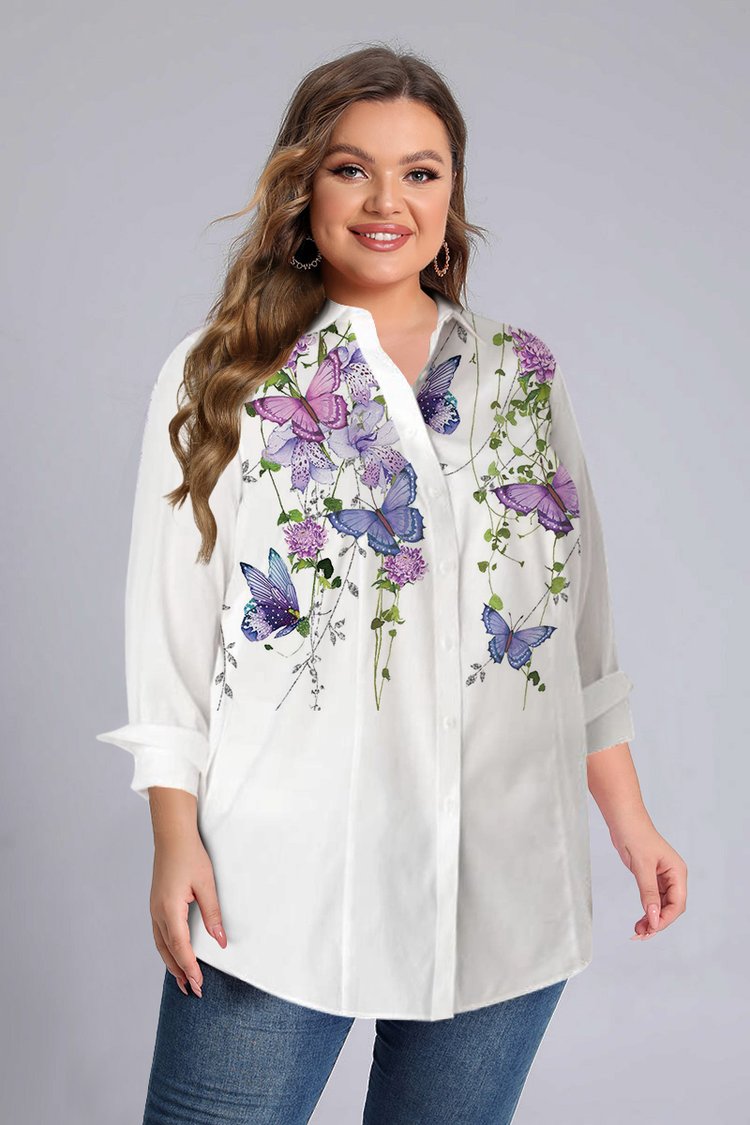 BUY IT NOW ! $32.99 (Save $5.00)
+ Details of Beauty :
This must be the trendy and stylish option for plus size ladies to choose their casual tops. Pick this excellent
blouse up and wear it for daily work, or hanging around with friends, turn-down collar and 3/4 sleeves are
designed to shape the curves of your neck and arms, meanwhile make you look more flattering; Plus with
Floral and Butterflies patterns set you off more elegantly, put your jeans and sneakers on, this combination
would be the best plus size lady's choice of a trip to the botanic garden.
>>>>>>>>>>>>>>>>>>>> 🌸 <<<<<<<<<<<<<<<<<<<<
🏃‍♀️Plan B : Plus Size Sweatshirts - Sporty | Warm |

Energetic

🚴‍♀️
Keep your style trendy in the coming season with our range of plus size sweatshirts for women.
Heading shopping with your families this weekend? Work a half zipped white plus size sweatshirt for women
or a classic black sweatshirt and your favourite kicks for the perfect off-duty look. Or choose women's oversized
sweatshirt to instantly update your home wear style. Nomatter which style you want to get for the coming
Fall & Winter, get rid of those "nothing to wear" dilemmas for good with this edit of essential women's
sweatshirts to see you through any social occasion.
>>>>>>>>>>>>>>>>>>>>
#8👚Flycurvy Plus Size Casual Pink Lace Stitching Plaid Print Zipper Sweatshirt
(Pink)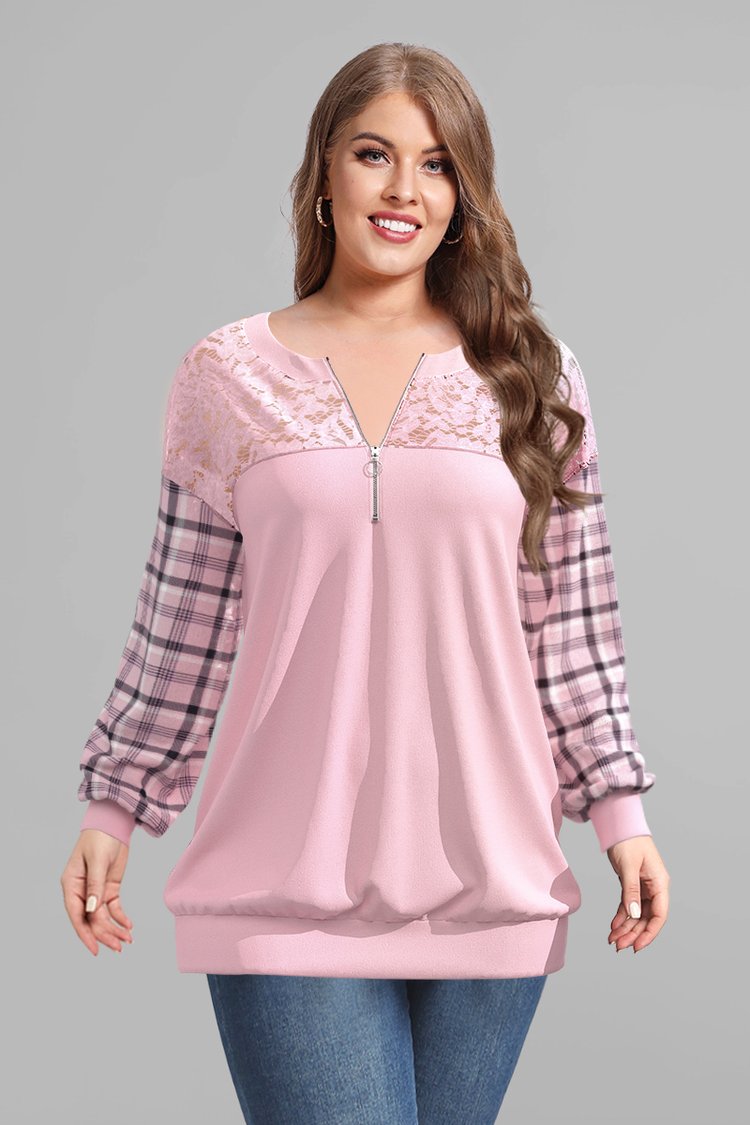 BUY IT NOW ! $32.99 (Save $7.00)
+ Details of Beauty :
Want something special for Winter sweatshirt? This plus size pink sweatshirt with multiple decorations
should be your first concern. Lace stitching on your shoulder definiitely and plaid print can nicely hide
the curves of arms, all these beautiful decorations will absolutely suit you beautifully and gently.
>>>>>>>>>>>>>>>>>>>>
#9👚Flycurvy Plus Size Casual Dark Blue 3D Cat Print Rib Knit Sleeve Sweatshirt
(Dark Blue)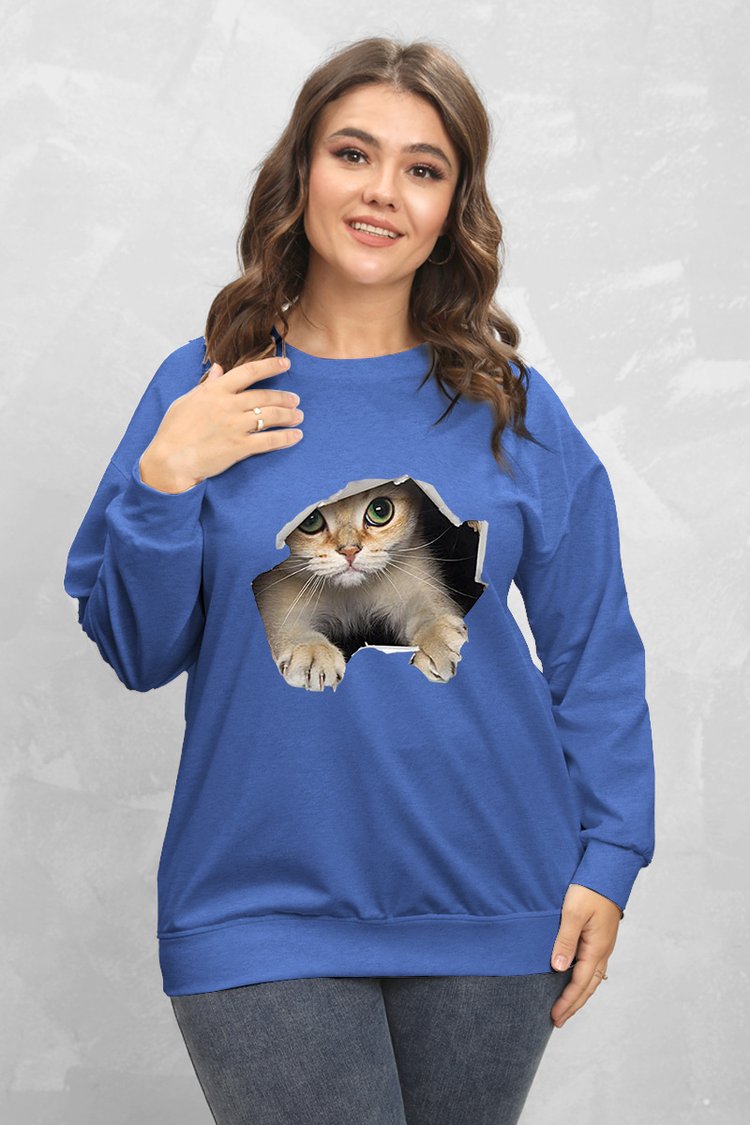 BUY IT NOW ! $29.99 (Save $10.00)
+ Details of Beauty :
Oops! The cloth is broken, wow, a kitty is climbing out! Look how cute she is! Pair it with jeans and lovely boots,
a pretty Winter daily outfit is finished~ This adorable and casual plus size sweatshirt will definitely accompany
with you in this Winter and the Winter to come.
*Sizes cover from L to 5XL, and plus size ladies will have no worries about finding the right size for their own.